Please note this blog contains affiliate links that give me a small commission from any purchase, at no extra cost to you. I would never advertise anything I wouldn't use myself, and this commission helps Finding Alexx reach more travellers. Thank you for supporting me!
With its pastel-coloured Old Town, hearty traditional cuisine and budget-friendly prices, Warsaw exceeded all my expectations. It's one of the cheapest European breaks I've ever been on, and I was pleasantly surprised at how much I enjoyed it as my 4th destination during my 52 in 52 year-long solo trip. Here's a detailed Warsaw travel guide, including the best things to do in Warsaw, food you have to try, photo spots and more!
YOU MIGHT ALSO LIKE: All the FAQs about my 52 in 52 adventure
Or skip straight to:
---
Warsaw travel basics
Currency: Polish złoty (zł or PLN)
Exchange rate: 5 PLN is approximately £1 or $2 NZD (as of 27 September 2019)
How to pay for things: Card is accepted in most sit-down restaurants, hotels and chain retail stores, but milk bars, cafés, food stalls and smaller shops are likely to be cash only
Language: Polish
Weather: Mild in the summer months, December to February brings regular snow
Best time to go: Warsaw isn't exactly a traditional sunny destination so the summer months, while busy, are nothing like beach towns throughout Europe. I would say any time in spring, summer or autumn would be fine, just be prepared with warm clothing on either side of winter.
Coworking spaces: Good news, fellow digital nomads, there's four WeWork offices in Warsaw!
YOU MIGHT ALSO LIKE: My ultimate Paris travel guide
---
How to find cheap flights to Warsaw
I flew from Brussels to Warsaw for only £12.90 one way on Ryanair. Yes, less than £13! That was for a basic flight ticket with one small cabin bag only, and I paid another £30 to add a 20kg suitcase and a 10kg cabin bag, plus carbon offset.
---
TRAVEL TIP:
I find all my flights using Skyscanner! You'll get the best deal if you're flexible on where to go. Just put in your origin, your departure date (or month) and type 'everywhere' into the destination bar to see the cheapest locations to fly to on your next holiday.
---
Warsaw has loads of low cost carriers flying into it, so if you're flexible on dates you're bound to find a cheap flight.
Just note that there are two airports, Warsaw Chopin and Warsaw Modlin (sometimes called Nowy Dwór Mazowiecki as that's where it's located). To get from Warsaw Chopin to Central Station you catch the S3 train for 20 minutes, which costs 3.40 PLN (about £0.70). If you fly into Warsaw Modlin, you can catch a one hour bus to Central Station for just less than £6.
---
How to get around Warsaw
A lot of the places you're likely to want to visit in Warsaw are within easy walking distance of each other, which is always my favourite type of city! It's only half an hour to walk from the Old Town to the Palace of Culture and Science, and loads of the museums, monuments and restaurants I've recommended below are between the two.
If you're venturing out of the tourist areas, you've got a couple of options. Warsaw has a good train, metro and bus network, with tickets costing 3.40 PLN for a 20 minute single ticket, 4.40 PLN for a 75 minute transfer ticket (i.e. if you're taking a bus and then a train), or 15 PLN for a full day transport pass.
There's also bikes and scooters to rent, which you'll find all over the town. Lime scooters are the main one, and there seems to be more Lime scooters than humans in Warsaw! It's a cheap and easy way to get around, I used them every day I was there. Veturilo is the bike sharing company, and they've got both regular bikes and e-bikes to choose from. Both options cost 10 PLN to unlock, then a regular bike is 1 PLN for the first hour and an e-bike is 6 PLN.
---
Where to stay in Warsaw
Please note that the prices here are based on example dates mid-week in shoulder season, check booking.com for prices and availability for the best Warsaw hotels on your travel dates.
Best hostel in Warsaw
For my week in Warsaw I stayed at the brilliant DREAM Hostel, and I absolutely loved it. The location was ideal, 30 seconds' walk to Castle Square and close to so many incredible dining options.
DREAM's rooms have all my favourite things too: privacy curtains, lockers, a shelf for storage, your own plug and a light. There's a full guest kitchen, an onsite bar, washing facilities and the staff have loads of tips for things to do and tours to take. Oh, and it's cheap AF, as in less than £10 a night for a dorm bed! SUCH a win, and the perfect cheap place to stay in Warsaw.
Read more about DREAM Hostel in my full hostel review.
Best mid-range accommodation in Warsaw
I would say mid-range in Warsaw means £20-£35 per person, and there's loads of cute apartments that fall into this price range.
Apartment Twarda is a gorgeous one bedroom apartment close to the Palace of Culture and Science, with prices starting from £50 a night for two people or £60 a night for four. Another good option is Oleander Apartment, which is just a short walk from one of the most relaxing spots in the city, Royal Łazienki Park. Oleander starts from around £70 a night for two people.
Best luxury accommodation in Warsaw
If you've got a bit of money to splash, there are some stunning hotels in Warsaw that'll blow you away.
There's the ultra-modern Hotel Warszawa, the funky H15 Boutique Hotel or Hotel Bristol, a member of the Luxury Collection. For a luxury apartment you could check out Apartment Zlota for less than £100 a night, or if you really want a treat, you can't go past the recently renovated Raffles Europejski.
YOU MIGHT ALSO LIKE: How I can afford to stay at world-class hotels without blowing my budget
---
How much to budget for a weekend in Warsaw
Here's some fantastic news for you: Warsaw is cheeeeap! You could cover accommodation, food, transport and sightseeing with about £30 per person per day – a little less if you're being extra careful, or a bit more if you're planning on drinking or eating at nicer places.
You can get street food like crepes, sausages or zapiekankas (baguettes with cheese and veges grilled, delicious) for around 10 PLN which is £2, and sit down meals for between 20-40 PLN (£4-£8). A pint of local beer will cost around 8-12 PLN (£1.60 to £2.40).
---
The best food in Warsaw
Always my favourite part of writing these blogs! From hearty meat stews to cheap bistro dinners to hundreds of different types of pierogies, here are some of the best Warsaw food you can't miss, plus some bonus craft beer and cocktail bars.
Pierogies, obviously! These little doughy packages of goodness are everywhere, but one of my favourite spots to try the classic Polish dumplings is

Zapiecek

, a chain restaurant with a huge variety of both sweet and savoury pierogi flavours. You need to order a minimum of 9 but you can mix and match, so it's perfect to find your favourite!
The kotlet schabowy (pork cutlet) from

Bar Zabkowski

, a traditional Polish milkbar
Super cheap soup from

Soupculture

Antipasti and tapas from

Aioli Cantine

Vegan sushi from

Youmiko Vegan Sushi

Fancy street food-style dishes from

MOMU
---
Five of the best photo spots in Warsaw
The Old Town Observation Deck
Entry to the observation deck at St Anne's Church is only 5 PLN (£1), not bad for a beautiful place to watch the sunset. There's no lift so you'll have to walk up a couple of minutes of stairs, but it's absolutely worth it.
It gives you a stunning view over Castle Square and the entrance to Old Town, which is particularly beautiful at golden hour just before sunset.
Castle Square
Known as Plac Zamkowy in Polish, Castle Square is the most postcard-perfect part of the city. With the striking reddish-orange 17th century Royal Palace on one side, a row of bright houses marking the entrance to the Old Town on another side, and Sigismund's Column in the middle, it's actually more of a triangle but we'll let that one slide.
Castle Square was almost totally destroyed by the Germans after the Warsaw Uprising of 1944, so most of what you see now has been rebuilt to as close as its original form as possible.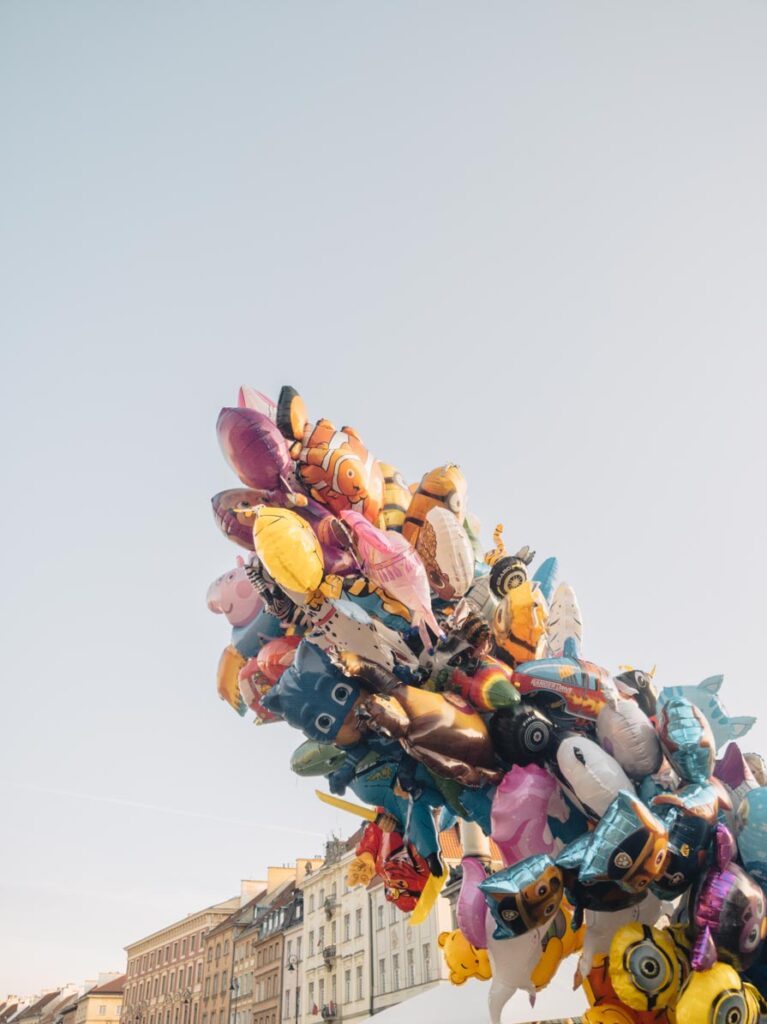 Łazienki Park
A world away from chaotic Old Town and bustling downtown Warsaw, this park is ideal if you need some peace and quiet. There's plenty of beautiful photo spots to discover while you wander around, like the Palace on the Isle, the Chinese Garden and roaming peacocks and red squirrels.
During summer the park hosts Chopin concerts on Sundays, where locals take picnic blankets and snacks and spend their afternoon in the sun listening to live classic music. Dreamy!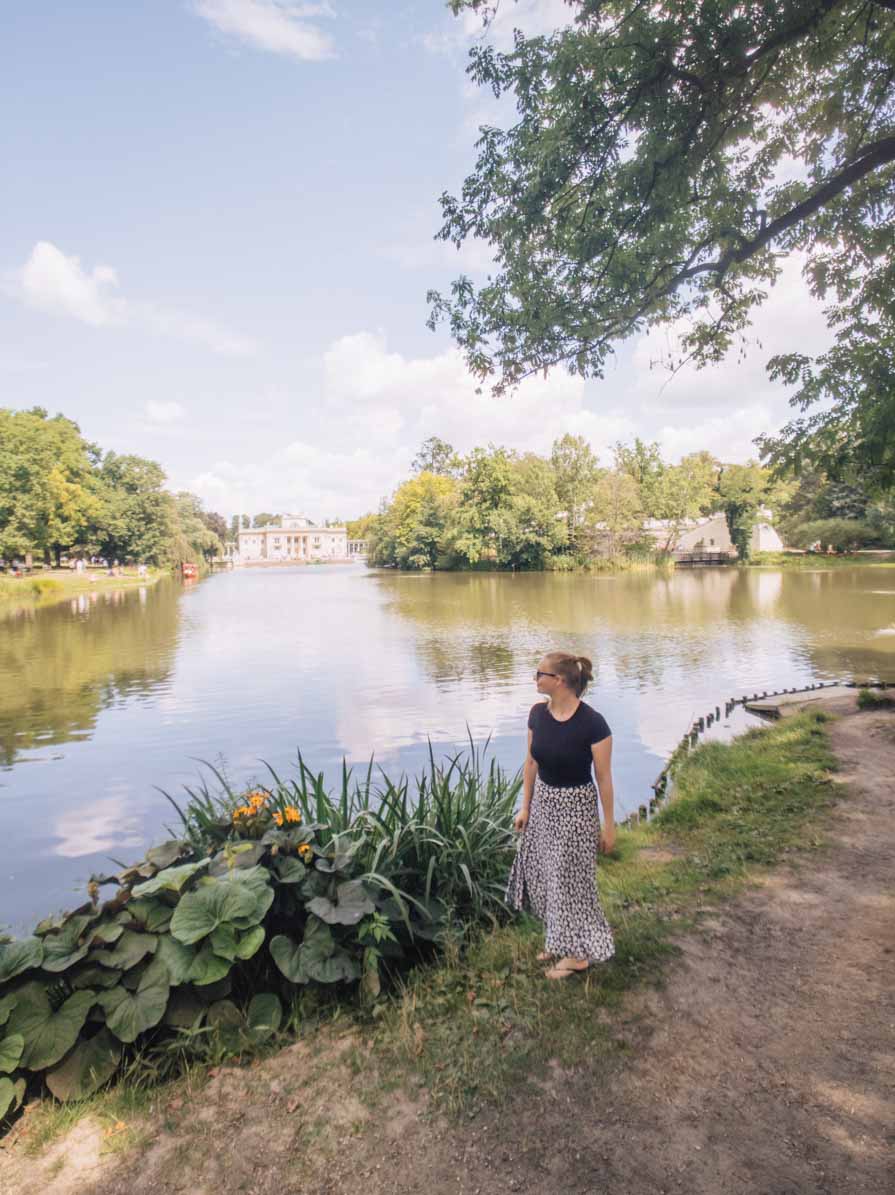 The Old Town's fortified walls
Warsaw's City Walls were first built between the 13th and 16th centuries, the rebuilt in the 1950s after being damaged in WWII. There are sections where you can walk on the walls themselves, but don't be the douchebag who climbs over gates and fences for a photo.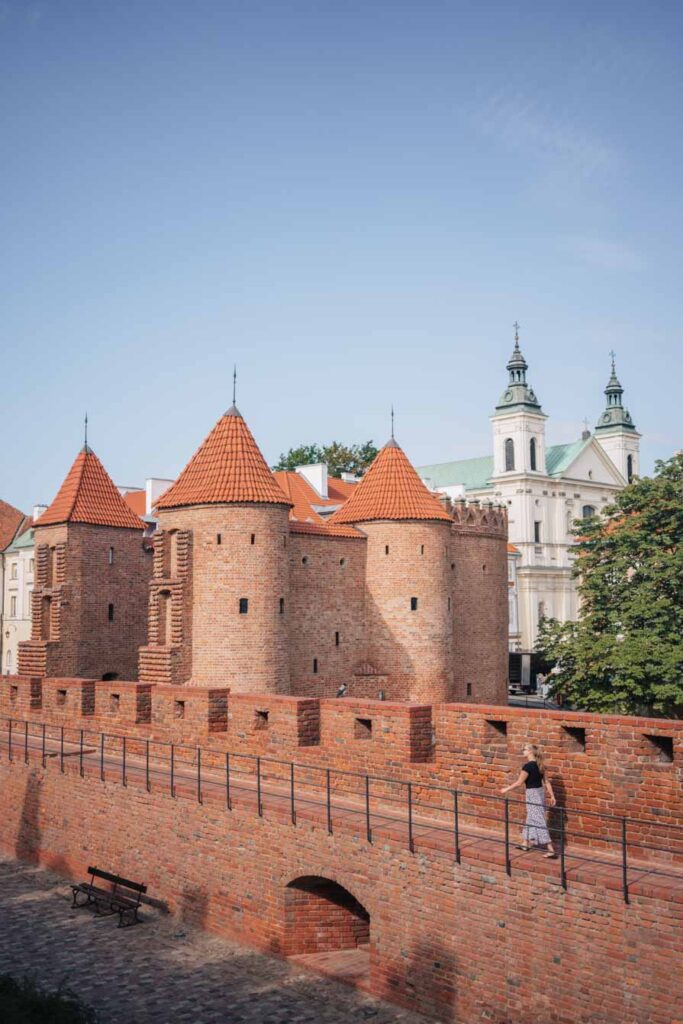 Palace of Culture and Science
This building is a Warsaw icon, the tallest building in the city and a socialist symbol after Stalin gifted it in 1955. There's an observation deck on the 30th floor, but I think the best photos are out the front where the yellow Polski Fiats are parked.
You'll need a wide angle lens to get the whole building in, like my number one travel photography accessory: the Moment Wide lens, which clips onto your phone case and takes your phone photos to the next level.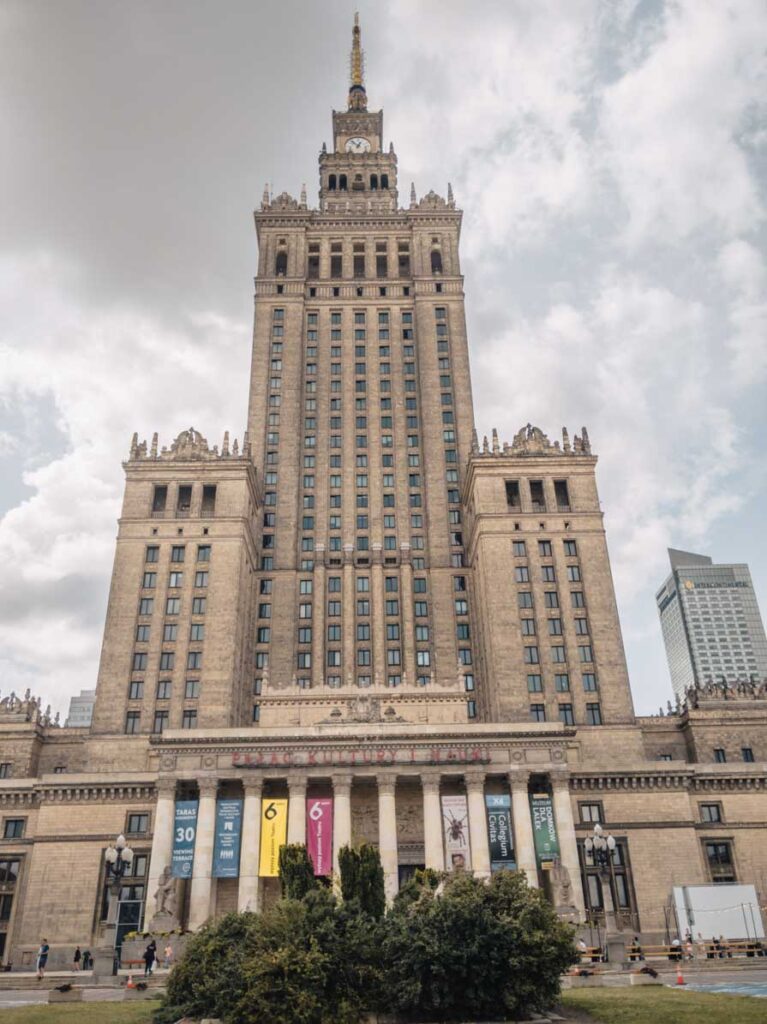 ---
The best things to do in Warsaw
Learn about the Jewish history of Poland over the past thousand years at POLIN Museum (30 PLN entry but free on Thursdays)
See what the city went through at the hands of German forces during WWII, and how they rebuilt the city afterwards, at Warsaw Uprising Museum (20 PLN to enter, free on Sundays)
Visit the museum in the Royal Castle (30 PLN entry but free on Sundays)
A

free walking tour

to get a basic understanding of the city's history
Go out-out with the best-rated

pub crawl

in Warsaw
Jump in a vintage minivan for an

off-the-beaten-path tour

around the lesser-known Warsaw neighbourhoods
Do a

Jewish history tour

around the city's WWII landmarks
Book any Warsaw activities or day trips on Klook and save 5% using the promocode ALEXXH05
Climb to the top of St Anne's Church Observation Tower on Castle Square
Explore Warsaw's communist history with a

half-day communism tour

Become a vodka expert with a

vodka tasting class

Go to a

Chopin concert

in the Old Town
Sink a brew or five at Piw Paw, one of the city's best specialist beer bars
Visit the Museum of Caricature and Cartoon Art
Search for peacocks at Łazienki Park
See the street art in the Wola district
---
Looking for somewhere to stay in Warsaw? Check out all the hotels and apartments right here, and don't forget to sort by 'review score and price' to see the best value options first.
Have you ever considered a weekend getaway to Warsaw? Let me know in the comments below, and I hope this was helpful!
Like this blog? Pin it!
Read more about my 52 in 52 adventure here, see all of my blog posts from the trip here, or check out my Instagram @findingalexx to see all of my travel photos.
---
All the basic details from my big 52 in 52 trip:
How do you find your flights? Skyscanner! I use the Everywhere tool to find the cheapest place to fly to each Tuesday
Do you fly every week? Not every week no, once I have the destination I check trains and buses to see if there's any other transport options aside from flying. If so, I usually book these using the Trainline app.
How do you book your accommodation? I book all my hotels, hostels and apartments on either booking.com or Hostelworld.
Do you have travel insurance? YES, I always travel with travel insurance and you should too. I'm insured for an annual policy with Worldcare NZ.
Do you offset your carbon credits? I sure do! I always offset when I book if the airline gives me the option (Ryanair does), and I also offset all my flights using Co2nsensus.com.
What luggage do you travel with? I travel with a 75cm Samsonite Cosmolite suitcase, a matching Samsonite Cosmolite 55cm cabin luggage hardcase, and a cheap laptop backpack.
What camera do you use? You can see the full list of what's in my camera bag right here.
What laptop do you use? I have a super portable HP Spectre x360 13.3″ laptop, which is an absolute dream to travel with.
For more FAQs about my 52 in 52 trip, see this post.
---
Huge thanks to DREAM Hostel for providing me with five nights' accommodation on this trip. As always, all opinions are my own and are based on my personal experience.