Looking for somewhere cheap to stay in San Diego? With comfy rooms, a swimming pool, social vibes and a great location, California Dreams in Ocean Beach is hands down one of the best hostels in town.
If you've been reading my blogs or following me on Instagram for a while, it'll come as no surprise to you that I'm a pro-hostel traveller. While I absolutely do enjoy the odd fancy stay at a luxury hotel, while travelling in my 20s I spent many more nights in hostel dorms than in 5* resorts.
Hostels let you make the most of your money, give you the opportunity to meet other young travellers, and are often even comfier than cheap motels or hotels. Most hostels have private rooms, as well as full kitchens and other facilities, so you don't need to give up your home comforts.
I had heard about the California Dreams hostels in San Diego from a friend who had stayed in the past, and I knew I wanted to add them to my San Diego itinerary during my recent return to the city (I studied there a decade ago and it was my first time back!).
I spent four fantastic nights at California Dreams Ocean Beach, soaking up the summer sunsets, taste testing local eateries and wandering around my old favourite beaches, malls and parks just feeling nostalgic about my life in San Diego back in 2012. This hostel has the full package too, it's super clean, has a great social atmosphere without being a crazy loud party scene, there's epic activities on offer and loads of chances to meet like-minded people.
Read on for more info on California Dreams Ocean Beach, my favourite hostel in San Diego, or if it already sounds like your kind of place then you can search your travel dates direct on their website, on Hostelworld, or on Booking.com.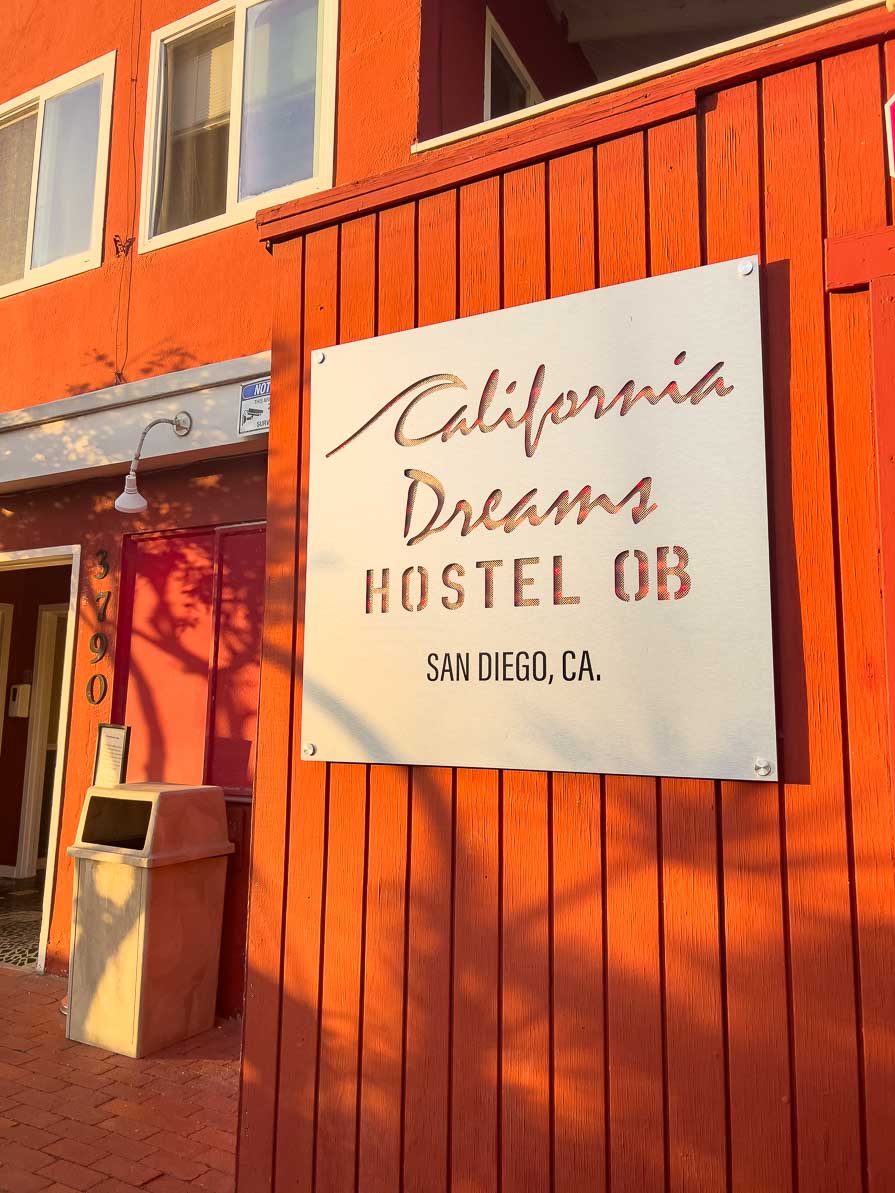 ---
Where is California Dreams?
California Dreams actually has two locations in San Diego, Ocean Beach and Pacific Beach.
The Ocean Beach location (where I stayed, 8.8/10 on booking.com) is in Point Loma Heights, a five minute drive or 35 minute walk from Ocean Beach Pier. It's only ten minutes by car from the airport, 15 minutes from downtown San Diego and 20 minutes from La Jolla.
The area is definitely more suburban and residential rather than touristy, it felt really safe walking around in the evening and there's a supermarket as well as some fantastic eateries within a short walk.
The Pacific Beach location (8.7/10 on booking.com) is right by the beach, just a two minute walk! From PB it's an 8 minute drive to La Jolla, 20 minute drive to downtown and just under 20 minutes to the airport.
---
What are the rooms like?
I stayed in a private room that had a comfortable queen-size bed, a mini fridge, a bookcase/shelf for storage, hooks for hanging and air con. My room didn't have a private bathroom but the shared bathrooms were always perfectly clean, with shower booths that had hooks and a shelf (and great water pressure!).
The dorm rooms at California Dreams Ocean Beach have privacy curtains on the bed, there's plenty of plugs to recharge your gadgets, and there's lockers in the hallway to keep your belongings secure. All rooms also have air con, which was necessary as San Diego was 35 degrees the whole week I was there!
---
What facilities does California Dreams have?
The California Dreams Ocean Beach hostel is really well-equipped in terms of facilities, which is why it's made it onto my list of the best places I've ever stayed.
The kitchen is spacious with loads of bench space for prepping your dinner, and the dining area has big round tables for group dinners as well as a bar-style bench if you need to work while eating or just want some solo time.
The shared lounge has comfy couches and a TV for watching movies, and there's also an outdoor lounge set up out the back of the hostel to enjoy the Southern California heat, plus a small sunny spot with deck chairs in front of the hostel for sunbathing, hanging out with new friends or practicing yoga with the yoga mats the hostel has for guests to use.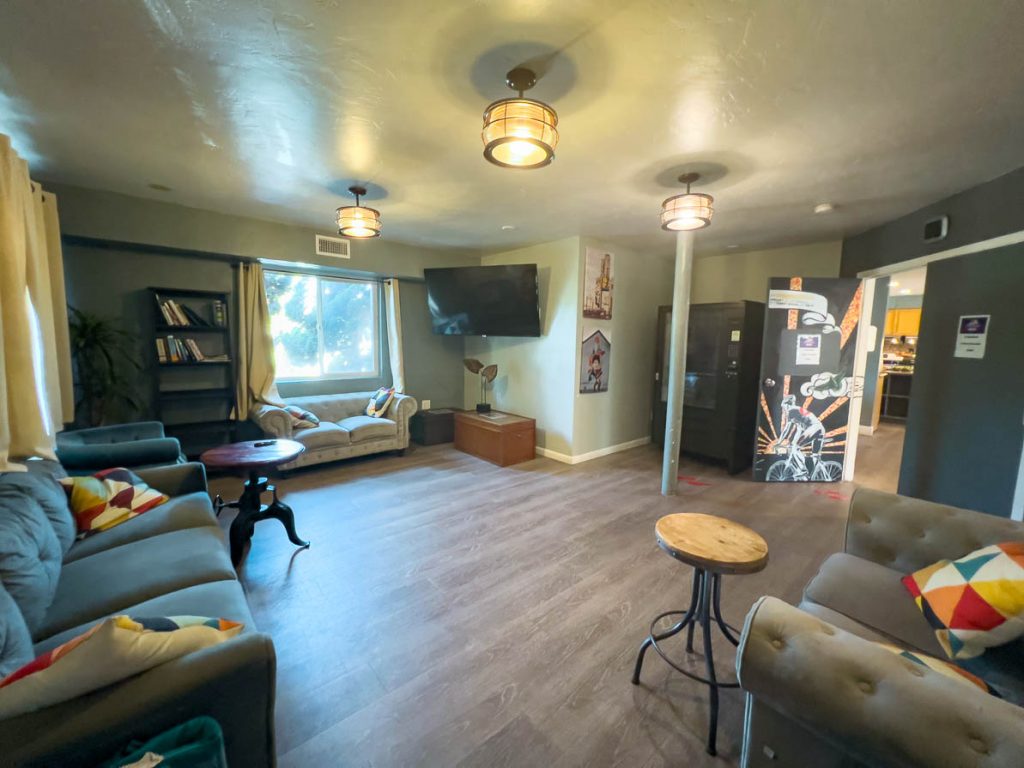 My favourite thing about California Dreams Ocean Beach though is the swimming pool, which was absolutely necessary for my stay considering it was 35°C and above for my whole stay! It's got sun covers above just to keep it refreshing. For those slightly cooler San Diego winters there's a spa pool, and you'll find a BBQ, a ping-pong table and a foosball table out the back too.
If you're keen to head to Ocean Beach the hostel also offers a bunch of equipment that you can rent, like surfboards (from $20), wetsuits (from $15), bikes (from $10), beach chairs ($5) and umbrellas ($5).
---
What events does California Dreams run?
As well as having next level facilities, California Dreams also runs some fantastic events that give you the chance to get amongst San Diego life as well as make friends with fellow travellers.
My favourite activity from my stay was the yoga, omelette and mimosa event on Saturday morning, which combines three epic ways to start the day. We did some early morning low key yoga under the palm trees in front of the hostel, before heading inside to choose our omelette ingredients and have it cooked by Chef Dan (one of the California Dreams legends!) while we sip a mimosa. Living the hostel dream!
California Dreams also has Taco Tuesday and a homecooked family dinner on Thursday (both courtesy of Chef Dan) as well as bike tours throughout the week too.
---
What is there to do in the area?
The Point Loma Heights area is more residential than touristy but there are some AMAZING food spots within a really short walk of the hostel.
My absolute fave is Cesarina (4.8/5 from 1067 reviews), I reckon it's the best Italian restaurant in San Diego outside of Little Italy. Their pesto pasta is some of the best I've ever had in my entire life (and I eat a lot of pesto pasta) and the design of the restaurant is just so stunning.
There's also Don Tommy's Mexican Food (4.5/5 from 422 reviews), Peace Pies (4.8/5 from 424 reviews) and Tea's Moment (4.7/5 from 133 reviews) that I frequented during my stay.
Then if you walk the 35-40 minutes to Ocean Beach, there's loads more to keep you busy, fed and hydrated!
One thing on your Ocean Beach to do list has to be seeing the sunset, San Diego is famous for candy floss skies that turn to fire as the sun sets behind the horizon. Ocean Beach itself is a popular spot, walk down the 600m pier to get a little bit closer, or head to the aptly-named Sunset Cliffs for another famous view.
The Ocean Beach Farmers Market runs on Wednesdays from 4pm-8pm, with loads of fresh produce, arts and crafts, food trucks and other little events like drum circles and acro-yoga meet ups along the beachfront. California Dreams runs bike tours to the farmers market if you'd prefer to explore with other travellers.
In terms of food and drink, some Ocean Beach favourites are Hodad's (famous burgers, 4.6/5 from 5268 reviews), OB Noodle House (4.5/5 from 1604 reviews), Raglan Public House (4.6/5 from 844 reviews, inspired by Queenstown's world-famous Fergburger!) and Kilowatt brewing (4.7/5 from 213 reviews).
Ocean Beach also has a brilliant dog beach for meeting cute lil doggos (visiting a dog park is one of my top tips for combatting loneliness while travelling solo), there's some incredible street art along the Ocean Beach Mural Walk and it's only a short drive or Uber to downtown San Diego, Old Town or Pacific Beach.
---
The vibe at California Dreams Ocean Beach
I really loved the vibe at California Dreams Ocean Beach, it was exactly what I look for in a hostel!
Not party-party (those days are over for me!), very digital-nomad-friendly with great WiFi and space to work, activities where you can meet people if you want as well as places to chill out and read a book or whatever you want to do in your downtime. The staff were friendly and chatty, the whole hostel was impeccably clean during my whole stay, and the pool was really a gamechanger in the San Diego summer heat.
---
Things to be aware of before booking your stay at California Dreams Ocean Beach
As with all my trips, I'll always give you an honest account of my experience and share all the good as well as the not-so-good, so that you're fully aware before you book anything. I only have two things to share here though!
One is the noise, San Diego airport is basically right next to Point Loma Heights and the flight path goes right over the hostel, so you'll hear planes throughout the day from 6.30am until 11.30pm when departures end for the night. This is an issue throughout the whole of Ocean Beach so if you're a light sleeper (and want to sleep earlier or later than the noise curfew hours) you should bring ear plugs! I use these silicone ones from Amazon.
The second is the location, I really enjoyed being in Point Loma Heights because there were some fantastic local eateries and it was super cheap to get to and from the airport and downtown, but you do need to know that the hostel is at least a 35 minute walk from the beach, so if proximity to the sand is your top priority then check out California Dreams Pacific Beach instead.
---
The final verdict on California Dreams
It's the kind of place I could've spent a couple of weeks at for sure, and I'll be going back next time I'm in San Diego (although I might try out their Pacific Beach location next time).
Dorm rooms start from $40 and private rooms start from $90, check prices direct with California Dreams, on Hostelworld and on booking.com to make sure you're getting the best deal.
Huge thanks to the California Dreams team for hosting my during my time in San Diego. As always, all opinions are my own and are based on my personal experience.