Considering a Vancouver Island getaway? Oak Bay Beach Hotel is a brilliant option for a sophisticated stay, complete with magical waterfront hot pools, next level food and world-class service. Here's a thorough review of my stay.
Oak Bay Beach Hotel has been named Canada's best hotel by Conde Nast Traveller, so obviously I had to try it out for myself when my round the world solo trip took me to Canada for a month. And after a whirlwind two night stay, I can confidently say it's one of the best places I've ever stayed.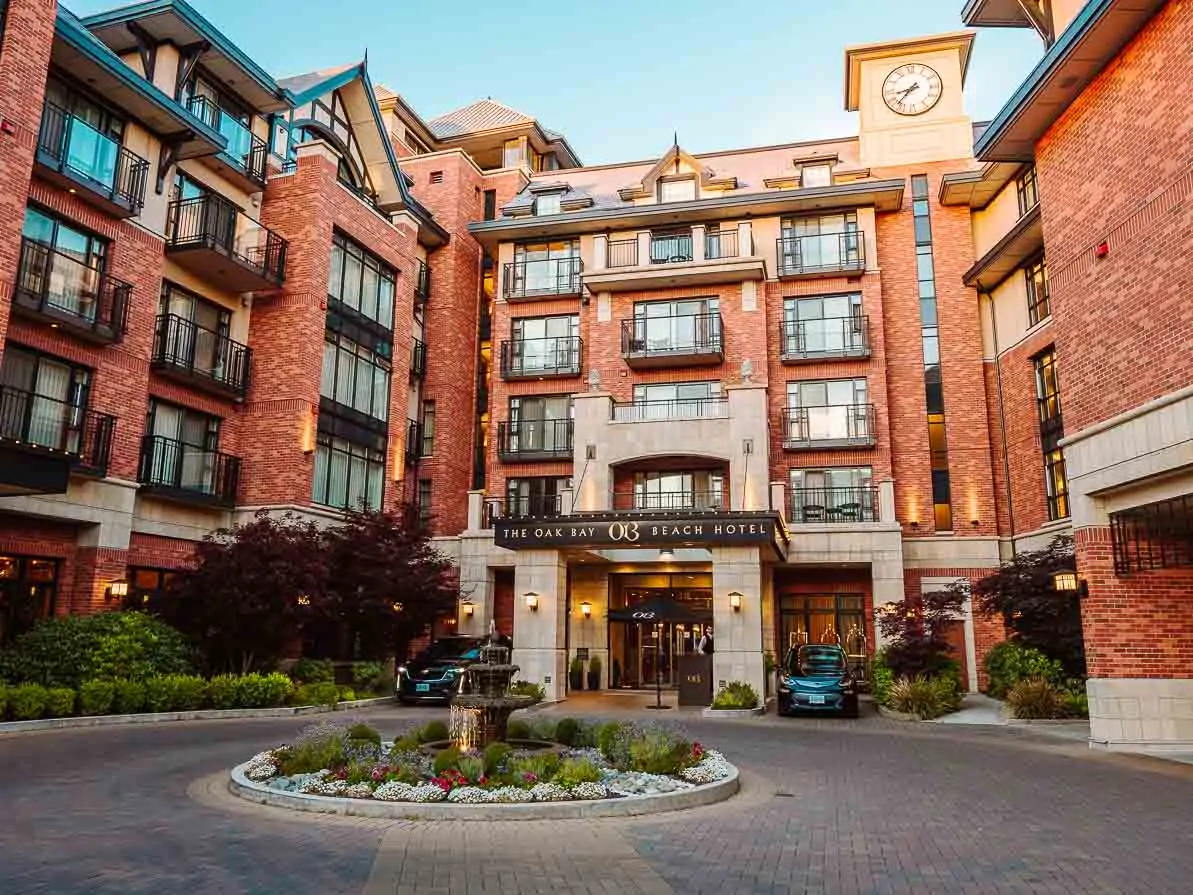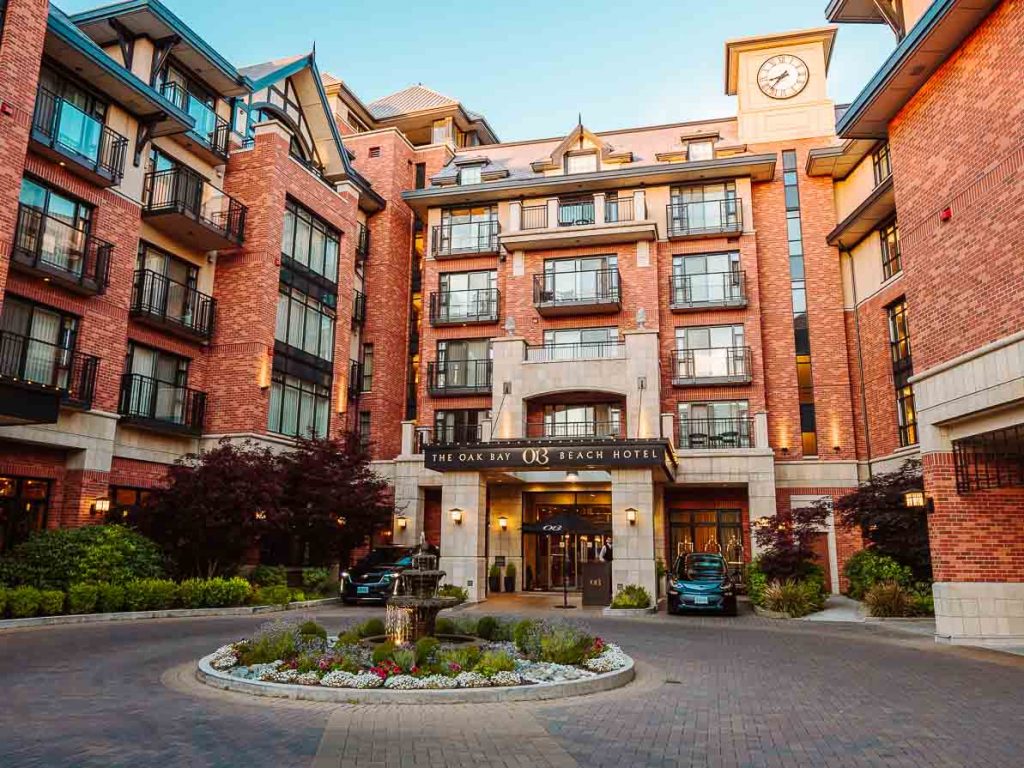 Anyone who has followed my adventures for a while will know that I always prefer unique accommodation with character over generic business hotels, and Oak Bay Beach Hotel is absolutely full of character.
From the iconic exterior to the charming guest rooms to the picture-perfect hot pools, Oak Bay Beach exceeded my already-high expectations. Here's a deep dive into what you can expect from your stay.
Where is the Oak Bay Beach Hotel?
Oak Bay Beach Hotel is just ten minutes' drive from downtown Victoria, on the southeastern part of Vancouver Island.
To get to Oak Bay Beach Hotel from Vancouver you can either seaplane into downtown Victoria and then catch a taxi (10 mins) or bus (15 mins), or if you're catching the ferry from Tsawwassen then you can drive your own car or get a cab from the ferry terminal to Oak Bay (45 mins), or catch a bus to downtown and then a bus to the hotel (about 1h 20m all up).
---
The vibe at the Oak Bay Beach Hotel
Sometimes I find that iconic hotels like the OBB can get a bit stuck in the past, catering more to returning guests who have been coming here for years rather than trying to impress younger generations of travellers. Fortunately, Oak Bay Beach makes an effort (and succeeds!) to impress both types of customer.
Walking up to the English manor-style brick exterior makes you fancy immediately, this was a nice upgrade from the Kitsilano basement unit where I've been based for a few weeks! Once you step into the lavish lobby I guarantee you'll feel relaxed right away, with jazz playing through the speakers (or live piano if you're lucky), friendly staff waiting to greet you and expansive ocean views through the floor-to-ceiling windows on the other side of the room.
The vibe is old world charm mixed with Instagrammable boutique hotel, perfect for any discerning traveller that wants a chilled out seaside vacation with the added bonus of some fantastic photo spots.
I spoke to a number of other guests during my stay, including a couple on their honeymoon, a family visiting from Australia and a bunch of people who were making their annual summer trip to the OBB. It's the type of hotel that you add to your bucket list, visit once, and then keep coming back each time you're in the area.
---
What are the rooms like at Oak Bay Beach Hotel?
I stayed in a partial ocean-view twin guest room on the 3rd floor and it was exactly what I needed.
There was a microwave, mini fridge and coffee machine, the bathroom was big with a separate toilet room, a shower with a bench seat and a huge tub with windows that open to the bedroom, complete with bath salts. Having a herbal soak with ocean views? The dream.
The beds were really comfortable and I slept brilliantly, which is unlike me!
There was a balcony but it was very small, standing room only, but the ocean view rooms at the front of the hotel have balconies with a table and two chairs, worth the upgrade if you want to enjoy your morning coffee with a view.
Unfortunately there wasn't a desk in my room, there was a round table which can be tricky to work from sometimes but I did most of my work at the restaurant or by the pools anyway (the joys of digital nomad life!).
---
What are the facilities like at Oak Bay Beach Hotel?
Beyond the hotel's incredible location, iconic design and fascinating background, there are two other reasons why the Oak Bay Beach Hotel is one for your hotel bucket list: the mineral pools and the Boathouse Spa.
Mineral pools
The Oak Bay Beach Hotel mineral pools are probably some of the best hotel pools in the world. And that's coming from someone who has been fortunate enough to swim in A LOT of hotel pools!
There are three heated outdoor hot pools right on the waterfront, one large pool at a balmy 34°C, and two spa pools at 40°C. The pools are open from 7am to 11pm daily and they're exclusive to hotel guests and Boathouse Spa guests, there's no option for the public to access these pools.
On arrival you'll receive a pool towel and also have access to iced water bottles, and you can choose from sun loungers or deck chairs either out in the open or under the shade of umbrellas. In the evening there are fires to keep warm when you're out of the water.
When I visited there was a heatwave in BC so it was far too hot to be at the hot pools during the day, but I did sit by the pool to do some work for a few hours and then would spend a couple of hours back there in the evening to enjoy a stunning sunset.
In summer the sun sets behind the houses next to the hotel but if you look out to sea from the pools you'll be able to see what I like to call the 'anti-sunset', when the sky turns into a gradient of pink and purple. So dreamy, especially on a clear day when you can see Mount Baker on the horizon.
(This long-sleeve swimsuit is from SWMR by the way, a small Kiwi company that ships to NZ, Australia and the USA).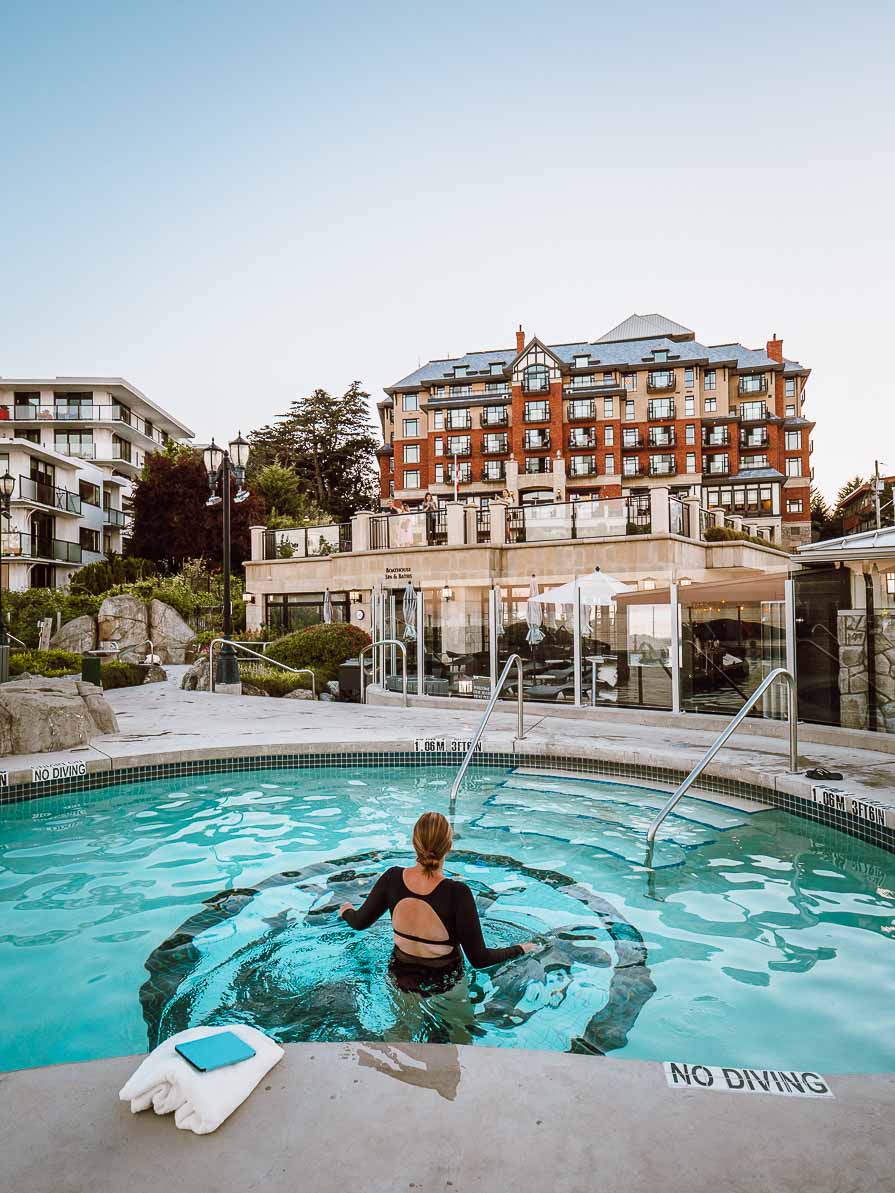 Boathouse Spa
Victoria's only oceanfront spa is the perfect place for a bit of pampering if you have something to celebrate or if you just feel like treating yourself.
Open from 9am to 7pm Sunday to Wednesday, or until 9pm Thursday to Saturday, the spa has a range of health and wellness options on offer from massages (relaxation, deep tissue, pre-natal and therapeutic), facials, peels, body treatments and more, starting from $155 for the cheapest 60 minute massage and $165 for a 60 minute facial.
Most treatments also have an optional upgrade to the gazebo right on the water, with panoramic views of the Salish Sea for ultimate relaxation. This option is about $30-$40 on top of most treatment prices.
---
Food and drink at the Oak Bay Beach Hotel
There are three different food options at Oak Bay Beach Hotel: The Snug, FARO Pizzeria and the kitchen by the hot pools.
The Snug
The Snug is a classic English pub, but it also boasts the best view in the hotel, overlooking the Salish Garden, the mineral pools and the ocean.
The Snug opens at 7am until 11am for breakfast, serving up classics with an island twist, like crab cake benedict, eggs benedict with thick cut bacon, granola with Vancouver Island yoghurt, and lighter snacks like pastries and toast.
You can also grab a table here for lunch or dinner between 11am and 10pm Sunday to Thursday (or 11pm Fridays and Saturdays), the menu is seasonal but some example dishes are fresh seafood chowder, poke bowls, burgers, sandwiches and pasta. There are vegetarian options too, like tofu donburi and veggie burgers.
The drinks list is varied too, with a page of handcrafted cocktails that change with the seasons as well as all the classic cocktails and a good selection of beer, wine and other beverages. Happy hour runs from 2pm-4pm Monday to Friday with deals like $10 Aperol Spritzes and $6 house wines and beer.
I opted for the Ploughman's Platter for dinner, a delicious selection of cheeses, cured meats and spreads, with a Tiki Time mocktail, and I highly recommend both.
The Snug doesn't take reservations so if you want one of the coveted patio seats you'll need to get there ahead of time and hope you can snatch a spot. Sunset from here is stunning, you won't see the sunset itself but you can watch the sky turn into candy floss colours.
FARO
FARO is an Italian-inspired eatery on the road-side of the hotel, so no view unfortunately but there is a beautifully sunny patio to soak up the rays (with heaters for the cooler months).
FARO has coffee and pastries on offer from 7am to 11am, then lunch and dinner runs from 11.30am-10pm Sunday to Thursday (11pm on Fridays and Saturdays). The menu here is delicious and I recommend going a few times during your stay so you can make the most of the range of food available!
My first visit I got the melon and prosciuttio, castelvetrano olives, freshly baked bread and a side of fior di latte. I cannot explain how divine the bread is, it's drizzled in olive oil and seasoned with rock salt and rosemary. Mouthwatering! For my second visit I tried the Quattro Formaggi pizza because it's basically illegal to go to a pizzeria without ordering pizza. The pizza was fantastic, and went down a treat partnered with some of the fancy cocktails FARO is known for.
If you're hanging around the hotel between 1pm and 4pm on weekdays then you could check out the FARO Aperitivo Hour, where there's a special menu on snacks like tuna crudo, Spanish sardines and melon & prosciutto, plus cocktails from $8.
Boathouse Kitchen & Bar
The only thing better than soaking your worries away in the mineral hot pools is coupling that with a poolside snack and bevvie. The Boathouse Kitchen & Bar includes light snacks like pastries and fruit salad from 8am until they run out, seasonal specials like watermelon salad and tuna tacos between midday and 7pm, and classics like prawn cocktails and wraps from 12pm til 10pm.
In terms of drinks you can choose from cocktails (the Boathouse Mojito is a must-drink!), mocktails, wine, beer and cider, and last call is at 9.45pm.
The Dining Room
The Dining Room is an intimate and exclusive dining experience on Fridays and Saturday evenings between 5pm and 10pm. It's a set menu with seasonal dishes created from the best Pacific Northwest ingredients on offer, and there's an optional wine pairing add on too. There's only 22 seats so book in as soon as you confirm your travel dates!
In-room dining
The in-room dining menu has some of the Snug options available until 10pm plus a kids menu until 9pm and overnight menu with limited options, and there's a $5 delivery fee plus 18% gratuity on top of prices.
---
The verdict on the Oak Bay Beach Hotel
If I had to sum up my hotel experience in one word, it would be divine.
The hotel itself is gorgeous with lavish décor and comfortable furnishings, the food offerings are varied and delicious with the added bonus of having a patio with some of the best views in Victoria, and the mineral pools are absolutely world-class and would make the visit worth it just by themselves.
I would highly recommend the Oak Bay Beach Hotel for anyone heading to Victoria who wants a top-notch five star hotel experience.
Search your travel dates here >>
---
Thanks to Oak Bay Beach Hotel for hosting me for two nights. As always, all opinions are my own and are based on my personal experience.