Planning a 3 day San Diego itinerary for an upcoming Southern California adventure? Here's all the best activities, restaurants and experiences to fill three days in San Diego.
San Diego holds a very special place in my heart because it's actually where I started my solo travel journey! Back in 2012, at just 19 years old, I set off from my home country New Zealand to head over to San Diego, California for a six month university exchange. Safe to say I fell in love with the feeling of exploring a new place totally solo, here I am ten years later doing it full-time for a job. Pinch me!
As part of my 2022 round the world trip I spend a bit of time along the west coast of North America so I obviously had to add a few days in San Diego into my itinerary. I flew in from Vancouver, spent three days in San Diego exploring all my old go-to spots, and then caught the Amtrak Pacific Surfliner up to Los Angeles.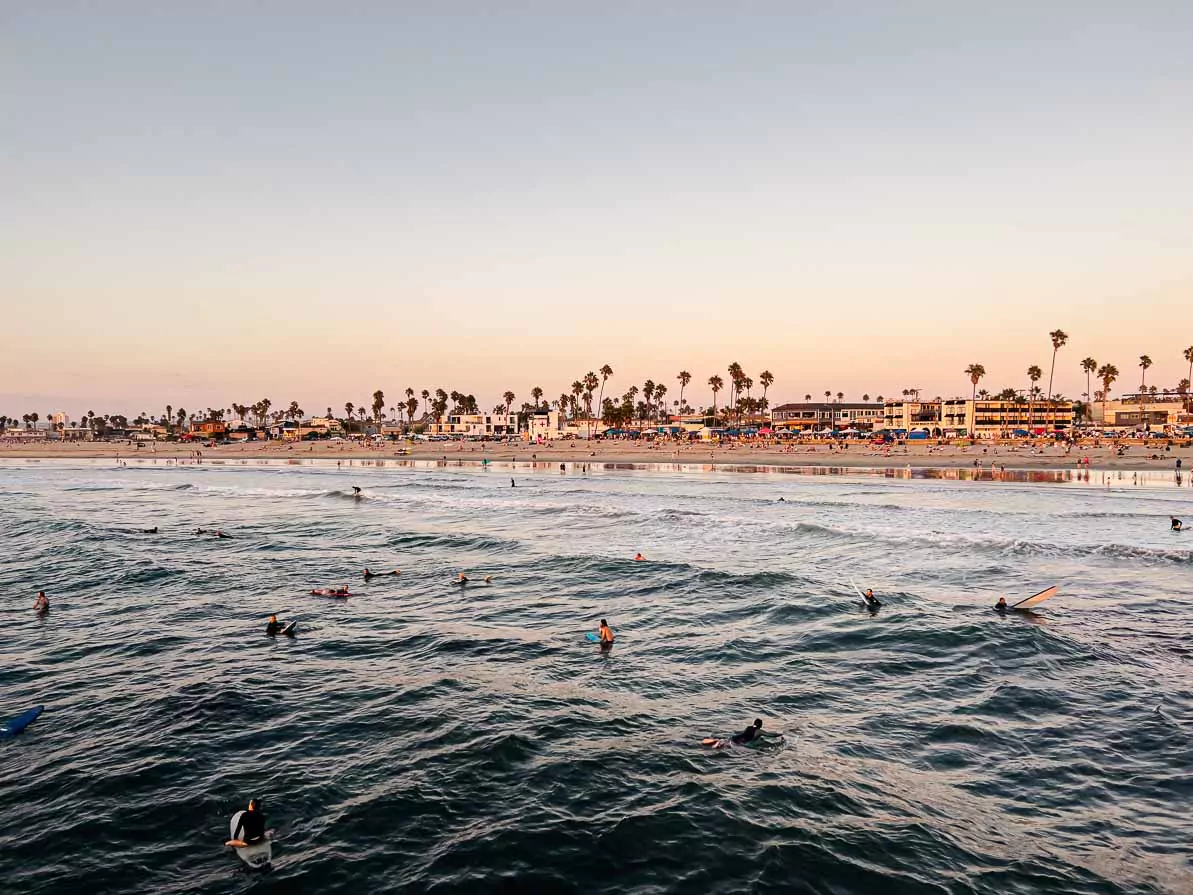 It made my soul so happy to be back in sunny San Diego, despite the heatwave that was hitting SoCal and getting temps up to the late 30s (or 90s/100s in fahrenheit!).
San Diego has been ranked as the #1 most fun city to live in in the USA, and for good reason! The food and drink scene is absolutely on fire, there's an endless selection of beaches to choose from, the weather is fantastic and the city doesn't have the same traffic problems that plague nearby Los Angeles.
If you're just spending 2 or 3 days in San Diego, you're going to have plenty of fun things to fill your San Diego itinerary, but you could easily extend your trip to a week or more and still have a brilliant time.
Here are some suggestions on what to do during a three day San Diego itinerary, as well as some ideas on where to stay, what to eat and can't miss activities. And if you're lucky enough to be staying longer, at the end of this San Diego itinerary I've got suggestions for a longer visit.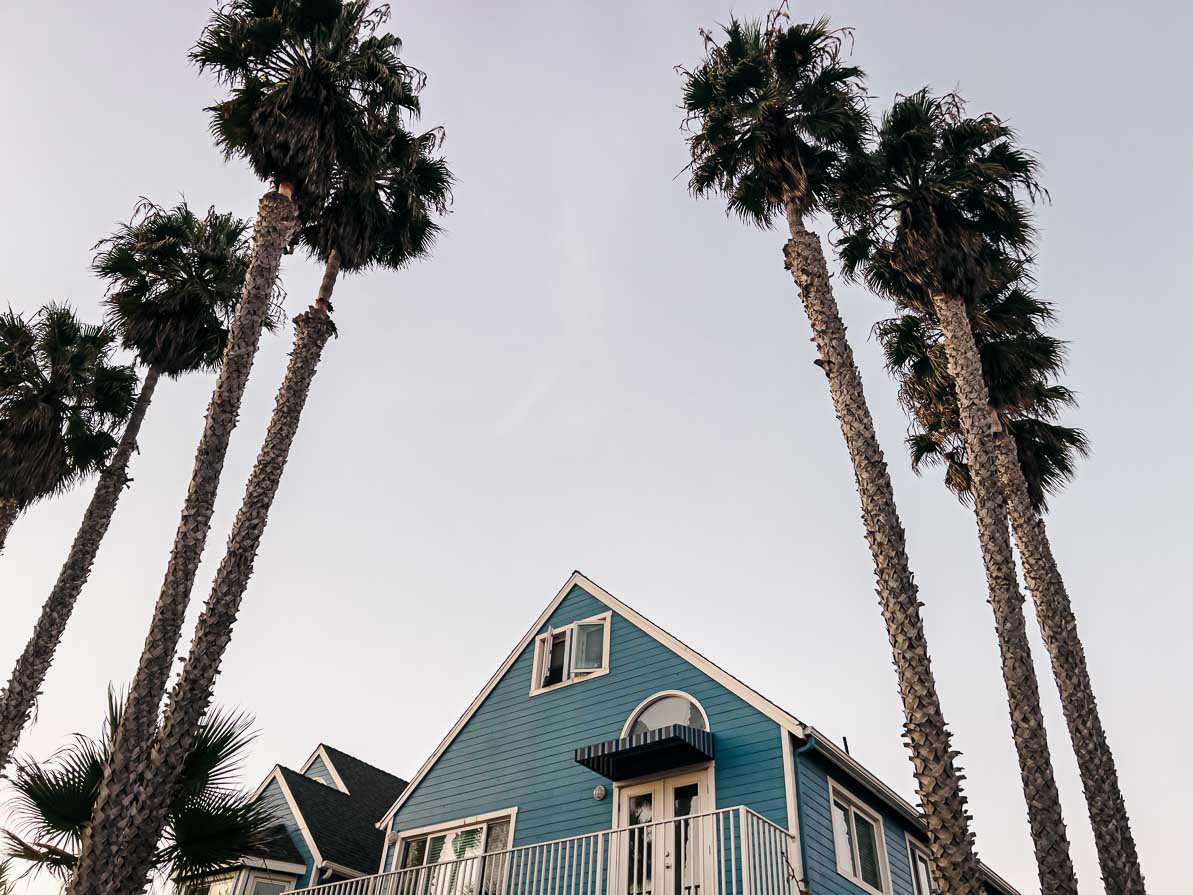 Please note that this blog post includes affiliate links that give me a small commission if you book a hotel or activity, which helps cover the running costs of this travel blog. Thank you for supporting Finding Alexx!
---
Summary of the perfect 3 day San Diego itinerary
Day one: Balboa Park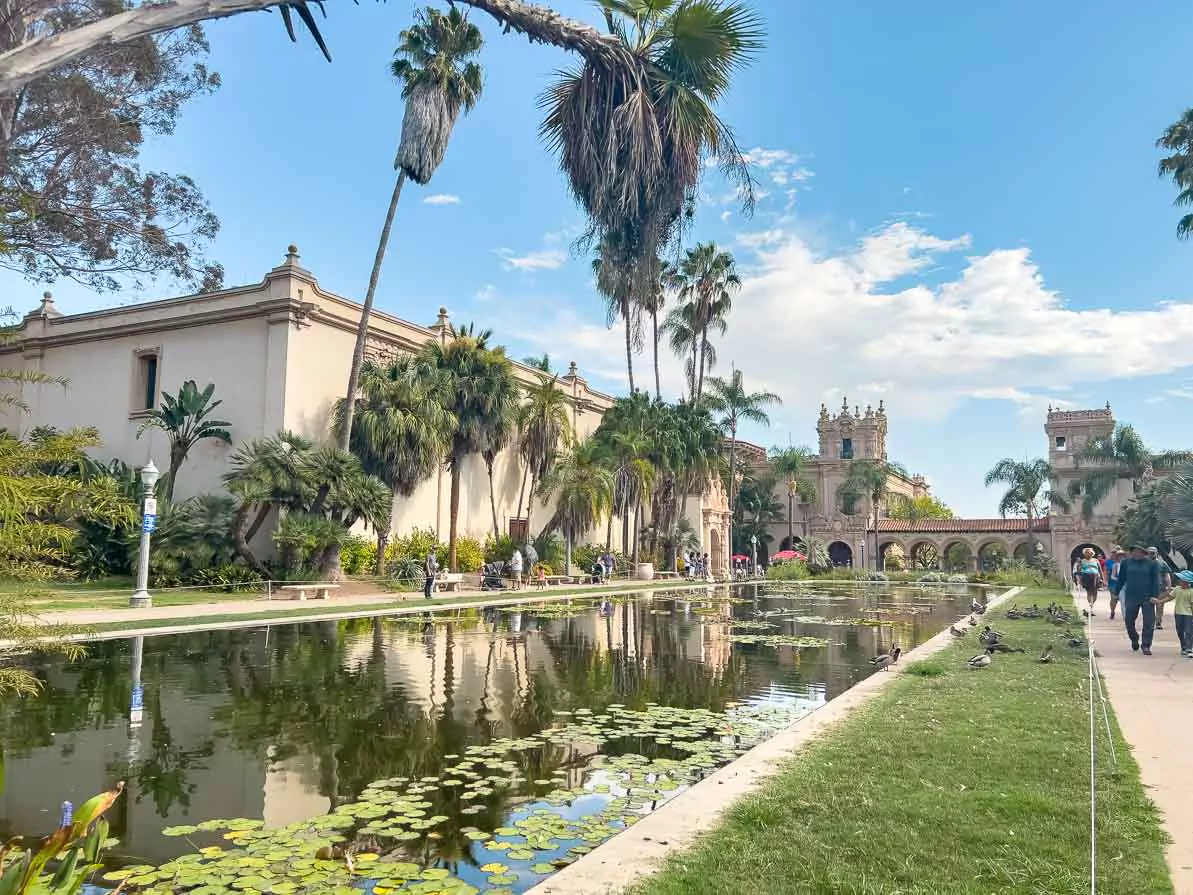 Day two: Old Town & Downtown San Diego
Book an Old Town Trolley Tour to take you through the best bits of downtown San Diego
Explore the colourful shops and eateries at Old Town State Historical Park
See historical ships at the Maritime Museum and visit the USS Midway Museum
Pick up some kitsch souvenirs from Seaport Village
Explore Gaslamp Quarter
Optional if you have time: Head out to Coronado Island for a walk along the beach and to see the famous (and haunted!) Hotel del Coronado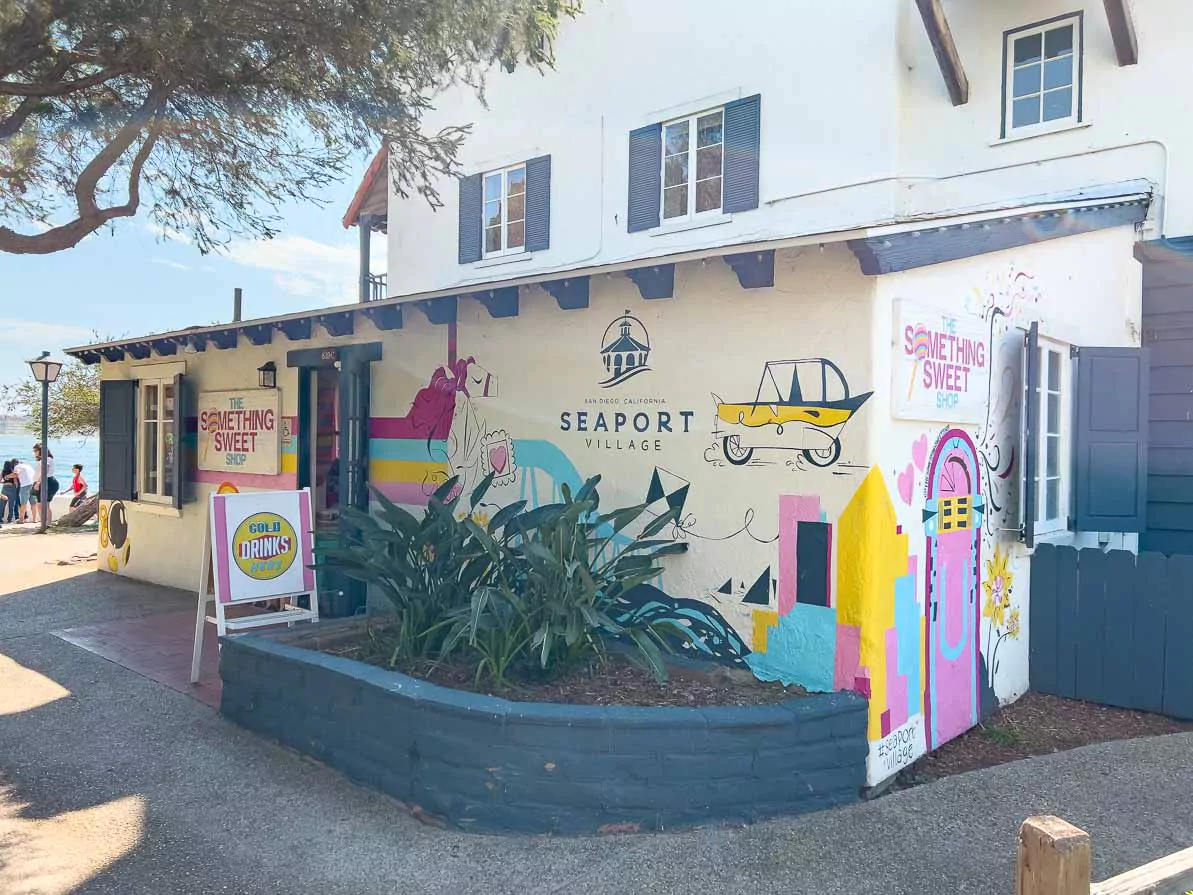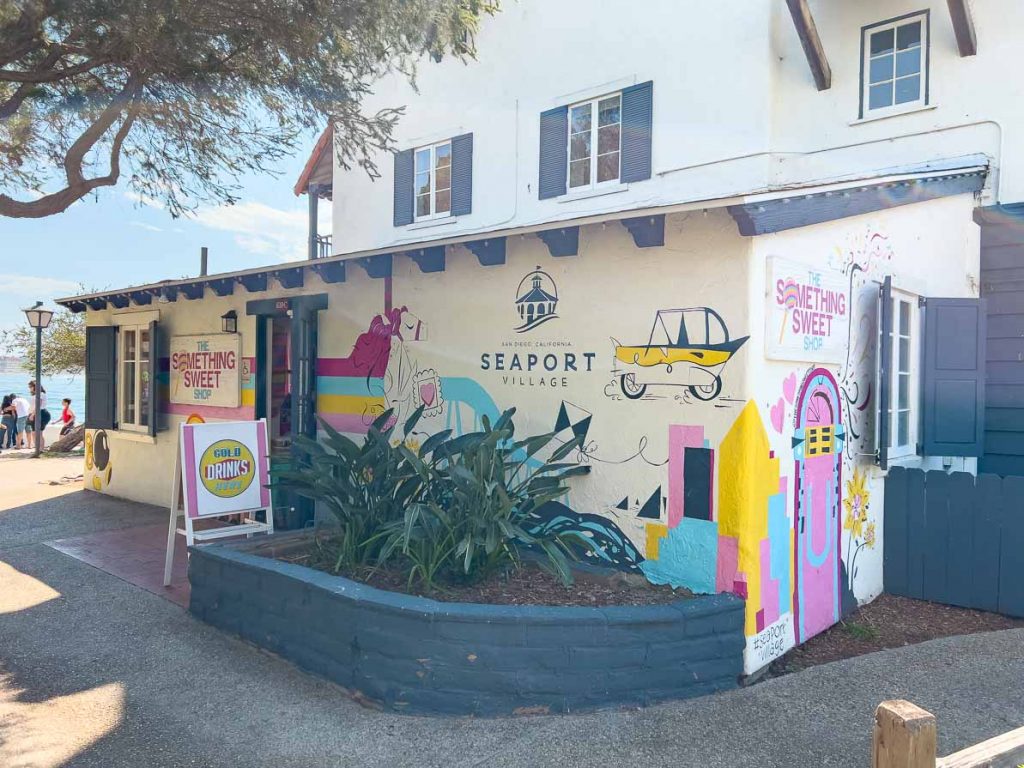 Day three: Hit the beaches
Go sea kayaking or snorkelling in La Jolla
Hike through Torrey Pines State Reserve
Have a beachfront lunch in Pacific Beach before hitting the rides at Belmont Park
Watch the sunset from Sunset Cliffs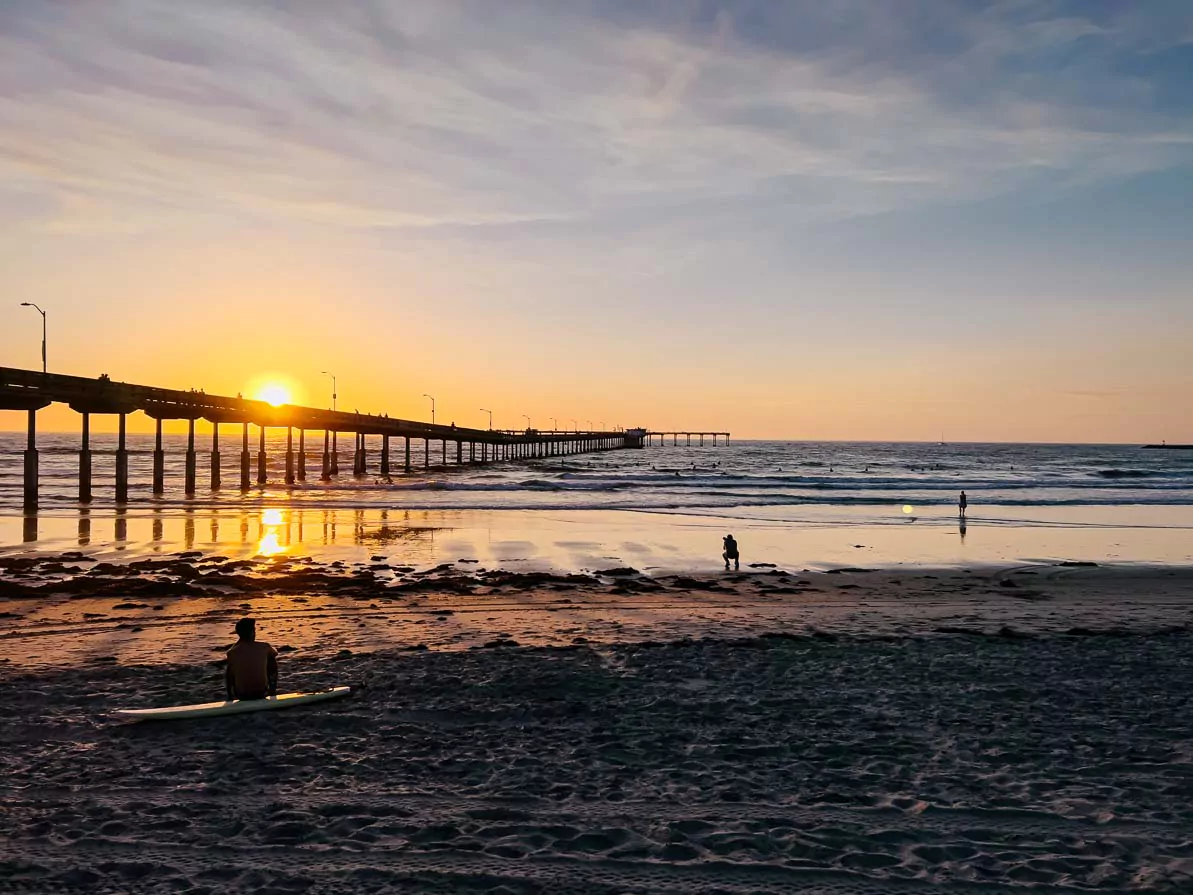 Planning to tick off a bunch of these experiences? The San Diego Go City Pass gives you free admission to more than 50 attractions in the city, including San Diego Zoo, Belmont Park at Pacific Beach, kayak rental at La Jolla, a harbour cruise and loads more, so it could save you $$$$ if you were going to buy these separately. Check out the San Diego Go City Pass and see if it's worth it for you.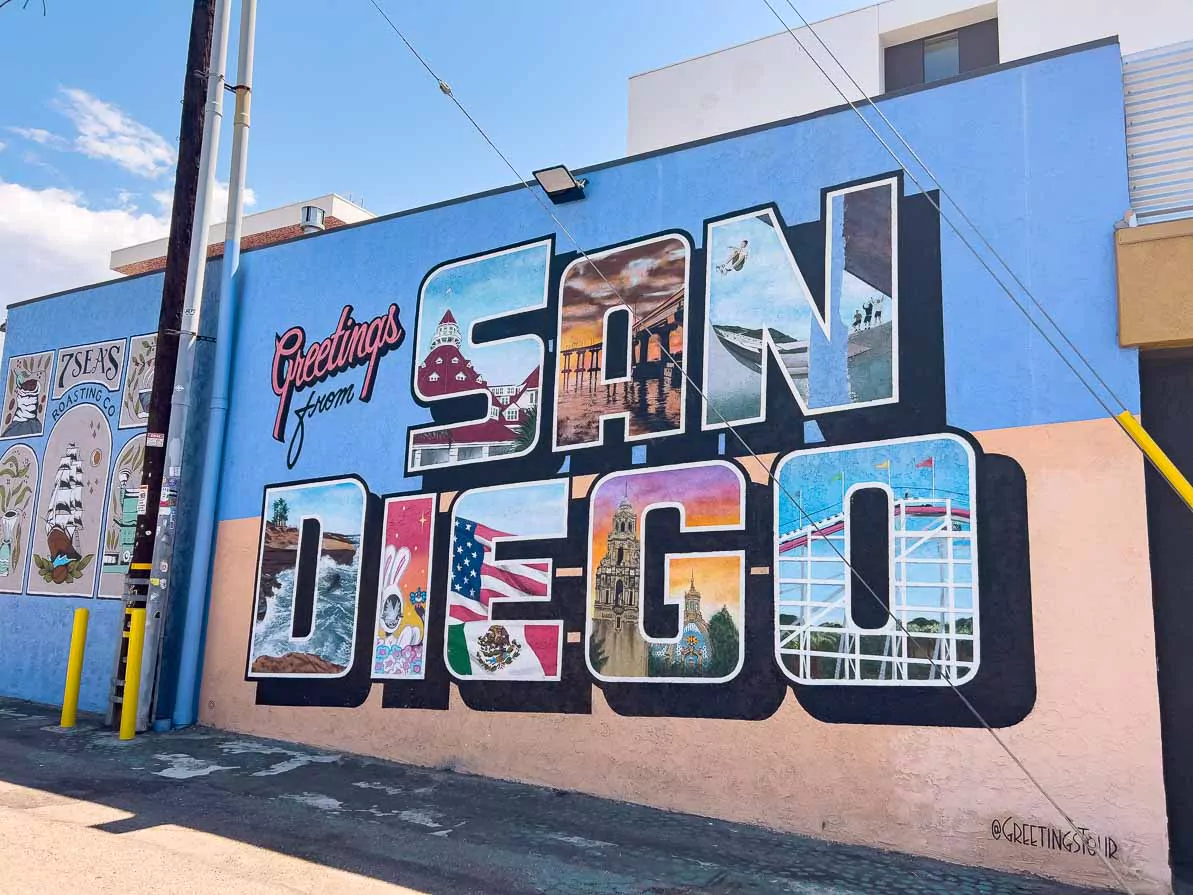 ---
How many days in San Diego?
If you are keen to just enjoy San Diego's great weather, famous beaches and thriving food scene then you could plan a fantastic weekend getaway, but if you wanted to tick off things like museums, the zoo and organised activities like kayaking or city tours then you'll want at least three full days in San Diego.
---
Where to stay during your 3 day San Diego itinerary
A quick note: San Diego accommodation is expensive! Expect to pay $30-40USD for a dorm bed, $90USD for the cheapest private rooms at hostels or basic motels, and upwards of $200USD per night for a decent hotel room. If you see a good deal on booking.com with free cancellation then I'd recommend booking it ASAP to lock in the price, then you can cancel it if your plans change.
Budget | I spent my three days in San Diego at the California Dreams hostel in Ocean Beach, which is my top pick for the best budget accommodation in the city. They've got dorms and private rooms, a swimming pool and spa pool, loads of activities (like a yoga and mimosa morning, so good!) and they're a five minute drive/35 minute walk from Ocean Beach. If you want a similar budget experience but closer to the ocean they also have a Pacific Beach hostel which is just a block away from the waterfront.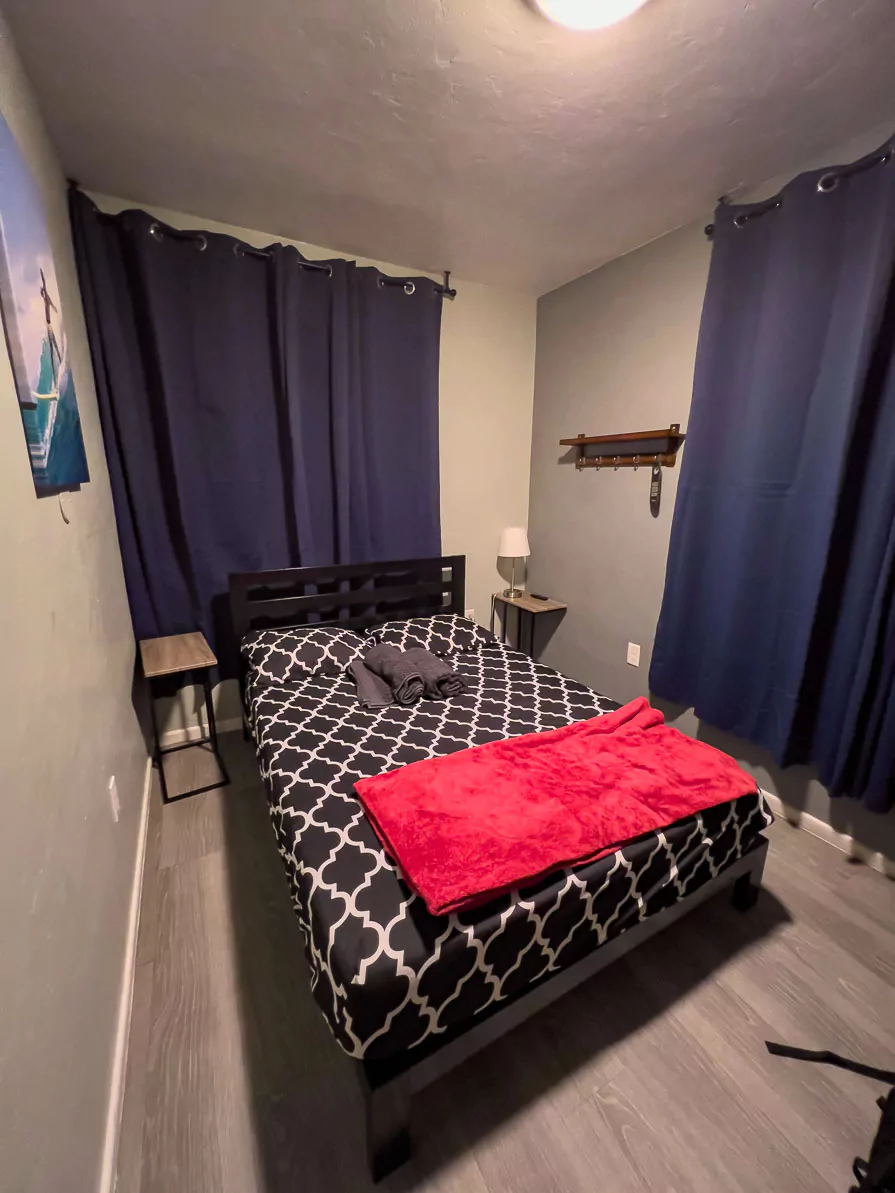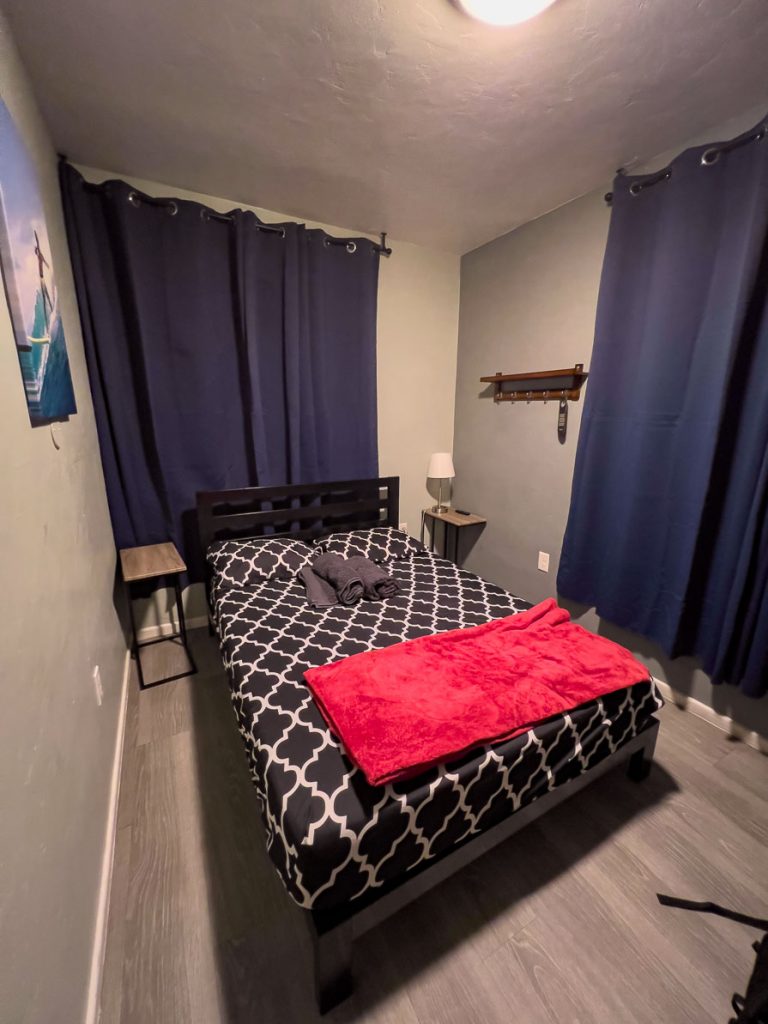 Mid-range | Staypineapple Hotel Z in Gaslamp Quarter, La Jolla Riviera Inn, Cosmopolitan Hotel in Old Town (another haunted one!) and Moxy San Diego in Gaslamp Quarter are all highly-rated, good value options.
Luxury | Tower 23 is a bright and breezy waterfront 4* hotel in Pacific Beach, the Andaz San Diego and Pendry San Diego are both luxury options in Downtown SD, Fairmont Grand Del Mar is an iconic Mediterranean-inspired resort in Carmel Valley and The Lodge at Torrey Pines is a boutique option near La Jolla.
Haven't found what you're looking for? I use booking.com to find and book all my accommodation. Search all the hotels, hostels and apartments in San Diego here and then sort your search by 'best reviewed and lowest price' to find the best value options.
---
Things to do in San Diego in 3 days
Explore the museums and buildings of Balboa Park
San Diego's cultural hub is much more than just a park, it's got 18 museums, countless historic buildings, event spaces, gardens, eateries and a zoo. Phew!
You could very easily spend an entire day here depending on your interest in (or tolerance for…) museums and cultural exhibitions, and you could either spend up large on entry fees and tours or you could keep it cheap and cheerful with your own picnic in the park and just enjoy the architecture without spending a dime.
I'll give you some more info on San Diego Zoo below but these are some popular Balboa Park must-dos to consider adding to your San Diego itinerary:
San Diego Air & Space Museum
San Diego Automotive Museum
San Diego History Center
San Diego Museum of US (very interesting, all about human history and culture)
San Diego Natural History Museum
Comic-Con Museum
Fleet Science Center
Museum of Photographic Arts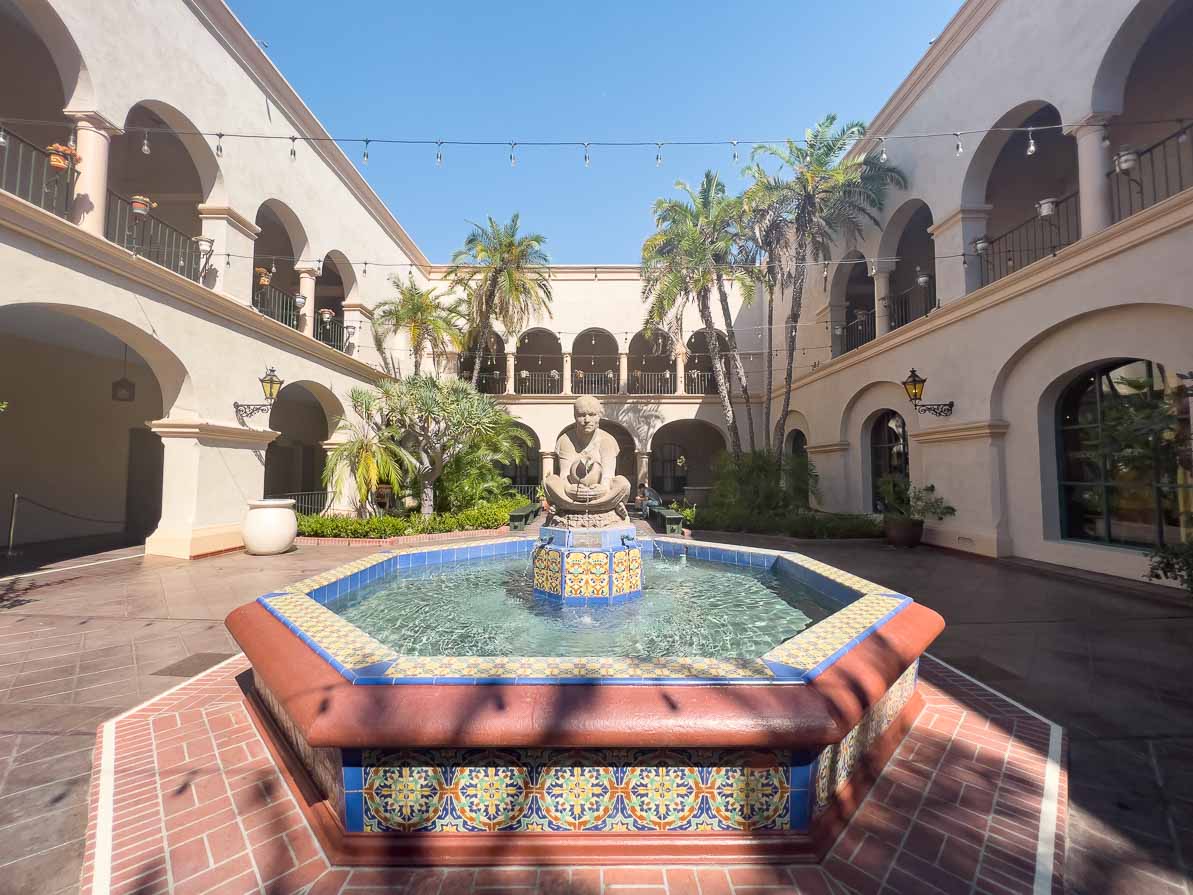 Visit San Diego Zoo, often named the best zoo in the USA
Often coming out on top on 'Best Zoos in the USA' lists, and sometimes even named as the best zoo in the world, San Diego Zoo is home to more than 4000 animals from 650 species, including koalas, elephants, giraffes, leopards, Galapagos tortoises, pygmy hippos and much more.
The zoo is known for being a global leader in animal conservation and it's run by the non-profit organisation San Diego Zoo Wildlife Alliance. The alliance has done wonders for reintegration of endangered native species all over the globe, and every dollar from ticket sales at the San Diego Zoo (and its sister park the San Diego Zoo Safari Park) is reinvested into the zoo's operating costs and conservation of the animals here and out in the big wide world.
The zoo is huge, so be sure to wear some comfy walking shoes! There's also a bus that goes around the park if you want a quicker and easier way of seeing everything too.
A quick note on zoos: Animal welfare is an important part of responsible travel and while some animal attractions are clearly unethical (tourists riding elephants, drugging tigers to take selfies with them etc.), I find that zoos are a bit trickier to determine. In an ideal world we wouldn't have any animals in captivity, but many zoos (San Diego included) run strong breeding and conservation programmes that aim to protect endangered species, as well as providing safe and educational animal experiences that inspire children to become animal lovers themselves. I'm not defending zoos, too many of them have horrendous track records for their animal welfare, but I encourage you to do your own research about the establishments you think you might want to visit so you can make an informed decision.
Drink and dine in Little Italy
Hands down my favourite suburb in San Diego, Little Italy's streets are lined with top-rated restaurants serving up authentic Italian cuisine.
It's within easy walking distance from the museums in Balboa Park, Downtown San Diego, Gaslamp Quarter and the Marina area, so it's an easy addition to any San Diego itinerary.
If you're visiting on a weekend you can't miss the farmers' market, otherwise make sure to add it in for a lunch or dinner during your stay.
And if you can't decide on one place to eat, consider doing a Little Italy food tour!
Get around the city on an Old Town Trolley Tour
I know they're super touristy, but I am a big fan of any hop-on hop-off tour when you first arrive in a city. They let you get your bearings, they generally provide audio tours or commentary to teach you more about the destination, and they always stop at the most popular tourist attractions and get you from A to B without having to stress about public transport or splurge on an Uber or a cab.
San Diego's answer to the hop-on hop-off bus is the Old Town Trolley Tour, which takes you around San Diego and over to Coronado Island with the freedom to hop on and off as you please.
Visit the 'Birthplace of California', San Diego's Old Town
This historical neighbourhood is known as the BIrthplace of California, as it's where the first permanent Spanish settlement was established back in 1769.
These days it's a buzzing tourist attraction with delicious and authentic Mexican food, souvenir shops, heritage buildings and some museums too.
The USS Midway is a historical naval aircraft carrier is located right on the waterfront of Downtown San Diego, and these days it's operated as a museum with an extensive collection of restored aircraft as well as other military-focused exhibits.
A short walk from the USS Midway is the Maritime Museum, which holds one of the largest collections of historic sea vessels in the USA.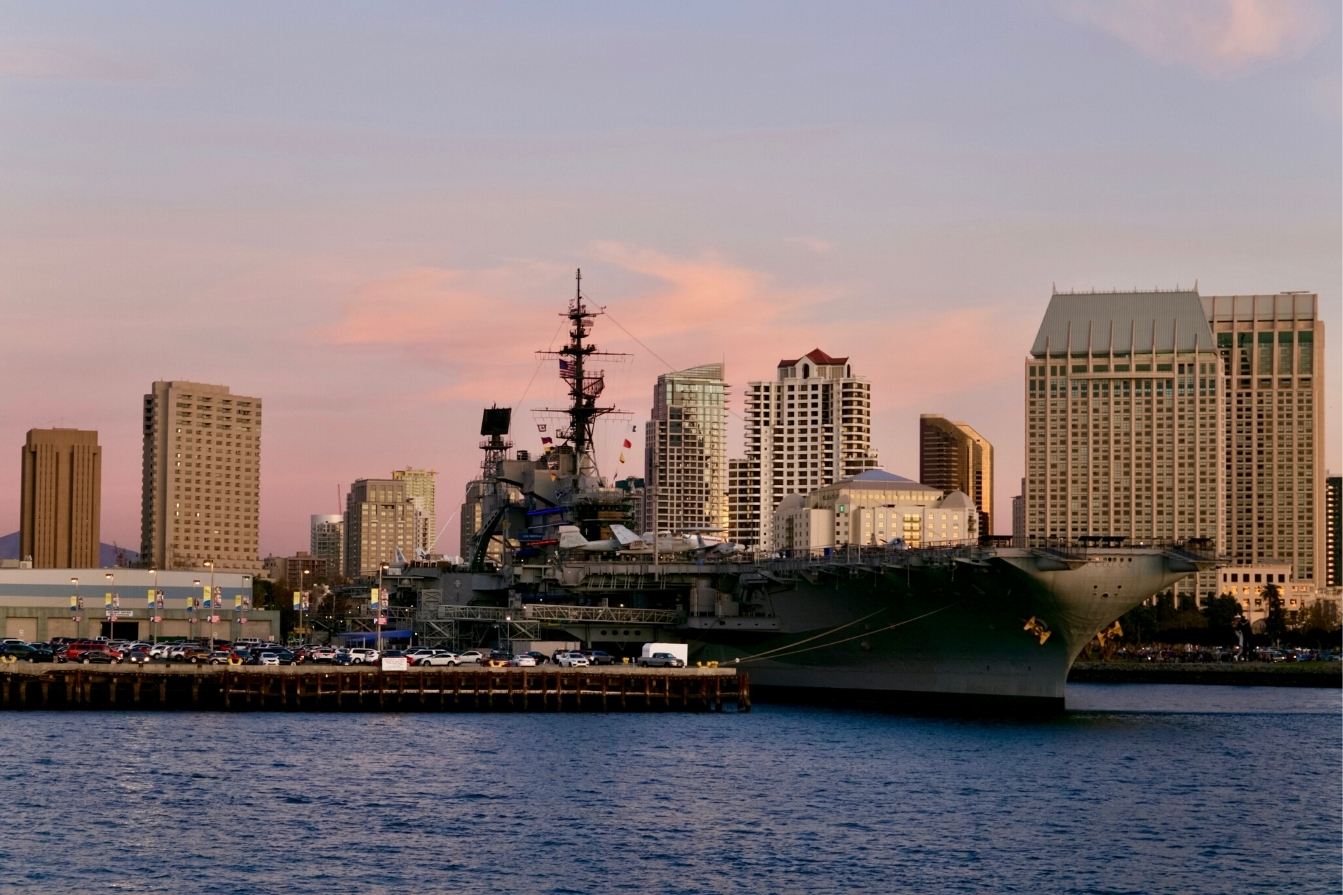 Wander around Seaport Village
If you love cute, kitschy, slightly tacky tourist attractions then you'll love Seaport Village! It's right on the waterfront with tiny little shops selling things like exotic candies, huge ice cream scoops, novelty t-shirts and even year-round Christmas decorations.
Out in front of Seaport Village along the waterfront you'll often find tarot card readers and fortune tellers if you're willing to leave your fate in the hands of a stranger…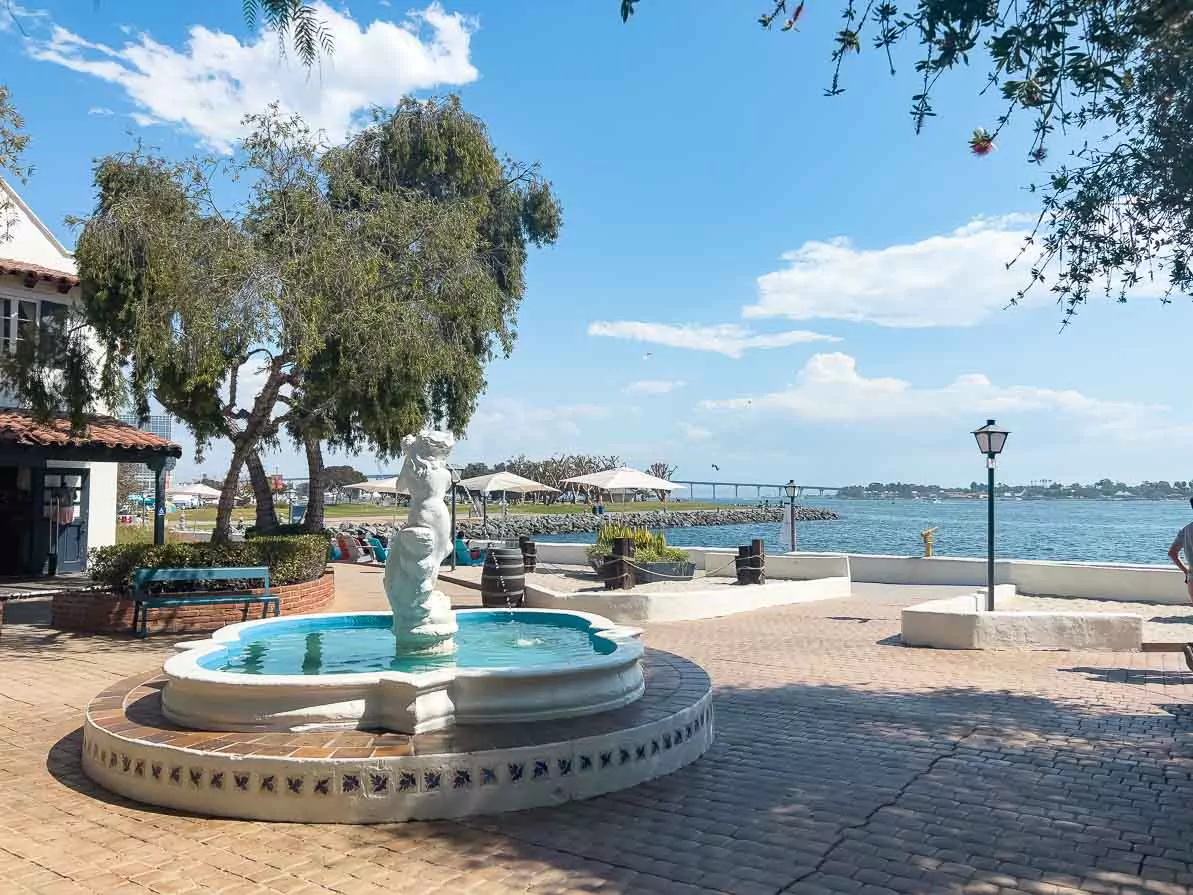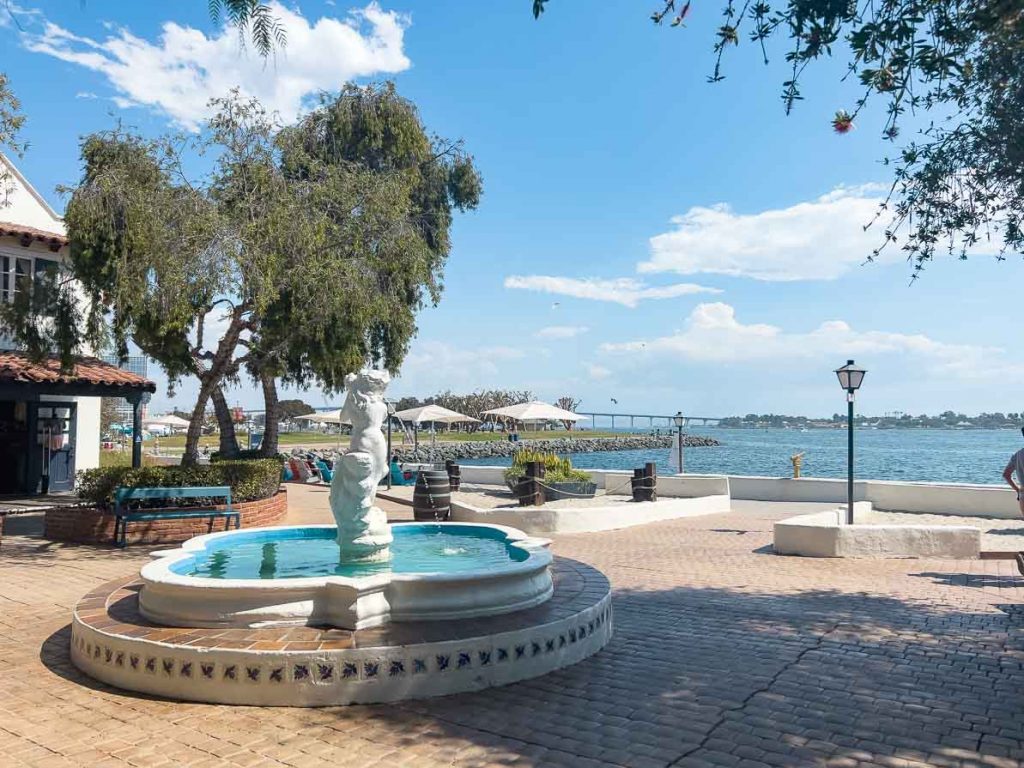 Get amongst Gaslamp Quarter
San Diego's entertainment and nightlife district is Gaslamp Quarter, where you'll find everything from dark and dingy dive bars to high tech multi-storey nightclubs and everything in between.
I particularly love Noble Experiment (a speakeasy with a secret entrance), Rustic Root on a sunny day (rooftop bar) and the Shout! House for a unique live piano experience.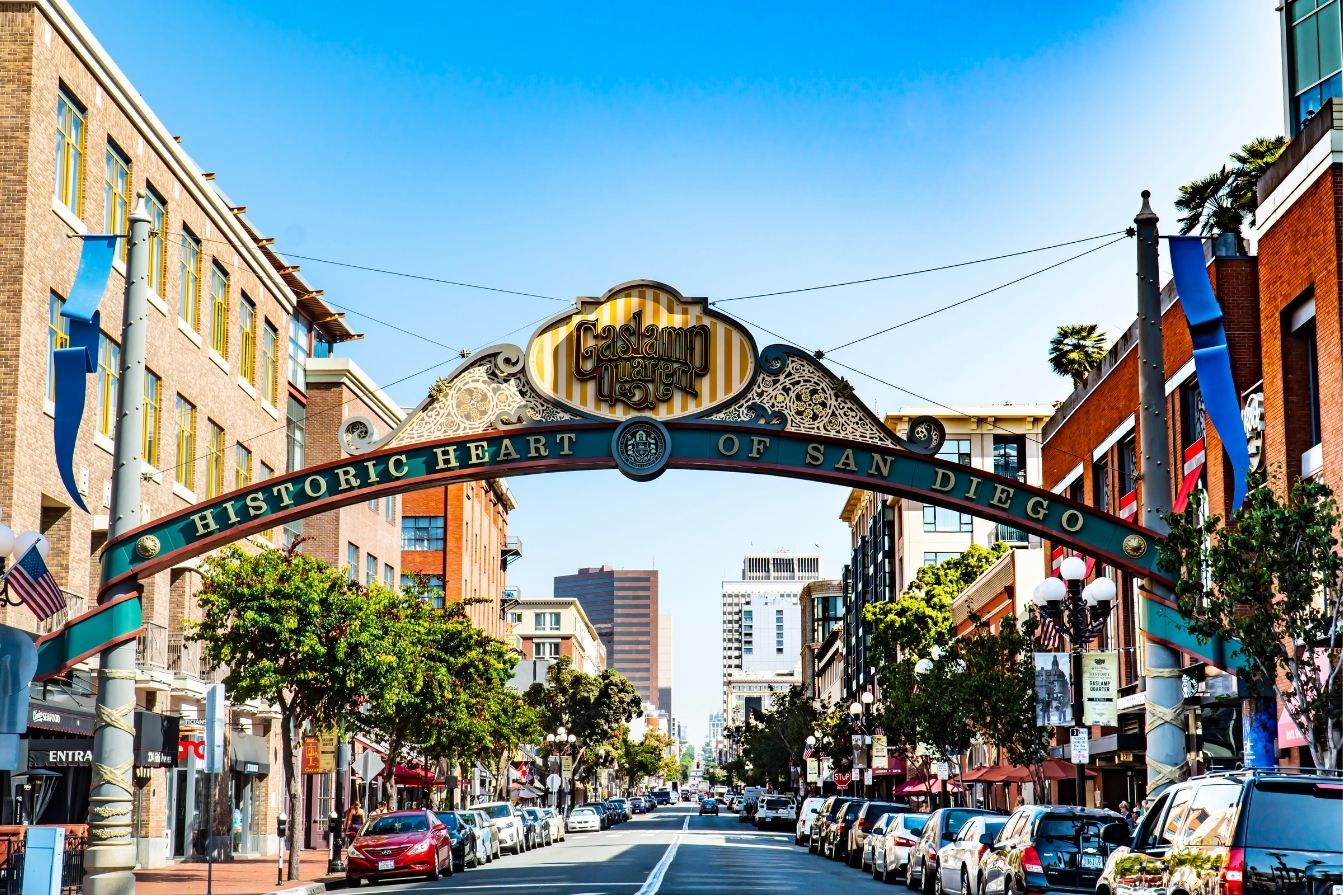 Head out to Coronado Island
Coronado Island has some of the best beaches along the California coastline, with sparkling white sand, calm seas and some great food, drink and accommodation options nearby.
You can get to Coronado Island from Downtown San Diego by car (15 min drive), on the Old Town Trolley Tour, or catch a ferry from the Embarcadero and soak up the city's skyline.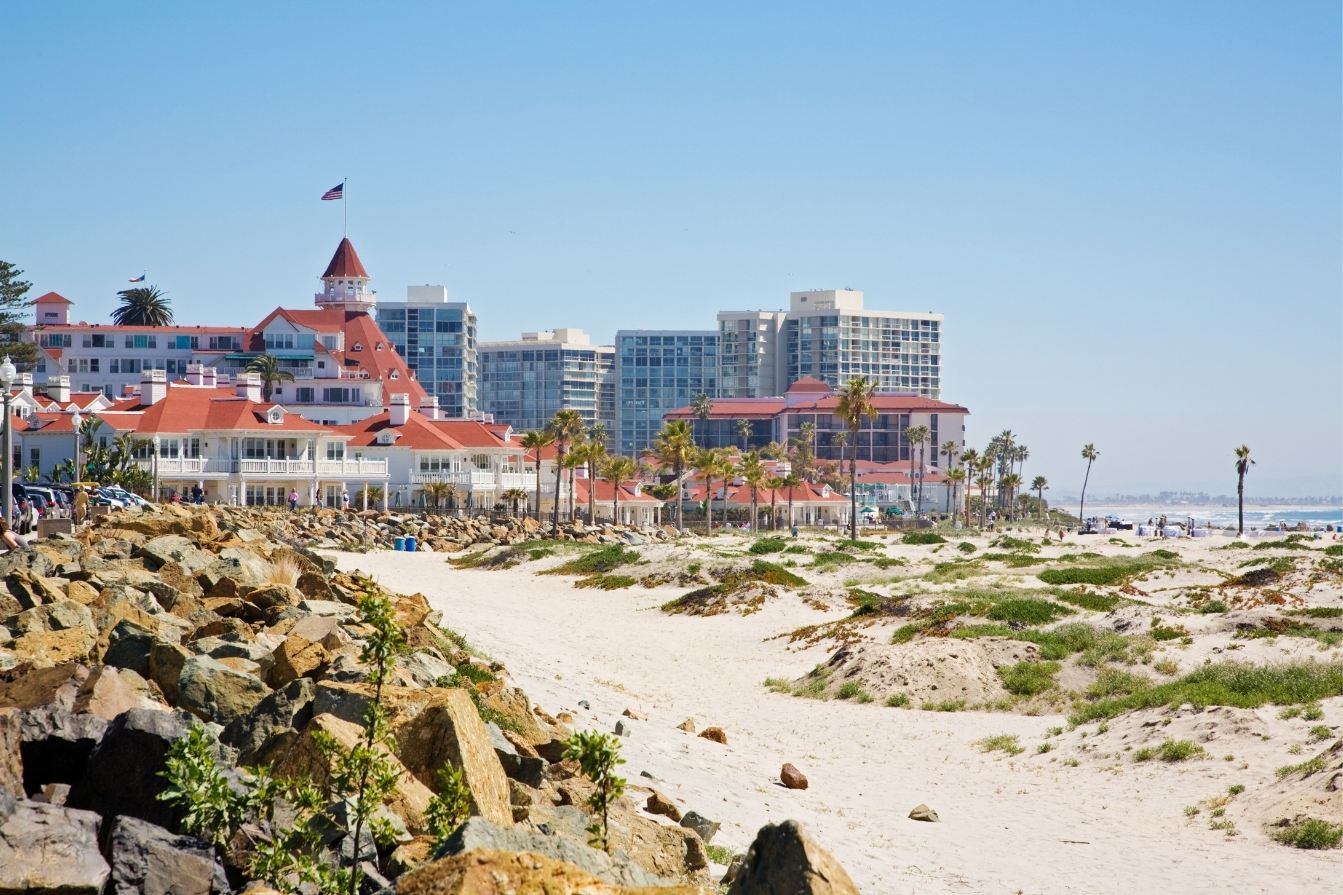 Kayak along the rugged coastline at La Jolla
La Jolla is another one of my favourite places to visit in San Diego, and kayaking around the rocky coast is by far the best thing to do in the area.
You can rent a kayak and explore at your own pace if you're confident on the water (and have a buddy to kayak with), or opt for a guided kayak tour.
See the La Jolla seals and sea lions
As you wander along the La Jolla beach boardwalk, there's no way you'll miss the sound (and smell!) of the resident seals and sea lions chilling on the sand and rocks at their private beach.
Hike through Torrey Pines State Reserve
Casual hikers will love Torrey Pines State Natural Reserve, there are a bunch of relatively short hikes ranging from flat and easy through to steep and rocky. All of them have incredible views, anyone who enjoys the outdoors will need to make sure you've got time for one during your San Diego 3 day itinerary.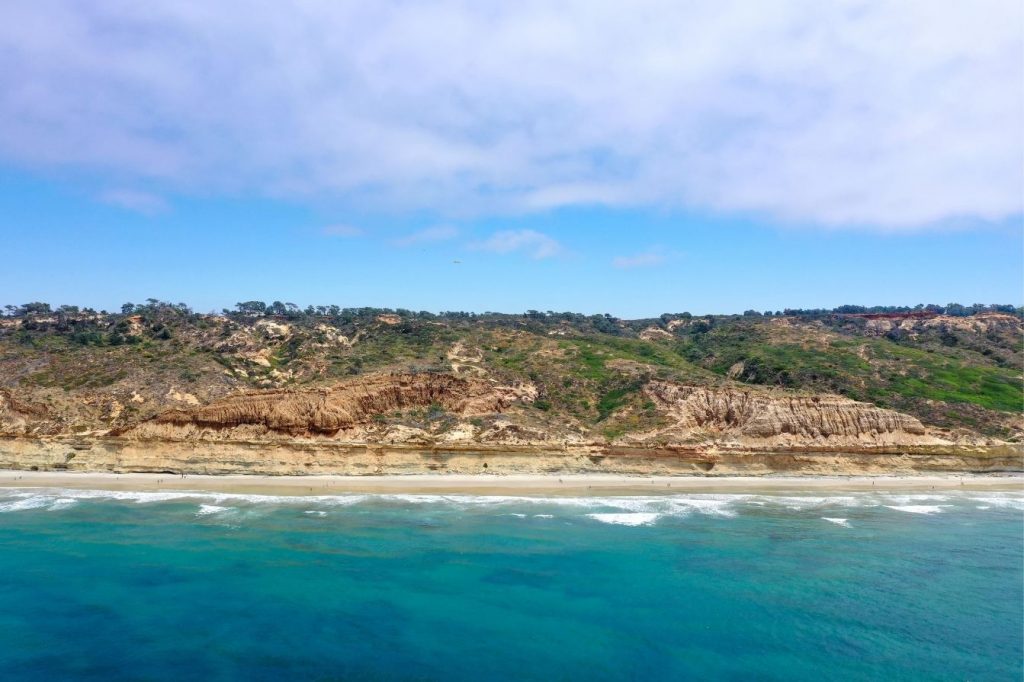 Have some fun at Belmont Park
If you're young or young at heart, Belmont Park is sure to put a smile on your face. This seaside amusement park has been offering rollercoaster rides and arcade games since way back in 1925.
Catch some waves at Mission Beach, Pacific Beach or Ocean Beach
Whether you're a keen surfer or you want to try your hand at catching a wave for the first time, San Diego has a number of beaches that offer varying surf conditions for all levels of experience.
Mission Beach, Pacific Beach and Ocean Beach are certainly the most popular surfing spots and they all have surf schools that you can book in a session with year-round.
Watch the sunset from Sunset Cliffs
San Diego is blessed with plenty of mind-blowing sunset spots thanks to its west coast location and stunning beaches, but Sunset Cliffs truly is the best sunset spot in the city.
The Sunset Cliffs Coastal Trail is a family-friendly short hike with insane views, stick around at the beach for sunset to watch the sky catch fire.
---
How to get to San Diego
San Diego is easily reached by plane, bus, train or car.
If you're flying in from another country, you'll find direct international flights from Canada, Mexico, Japan, the UK and Germany. If you're flying from anywhere else, you'll easily be able to fly to one of the USA's main air hubs and then catch a domestic flight to San Diego.
There are Amtrak trains down the coast from Los Angeles (and you can catch a train from basically any city in the US to LA), or Flixbus and Greyhound are cheap and cheerful bus options too.
If you're driving, San Diego is about two hours from LA, 8.5 hours from San Francisco and just over five hours from Vegas.
---
How to get around San Diego
Once you're in San Diego, you can get around by public transport, by car or by taxi/Uber.
If you're staying centrally then the public transport is pretty well-connected with trolleys and buses, but if you're staying in the more suburban neighbourhoods you might need to catch a bus to the Old Town transportation hub and then a trolley/another bus from there, which can take time (and time isn't on your side if you've only got three days in San Diego!).
The good thing is that San Diego doesn't deal with anywhere near the traffic problems that Los Angeles has, so if you are driving or you want to catch an Uber, you won't be wasting time (or money) sitting in standstill queues on the freeway.
---
If you have longer than three days in San Diego
If you're lucky enough to have longer than three days in San Diego then you can take it slow and really soak up the chill vibes that this city is famous for!
Spend some more time exploring La Jolla, do an overnight trip out to Coronado Island, or move up the coast and explore Orange Country, Huntington Beach or Catalina Island.
---
I hope this three day San Diego itinerary has given you a bunch of ideas for things to do in San Diego during your time there! If you think I've missed any must-dos then please let me know in the comments.