From the obvious Disneyland days to alternative theme parks to food crawls and epic day trips, here's an epic one week Anaheim itinerary to keep you busy.
Whether you're planning a trip to the Happiest Place on Earth and want to explore Anaheim beyond Disneyland's boundaries, or you're visiting Anaheim for a conference and want to add on some fun times too, there is plenty to see, do and eat in and around this Southern Californian town.
I recently spent a week in Anaheim at the start of summer, and our Anaheim itinerary was packed to the brim with Disney fun, other theme parks, indulging in the city's bustling food scene, and heading slightly further afield for some easy day trips.
A week in Anaheim was the perfect amount of time for us to spread out our Disneyland days (three days in a row is haaaard!) and to be able to explore the sides of the city that so many people miss out on, but if you've got three or four days in Anaheim you could still use this detailed itinerary to pick out what your priorities are and plan your trip.
From being a hub of family-friendly fun, to a buzzing gastronomic and cocktail hot spot, to a convenient base camp for wider SoCal adventures, Anaheim promises to impress all types of travellers.
This is your ultimate one week itinerary for the perfect Anaheim getaway.
Thanks to the fantastic team at Visit Anaheim and Disneyland who supported us on this trip. As always all opinions are my own and are based on my personal experience.
One week Anaheim itinerary summary
Day one: Arrive, settle into your hotel, have a welcome dinner
Day two: Disneyland day one
Day three: Disneyland day two
Day four: Explore Anaheim
Day five: Day trip
Day six: Day trip or another theme park
Day seven: Disneyland final day
How many days should you spend in Anaheim
The ideal length of time for your Anaheim adventure really depends on your travel style, your priorities and your budget, but one week in Anaheim is a good duration to be able to appreciate the city's highlights without rushing.
One week in Anaheim gives you:
If you have less time in Anaheim then don't stress, you can still enjoy the city in a shorter time frame or at a faster pace.
With three days you could do a two-day Disneyland visit plus one day to explore Anaheim's other attractions, with four days you could add on a day trip, and with five days you could still squeeze in three days at Disney and have two days spare for non-Disney activities.
How to get to Anaheim
Getting to Anaheim is a breeze, thanks to its convenient location near several major airports as well as train and highway connections.
How to get to Anaheim by plane
If you're flying in domestically from the US then John Wayne Airport (SNA) is the closest to Anaheim, it's usually a 15-20 minute drive from the airport to the centre of Anaheim. Another domestic airport nearby is Long Beach Airport (LGB) that's five minutes or so further by car.
For international travellers, chances are you'll be arriving into Los Angeles Airport (LAX) which is 54km from the centre of Anaheim, but the infamous LA traffic can mean the drive will be anywhere from 30 minutes with a clear run to 1h 15m on a bad day.
All of these airports have Uber, Lyft or taxis, but because of Southern California's aforementioned traffic woes I'd highly recommend pre-booking a shuttle transfer with Karmel Shuttles, this way you don't need to wait in line for a taxi, worry about your meter price creeping up while you're in a motorway jam, or stress about dreaded surge pricing on the rideshare apps. Karmel has transfer options from all airports to Anaheim hotels, as well as options to get to LA's city centre, the Long Beach ferry terminal and day tours to different spots.
How to get to Anaheim by public transport
If you're already in LA and want to get to Anaheim and Disneyland on the cheap, there are some options using public transport.
There's a direct Amtrak train from LA's Union Station for $16 which takes 29 minutes and runs every two hours, or the FlixBus 2017 route will take you from Union Station to Anaheim Regional Transportation Center in 57 minutes.
How to get to Anaheim by car
If you're driving to Anaheim, it's easy to reach on major highways from Los Angeles (30m-1h) and San Diego (1.5-2h).
If you're in LA and are planning on catching an Uber or Lyft to Anaheim you can expect to spend between $40 and $80 one way depending on traffic and surge pricing.
How to get around Anaheim
Navigating Anaheim is super easy whether you want your own transportation to explore without restriction, or you'd rather keep it cheap and simple with public transport and ride shares.
Renting a car
If you're renting a car, you can do this from whatever airport you land at or from Anaheim itself once you arrive. Be sure to check what your hotel costs for car parking as this can often be an additional charge.
Keep in mind that a car isn't necessary for days that you're at Disneyland as it's very easy to reach on foot, by bus or by shuttle/taxi/Uber from any Anaheim hotel, and you'll likely be there the entire day so wouldn't make use of your own vehicle.
Renting a car does give you more freedom to explore beyond Anaheim though, if you wanted to do a day trip or just hit the road and see where it takes you.
Public transport
Anaheim's public transportation network offers easy-to-use buses that can help you get from A to B all over the city and further into Orange County if you want to. And as a bonus, they use clean fuel!
The best value way to explore by bus is to buy a bus pass on the A-Way WeGo App, you can get a one day pass for $6, three days for $16, or 5 days for $25. If you just want to buy a single ride ticket that's $4, and you can simply tap your debit or credit card when you get on the bus.
There's also a free transportation service called FRAN (Free Rides Around the Neighbourhood) and you can book a trip on demand between hotels and major tourist spots using the A-Way WeGo app too.
By foot
Many of Anaheim's major hotels, restaurants and attractions are within easy walking distance, especially around Disneyland and the resort district, so be sure to put on comfy shoes and head out to explore on your own two feet.
Uber/Lyft
Both Uber and Lyft have a big presence in Anaheim and we used these apps to get us to and from places that were a little far to walk, like to the Anaheim Packing District and Knott's Berry Farm.
Where to stay during your week in Anaheim
Budget | National Garden Grove, Magnolia Tree Hotel and Pacific Inn are all very affordable options for your week in Anaheim.
Mid-range | The newly-renovated Howard Johnson Anaheim is an iconic hotel just a short walk from Disney, offering excellent value for family-friendly accommodation. We stayed here for a few nights and had a fantastic time, super convenient to the park, spacious and comfortable rooms, friendly staff and a couple of pools to top it all off.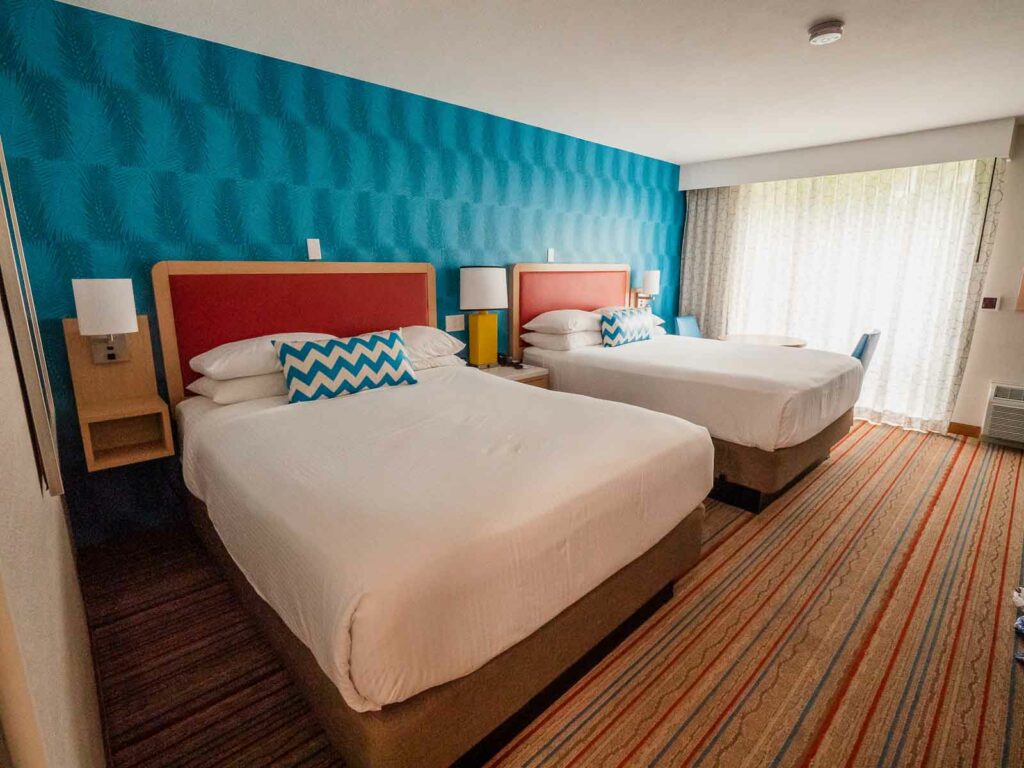 Luxury | JW Marriott and the Viv Hotel are the two top-rated 5* luxury resorts, or the Westin Anaheim Resort and Sheraton Park Hotel are both well-reviewed 4* options
Themed | We were fortunate enough to spend a couple of nights in the HoJo's House of the Retro Future suite, a brilliantly designed twin suite based on the Monsanto House of the Future which was a part of Disneyland's Tomorrowland from 1957-1967. The suite features custom artwork, vintage furniture (some even from the original house!) and plenty of space to rest after a big day of rollercoasters and parades. Super epic, Disney fans need to have this one on their bucket list.
Disney on-site | If you're happy to splurge on staying in the park, you can't go past the iconic Disney's Grand Californian Hotel & Spa, which offers direct access to California Adventure and Downtown Disney as well as early entry, detailed Disney design and themed dining opportunities.
One week Anaheim itinerary
Here's a quick run down of how to spend one week in Anaheim, and for more detailed information on each of the activities just scroll down to the next section of the blog.
Day one: Arrival day
Welcome to Anaheim! It's your arrival day and most hotels won't let you check in until the afternoon, so take it easy today and get your bearings before settling into your hotel room.
For dinner tonight you could head to Downtown Disney to start feeling the magic, or get something hearty at Ruth Chris's Steak House, Marri's Pizza & Pasta, Country Family Cafe or Byrd's Hot Chicken.
Day two: Disneyland
Wake up early, put on some comfy shoes and head to the park for rope drop in order to maximise your time.
With two or three days at Disneyland you'll still need to be strategic about your plans, so it's best to download the Disneyland app and start mapping out your days ahead of time. Make a note of your top priority rides, check their usual wait times, and then roughly plan out what order you'll do them in.
Each time I visit Disneyland I invest in the Genie+ service, the add on that lets you lock in a Lightning Lane time slot for popular rides one at a time so you can skip the line. It's a bit extra but it saves so much time, no need to line up 2+ hours for the Star Wars rides, Space Mountain, Guardians' MISSION: Breakout etc. You can get a Genie+ pass from $25 (could be $30 for peak days) that covers most Lightning Lanes, or there are a few individual Lightning Lane passes you can buy that aren't covered by Genie+, like Rise of the Resistance and Radiator Springs Racers.
If you're super keen to experience some of Disney's dining opportunities then pre-book those too, because the sit-down restaurants do get booked up in advance.
If you're going to Disneyland solo keep in mind that a bunch of rides offer single rider lines, including Millennium Falcon: Smugglers Run, the Incredicoaster, WEB SLINGERS: A Spider-Man Adventure and more. Even if you aren't going solo, using single rider lines can help you and your friends get through the rides quicker if you're happy to split up and not sit next to each other!
Day three: Disneyland
Rides, churros, slushies, repeat.
If you've got a three day pass then I'd recommend trying to get as many rides as possible done in the first two days, so that you can use your third day to take it a bit slower, go on your favourite rides for a second or third time, try the food, do some souvenir shopping, etc.
You don't want to have to spend $25 on a Genie+ Pass for all three days, if you're strategic enough then having it just for the first day could work, but we used it for the first two days and then the third day was much more chill.
Day four: Explore Anaheim & see the fireworks from a rooftop bar
Though Disneyland is undoubtedly Anaheim's star attraction, there are plenty of non-Mickey-related adventures beyond the castle walls.
Foodies won't want to miss the gastronomic mecca, the Anaheim Packing District, where you can find bubble tea in lightbulb glasses, floating ramen noodles, a hidden speakeasy and more.
For a taste of Anaheim's culture and history head to the MUZEO Museum and Cultural Center which boasts captivating displays all about the region's past and present communities.
Check out the Honda Center's schedule for any hockey games, concerts or other worthwhile events, or get some retail therapy at the GardenWalk open air shopping complex or the nearby Outlets at Orange for discounted clothing.
If your feet aren't too sore from two consecutive days at Disneyland and you want to experience some of the region's natural environment, there are some great parks and trails within easy reach, including Oak Canyon Nature Center, Irvine Regional Park, Yorba Regional Park, Bolsa Chica Ecological Reserve, Carbon Canyon Regional Park and more.
If you're travelling without kids (or are able to utilise a hotel babysitting service), head to the Rise Rooftop Bar at the Westin Anaheim Resort for dinner and drinks, and the best view of the Disneyland fireworks outside of Disneyland. The fireworks go off at either 9pm or 9.30pm (depending on the time of the year) and they're amazing to see from a sky-high bar overlooking the Incredicoaster and beyond!
Day five: Day trip
Anaheim's central location makes it a great base for exploring the surrounding area, and whether you want big city vibes, a beach day, outdoor adventures or an island getaway, there's lots of day trips on offer.
During our week in Anaheim we took a day trip to Catalina Island, which had been on my bucket list ever since I spent a semester studying in San Diego in 2012. Catalina Island perfectly combines small town charm with unspoilt natural beauty, with some wildlife, relaxation and fresh seafood thrown in for good measure.
Other day trips include Los Angeles, San Diego, Palm Springs, Huntington Beach, Newport Beach, Big Bear, Temecula Valley Wine Country and more.
Day six: Day trip or another theme park
If you're keen to experience another nearby destination then you could use day six to tick off a second day trip, or stick around in Anaheim and hit another theme park instead.
Knott's Berry Farm is a must-visit for anyone keen on thrill rides, with adrenaline-pumping attractions like leg-dangling rollercoasters, dive coasters, rickety wooden rollercoasters and more.
Great Wolf Lodge Water Park is a water wonderland, with 105,000 square feet of indoor pools and water rides, temperature-controlled to make it an option all throughout the year.
Or for a cheaper option for families, Adventure City is great for younger kiddos and parents who want a break from big park prices. With 17 rides, a petting zoo and interactive shows, little ones will love it.
Day seven: Final Disneyland day
Your last day in Anaheim and final day at the Happiest Place on Earth, so make the most of it!
Head to all your favourite rides, book lunch somewhere you've had on your bucket list, eat as many churros as possible and make your way home knowing that you made the most of every moment this week.
Things to do in Anaheim
Disneyland, obviously
It goes without saying, but Disneyland is without a doubt the best thing to do in Anaheim. Unleash your inner kid no matter your age, meet your favourite characters, search for the best churro (bacon PB&J is my fave, we found it down the boulevard in California Adventure but it might have been a limited edition!) and try to beat your personal best at WEB SLINGERS.
Wander Downtown Disney
To experience some Disney magic without a park ticket, head to Downtown Disney for live entertainment, funky dining spots and endless Disney merch.
Here you'll find park favourites like Dole Whip, talented street performers, a Disney-themed art gallery and much more.
Catch a game
There are live sports to watch in Anaheim throughout the year, with the Angels baseball team calling Angel Stadium home and the Anaheim Ducks being based at the Honda Center.
Grab some local merch, stock up on peanuts and Cracker Jacks, and support the home team.
Get your thrills on at Knott's Berry Farm
Controversial opinion: I love Disney for the magic, but the thrill rides at Knott's Berry Farm are next level and for me it takes the adrenaline-pumping crown in Anaheim.
Boasting 40 rides in total, a whopping 13 of them are classified as thrill rides, compared to only 5-6 real thrill rides in the Disneyland Resort.
My favourite rides at Knott's were:
HangTime: A terrifying surf-themed coaster with a straight up incline before hanging you horizontally facing the ground and dropping you into twists and turns with five inversions, absolutely brilliant
GhostRider: This wooden rollercoaster is huuuge but because of the materials used I have to admit I wasn't expecting anything too crazy. I was wrong. After climbing to the top of the track, you zoom down at over 50 miles per hour on a seemingly never-ending track that will have your eyes watering from the speed. We went on this one again and again and again!
Silver Bullet: I love an inverted rollercoaster, where the track is above your head and your legs dangle in the air below you. The Silver Bullet has loops, spirals, drops and more.
Sierra Sidewinder: This one's more of a family ride without any major drops but it will still have you laughing as your rollercoaster car spins around while you're moving
The Xcelerator (82mph top speed) and Montezooma's Revenge (0-55mph in a 4.5 seconds) were both closed when I was there unfortunately but I'll be back for them!
Don't miss Knott's famous country fried chicken when you're there too, from Mrs. Knott's Chicken Dinner Restaurant.
Cool down at Great Wolf Lodge
With pools, slides and attractions sitting at a comfortable 29°C (84°F) year-round, Great Wolf Lodge is a fantastic option to escape summer heat or a rare rainy day.
The water park features a range of slides, pools and attractions for holidayers of all ages, from splash areas for bubbas and toddlers to play structures for older kids to lazy rivers and thrilling water slides for teens and adults.
You can also find Great Wolf characters around the park, themed dining, mini golf, an entertainment arcade and different events around the year.
Or enjoy a cheaper day at Adventure City
Offering a family pass for four people for less than a single ticket to Disneyland, Adventure City is the perfect option to keep the kids busy without blowing the budget.
The rides are certainly tailored to families with younger ones, with a small rollercoaster, a miniature train and a kid-friendly drop tower, as well as a petting zoo, arcade, children's theater and casual dining. It's much less busy than the big parks too, and has free parking.
Eat your way around Anaheim Packing District
Anaheim Packing District is favourite part of Anaheim! If you consider yourself a foodie, your Anaheim itinerary won't be complete without a visit to this culinary hot spot.
This vibrant hub of food and drink is set in a historic citrus packing warehouse, with sit-down restaurants, cafes, bars and food stalls lining a communal dining area in the middle of the building. There's something for every taste and budget, from gourmet grilled cheese sandwiches to the Tiktok-famous floating ramen to bubble tea margaritas and sweet treats like macarons and ice pops.
My top spots in the Packing District are:
Black Sheep Grilled Cheese Bar
206 BCE (anti-gravity noodles)
Crepe Coop
Hammer Bar
Blind Rabbit (speakeasy)
Le Parfait Paris (macarons and other sweets)
Mini Monster (bubble tea)
18 Folds (dim sum and boba cocktails)
Discover the city's best brews
The previously mentioned Blind Rabbit is my favourite place for a good cocktail in Anaheim, it's a hidden speakeasy found in the Packing District through a secret door amongst sake barrels, where you'll find inventive cocktails, extremely talented bartenders and a mysterious atmosphere. Other restaurants with great cocktails include Mix Mix, 18 Folds and Urbana Anaheim.
But there's plenty more options for different taste buds!
The rooftop bar scene is quite impressive thanks to Disneyland views, I love Rise Rooftop at the Westin but the Fifth at Grand Legacy at the Park and Top of the V at the Viv Hotel both have seats where you can see the fireworks.
Beer drinkers are in luck too, the city has a thriving craft beer scene to dive into. Brewheim Brewery, Unsung Brewery Company, Bottle Logic and JT Schmid's are all top-rated options.
Explore Yorba Regional Park
When you're in the mood for some outdoor fun away from the hectic theme park crowds, Yorba Regional Park is the spot. Head to the supermarket to get some picnic foods first and then explore the park to find the perfect spot to sit and eat.
Rent a pedal boat or kayak on the lake, take one of the scenic trails, or stock up on snacks and find somewhere chill for a nice picnic. Perfect for those sunny California days!
Hit the outlet shops
The Outlets at Orange are a short drive from Anaheim and they're well worth a visit if you want to score major deals at retailers like Nike, adidas, Nordstrom Rack, Polo Ralph Lauren, Calvin Klein and loads more.
Take a day trip
Please note the times I've mentioned here are with 'typical' traffic.
Catalina Island (approx. 2h)
We spent a day visiting Catalina Island and it was the perfect escape from the Disneyland summer chaos.
You can drive from Anaheim to the Long Beach ferry terminal (or book with Karmel Shuttles to keep things simple) in about 45 minutes and then take the one hour high-speed Catalina Express ferry to Avalon, Catalina Island's main town, for a day of exploring.
I'd highly recommend renting a golf cart to get around the best viewpoints of the island, the carts can be hired for two hours at a time (you can extend when you return if you want it for longer) and there's a really easy route to follow that will take you to the best photo spots.
With crystal clear water and a unique underwater eco-system, the island's marine adventures are plentiful. Take a glass-bottom boat tour or a semi-sub to see things up close without getting wet, or dive right in with a snorkelling or scuba diving trip in marine reserves and dive parks. You can expect to see the iconic orange Garibaldi, dense kelp forests, moray eels, kelp bass and maybe even sea lions, giant black seabass and dolphins if you're lucky.
On land there's loads to do as well. Tee off at Catalina Island Golf Course, visit the Wrigley Memorial & Botanical Garden, wander around charming Avalon, indulge in a spa day at a resort, take a tour of the Art Deco Catalina Casino or live the high life at Descanso Beach Club.
If you're hungry then we loved waterfront dining at Bluewater Avalon, but we also heard great things about Buffalo Nickel, the Sandtrap, Catalina Island Brew House and Naughty Fox.
Unfortunately our day on the island was very gloomy and grey, which we were told was very unusual, but we still had a lovely time!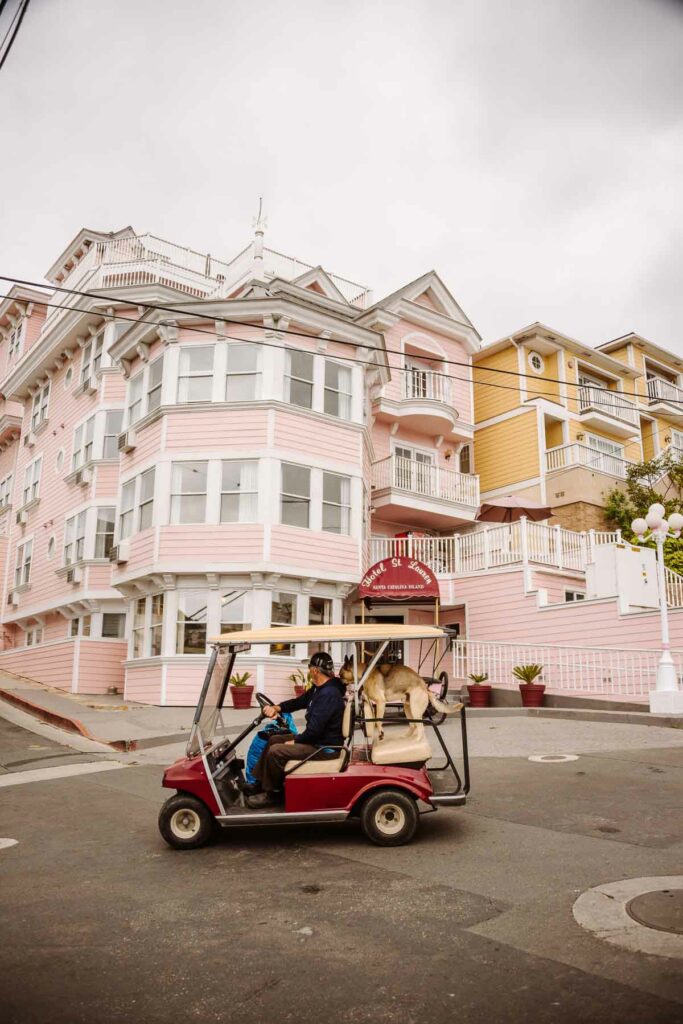 Orange County beach towns (20-30m)
Channel your inner Marissa Cooper (for my fellow mid-2000s teens) and soak up the sun along the Orange County coast, with a day trip to places like Newport Beach, Laguna Beach and Huntington Beach.
Each town has its own unique character so you could beach hop and experience them all.
San Diego (1.5h)
Head south to San Diego for a day filled with sun, fun and brilliant Mexican fare. Be sure to visit San Diego Zoo, Balboa Park, some of the many museums on offer and the cute little Seaport Village.
Los Angeles (30-45m)
If you aren't already visiting LA as part of this California trip, spending a day in the City of Angels could be a fab add on to your Anaheim itinerary. See iconic spots like Hollywood Boulevard and the Walk of Fame, world-class museums like the Getty Center and LACMA, and window shop down Rodeo Drive and at the Grove.
Wine country (1h)
Located about an hour from Anaheim in Southern California's Riverside County, Temecula Valley is a flourishing wining and dining hot spot.
Home to more than 40 wineries, the area's Mediterranean climate makes it an excellent location for growing a wide range of varietals. Choose to do a guided wine tour for an in-depth experience, pick a few tasting rooms to visit independently, or book a fancy lunch with a wine pairing for a treat yourself day.
I hope this one week Anaheim itinerary and breakdown of things to do in Anaheim has helped you plan your trip!
Other blogs you might like: