Please note this blog contains affiliate links that give me a small commission from any purchase, at no extra cost to you. I would never advertise anything I wouldn't use myself, and this commission helps Finding Alexx reach more travellers. Thank you for supporting me!
In my second week of my 52 in 52 adventure, I explored a couple of cities in northwestern Spain – and San Sebastian was one of them. I stayed for three nights, and in between eating my weight's worth of pintxos, I stayed at A Room in the City, a fantastic hostel just a couple of minutes' walk from the beach. Here's my full review of A Room in the City, my choice for the best San Sebastian hostel.
YOU MIGHT ALSO LIKE: Your ultimate San Sebastian travel guide
What's A Room in the City like?
As it's only been around since 2015, this place still looks and feels super fresh. It's located in an old convent, and it boasts some really decent facilities! There are both private and dorm rooms, from 4-bed to 12-bed and you can choose from mixed or female-only,. Then there's a kitchen, a restaurant, a patio, another patio with a bar, a club downstairs, a roof terrace and a few common areas.
There's three floors of rooms and there are elevators (yay!), fantastic WiFi, small but totally acceptable bathrooms, and really friendly staff from all over the world.
The lounge downstairs also has some vending machines and computers to use, and it's furnished with second-hand furniture from one of the city's two 5* hotels! Luxury for a budget price, that's what I'm all about.
On check-in you get a bracelet which acts as your key to access your room and your locker, and it's waterproof so no need to hide it on the beach when you go surfing.
How was the room?
I stayed in an 8-bed dorm and it was totally fine. Really spacious, with a locker under each bed that's lockable with your bracelet key. The locker could probably fit a medium-sized check in bag but I just put my backpack, tech gear and carry-on bag in there, with my large suitcase sitting in the corner of the room.
Each bed has curtains (my number one priority in a hostel!), a light, a small shelf, a plug and USB port, and hooks at the end of the bed. Linen is provided but a towel costs a couple of euros to rent.
There was no air con but San Sebastian generally isn't that hot (average temperature for July is 21°C) so normally having the windows open keeps it cool enough, but I was there in a bit of a heatwave so it was a bit stuffy, although not the end of the world.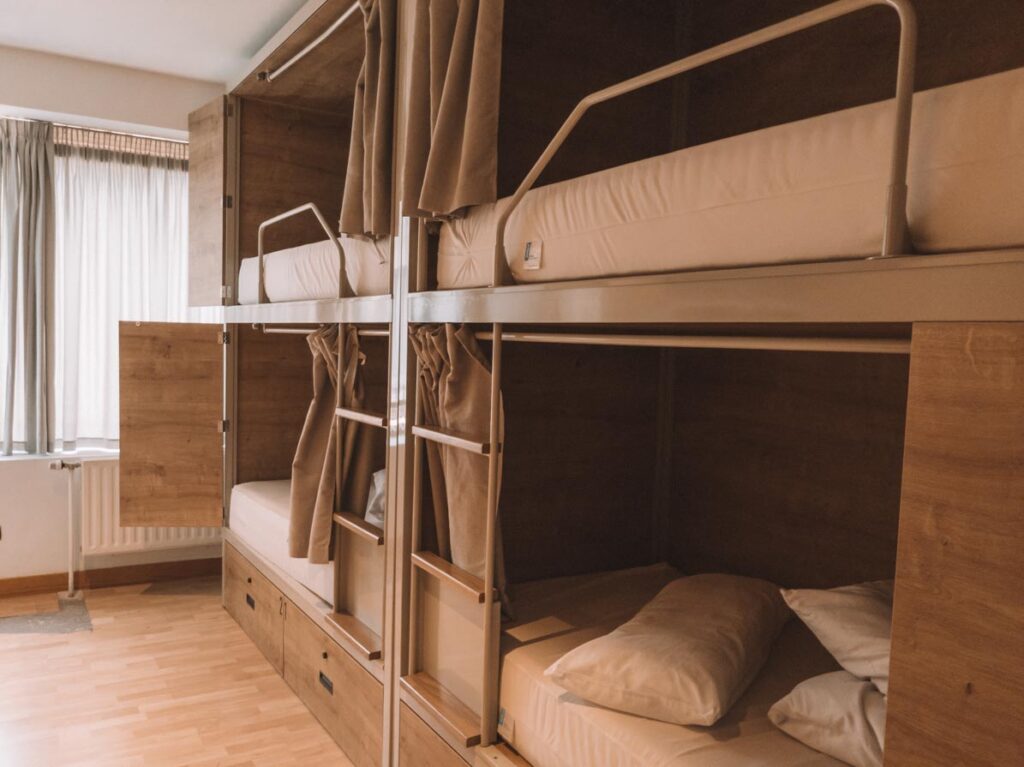 And the bathrooms?
Each floor is split into a couple of sections and there are bathrooms for those sections. My section was one 8-bed dorm and I think two 4-bed dorms, and there was one girls' bathroom with a toilet and shower, but I only saw one other girl in there over the whole three days despite the hostel being fully booked! There were more showers and toilets on the other side of the floor too so enough for the amount of people in the hostel.
The showers are push-button which can be annoying but are much better for the environment as they waste less water, so I deal with them. The shower pressure was great and the bathrooms were always clean.
Where is A Room in the City?
The hostel is just a couple of minutes from the main beach in San Sebastian, La Concha. There are restaurants, pintxos bars and small market shops all around, and it's a ten minute walk to the main Old Town area of the city. An ideal location for sure!
Does A Room in the City serve breakfast?
Breakfast isn't included but the on-site restaurant and bar does some amazing breakfast meals for cheap, and decent coffee too. I got delicious tomato and avocado toast, a mocha and freshly squeezed orange juice for less than €9, which isn't bad considering food in San Sebastian is notoriously expensive.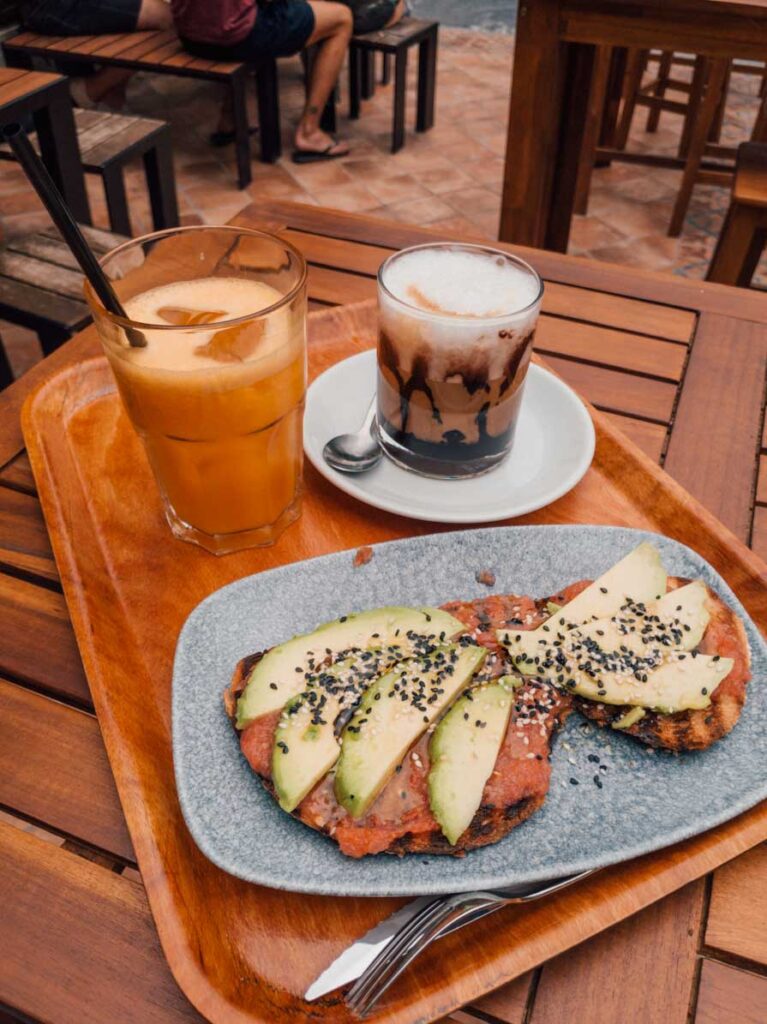 Anything else to know about the hostel?
They hold a weekly pintxos tour on Thursdays, which was the ideal way to explore the city's food scene and meet other travellers! It's free and you can tip the guide at the end if you think he did a good job (which he definitely will).
There was a group of about 15-20 of us and we wandered across the river into the Gros district, where each Thursday you can get a pintxo and a drink (sangria, wine or beer) for €2.50. SUPER cheap, and it was great having a local guide to recommend the best bites at each bar.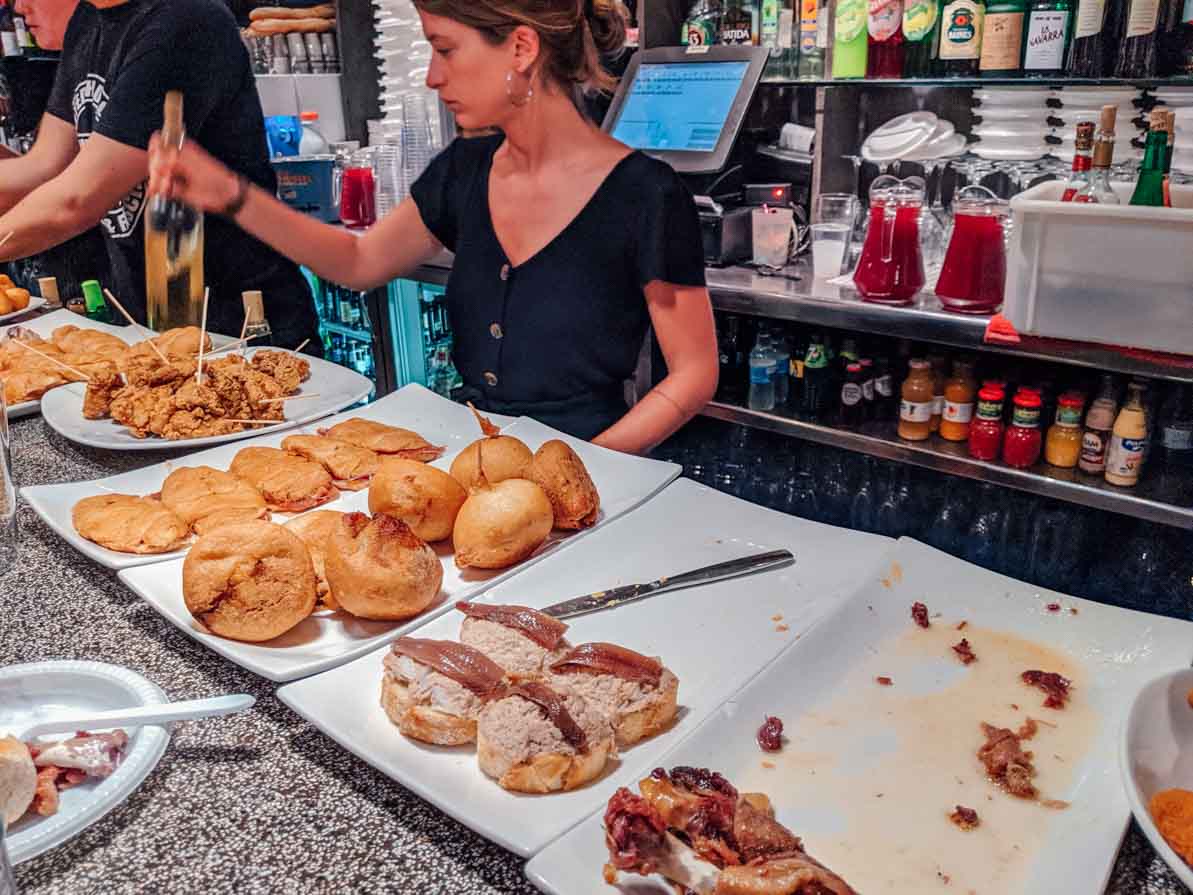 The verdict
I loved A Room in the City, and I would absolutely recommend it to anyone looking for a cheap place to stay in San Sebastian. The rooms are all you need, the staff were amazing and the facilities were above and beyond what I'd expect from a hostel. Prices start at about €26 for a dorm bed (but will be slightly higher in the summer months) which is really cheap for San Sebastian.
Looking to stay at A Room in the City? Check your travel dates right here.
Like this blog? Pin it!
Read more about my 52 in 52 adventure here, see all of my blog posts from the trip here, or check out my Instagram @findingalexx to see all of my travel photos.
Huge thanks to A Room in the City Hostel for hosting me for three nights. As always, all opinions are my own and are based on my experience.
All the basic details from my big 52 in 52 trip:
How do you find your flights? Skyscanner! I use the Everywhere tool to find the cheapest place to fly to each Tuesday
Do you fly every week? Not every week no, once I have the destination I check trains and buses to see if there's any other transport options aside from flying. If so, I usually book these using the Trainline app.
How do you book your accommodation? I book all my hotels, hostels and apartments on either booking.com or Hostelworld.
Do you have travel insurance? YES, I always travel with travel insurance and you should too. I'm insured for an annual policy with Worldcare NZ.
Do you offset your carbon credits? I sure do! I always offset when I book if the airline gives me the option (Ryanair does), and I also offset all my flights using Co2nsensus.com.
What luggage do you travel with? I travel with a 75cm Samsonite Cosmolite suitcase, a matching Samsonite Cosmolite 55cm cabin luggage hardcase, and a cheap laptop backpack.
What camera do you use? You can see the full list of what's in my camera bag right here.
What laptop do you use? I have a super portable HP Spectre x360 13.3″ laptop, which is an absolute dream to travel with.
For more FAQs about my 52 in 52 trip, see this post.