It's hard to impress a Kiwi with coastal landscape, but I'll openly say I was blown away by our five day Cornwall road trip.
The sheer cliffs dropping into bright blue ocean, the surfer way of life, the people and the FOOD. It honestly felt like we got in our Spaceships Campervan in London and drove to a whole different country.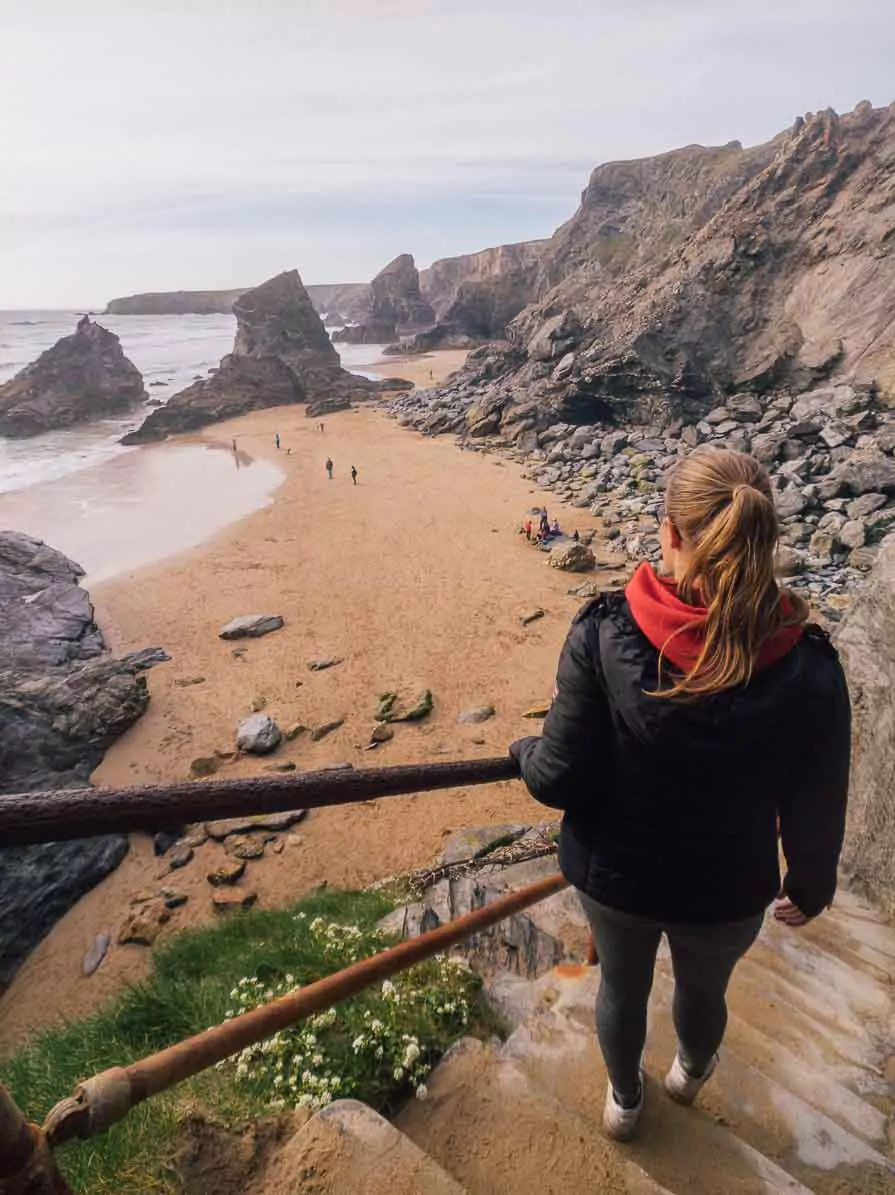 Starting on a Thursday night and returning to London on the Monday night on a bank holiday weekend, we managed to cover the entire Cornish coast with only one day of annual leave.
Cruising along the south to Land's End for the first two days and back up the north for the second two, we created a Cornwall road trip itinerary that is totally achievable in a long weekend from London.
---
Cornwall road trip must-haves
Before setting off on your Cornwall road trip, make sure you're adequately prepared with the right clothing, camping gear, travel gadgets and road trip essentials. Here's a quick list of items you need to pack:
---
Where to stay in Cornwall
Because we were travelling in a campervan, we spent each night at a campground, but there's also plenty of hotels, hostels and Airbnbs in Cornwall.
To make things easier for you, I've searched for the best Airbnbs in Cornwall and have put my findings into a tidy list for you! I've even split them out into the best Cornwall Airbnb for groups, dog-friendly Airbnbs, luxury Airbnbs in Cornwall and the best tiny houses. You can read my blog on the best Cornwall Airbnb options here.
And if you prefer hotels or hostels, you can search your Cornwall travel dates on booking.com.
---
Cornwall road trip itinerary
Here's a map showing our campgrounds in yellow and our recommended stops in blue, and scroll on for our full list of must-sees, must-eats, must-dos and our itinerary from our five days in Cornwall:
Day one evening
For the full Cornish experience, we decided to hire a campervan for our beachy adventure. We collected our four-wheeled home from the Spaceships depot in Staines. It's an hour train ride from Waterloo to Sunnymeads, and then an 800m walk from the station. They offer an out-of-hours pick up too which was perfect to allow us to head off after work.
We wanted to get as far down the coast as possible on our first night so we did the four hour drive to Plymouth and parked up for the night at Whitsand Bay Holiday Park (£25 for a powered site). Despite the long night, we passed the 'Welcome to Cornwall' sign as we entered Plymouth so we were off to a good start!
Where to stay in or near Plymouth
Budget: Mariners Guest House
Mid–range: Rockmount
Luxury: Boringdon Hall Hotel and Spa or Glazebrook House Hotel
Airbnb: Jack's Place Apartment
Day two
Plymouth was a convenient place to stay but not actually a spot we wanted to visit, so we packed up early and worked our way further down the coast and towards the magic.
Our first stop was Falmouth for breakfast and supplies for our road trip. We also stopped off at Gyllangvase Beach for some fresh air, but unless you need to stop here for supplies then it's not a must-see.
Picnic-ready, we headed to Kynance Cove and our Cornwall itinerary had officially started. Definitely worth the visit, and if you have time you can walk from the carpark along the coastal path, as well as visiting Lizard Point nearby.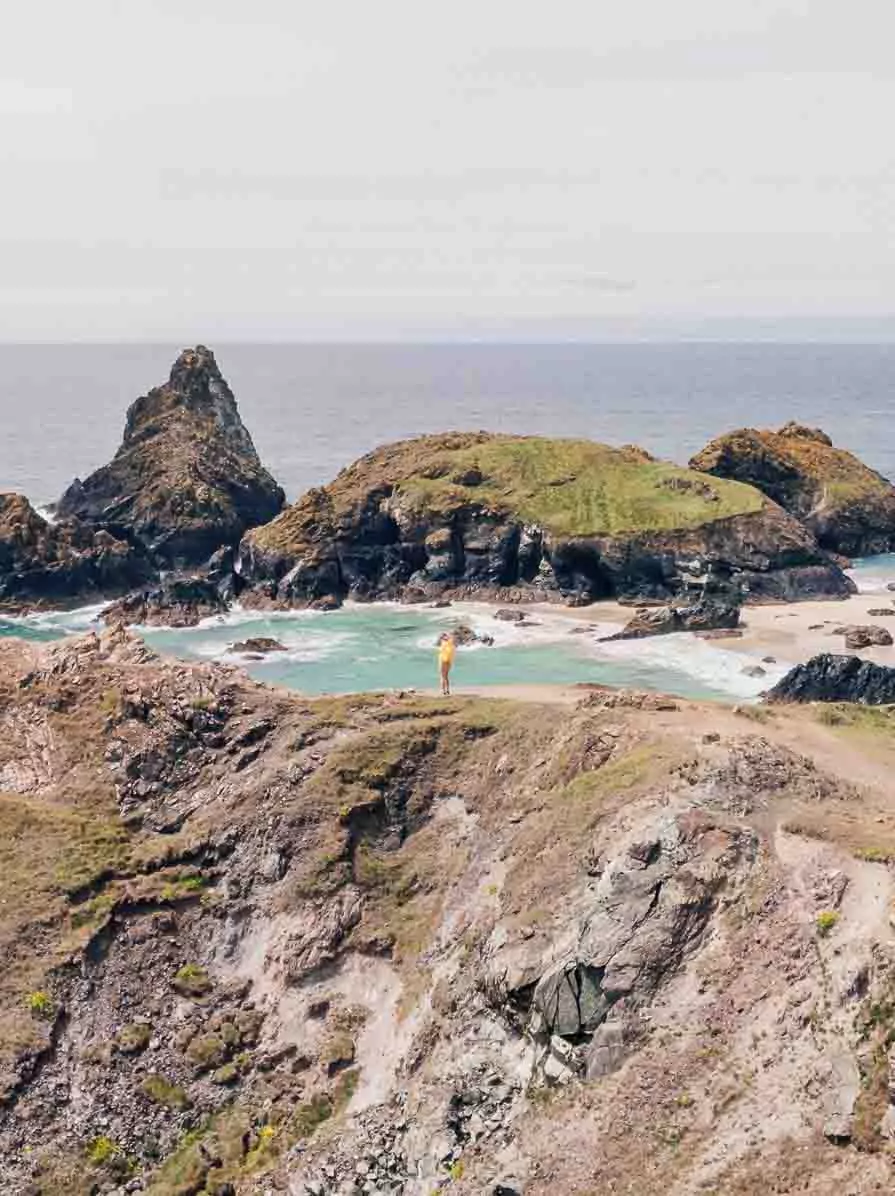 Next was a visit to the UK's answer to France's Mont Saint Michel, aptly named St Michael's Mount. Check the tides before you visit as it's only accessible at low tide, however the view is stunning at high tide as well.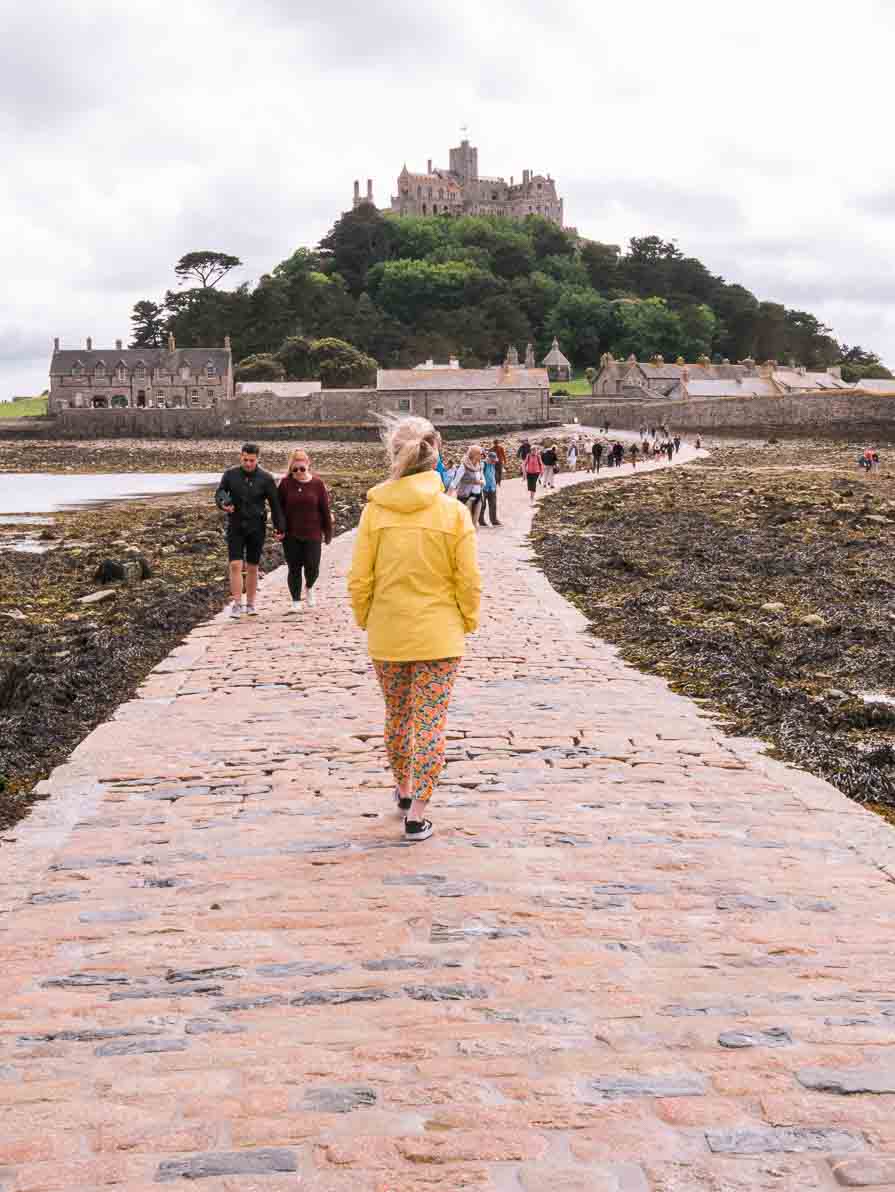 We opted for the scenic coast road which wound us through Penzance, a gorgeous little fishing town which felt like a little step back in time.
We parked up for the night at Treverven Touring Caravan & Camping Site (£20 for a powered site). If you fancy a walk, this campsite is only a five-minute walk to the coastal path which has a front row seat to both the sunrise and the sunset.
Where to stay in or near Penzance
Budget: Old Workshop Cottage & Guest Rooms
Mid–range: Hotel Penzance
Luxury: Mole Cottage Penzance
Airbnb: Romantic Treehouse near Penzance
Places we skipped on Friday due to bad weather, but worth a visit: Pendower Beach.
YOU MIGHT ALSO LIKE: 15 carry on essentials for long haul flights
Day three
Our first stop was just down the road at the Minack Theatre (£5 entry). All hail Rowena Cade who had the vision for this incredible cliff-top open air theatre in 1931. Watching a show there while the sun sets over the sea behind the stage is now on my bucket list.
From the same carpark you can see the view down to Porthcurno Beach and walk down the track for a dip if you fancy it. This area felt very much like Portugal's Algarve, just with a few more layers of clothes.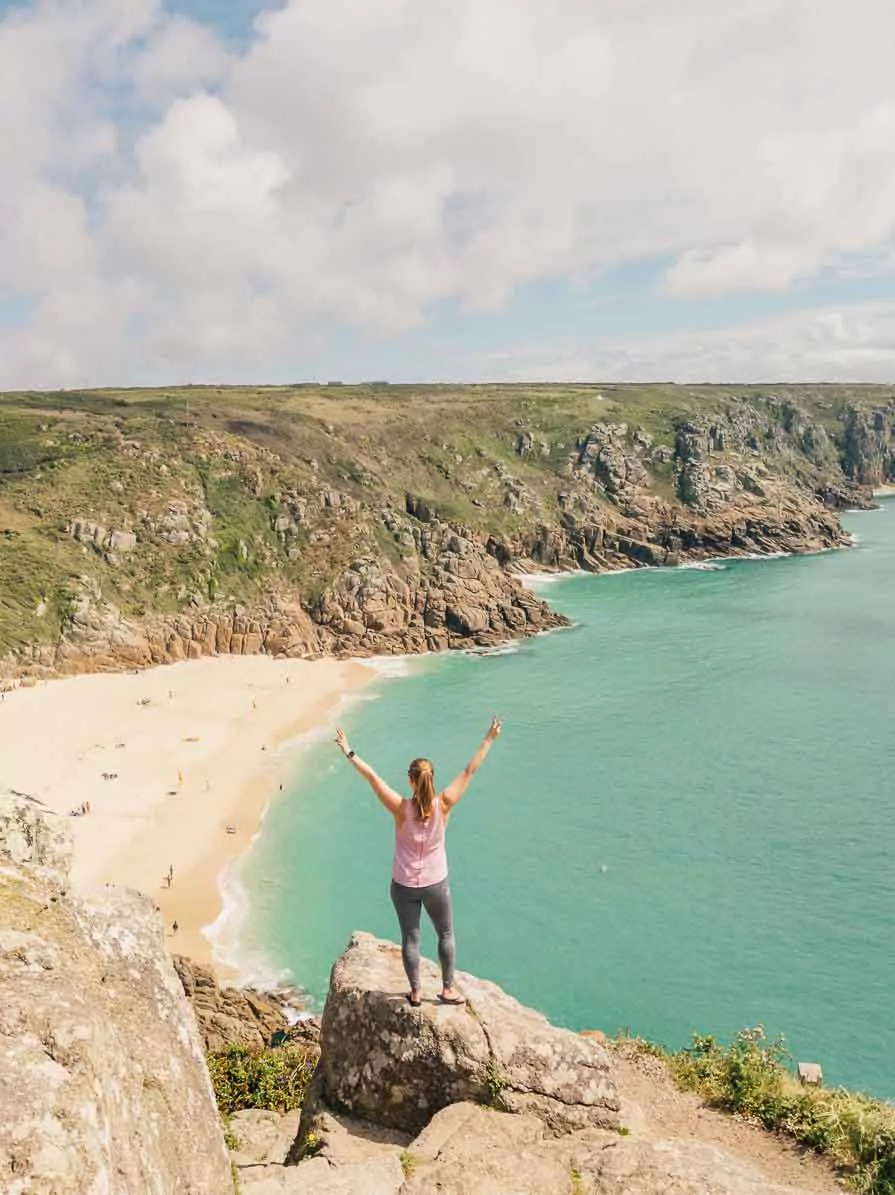 The next stop (for a tick off the bucket list and a photo for the 'Gram) was Land's End carpark. Worth a visit and on a nice day would have stunning views, but unfortunately we were hemmed in by thick fog. Classic England!
Slowing our day down a bit, we parked up and watched the surfers down below in Sennen Cove. It was overcast and a bit grim, so we used the opportunity for a quick nap with a view (the bonus of having a house on wheels), but on a clear day this would be a perfect spot for a walk and swim.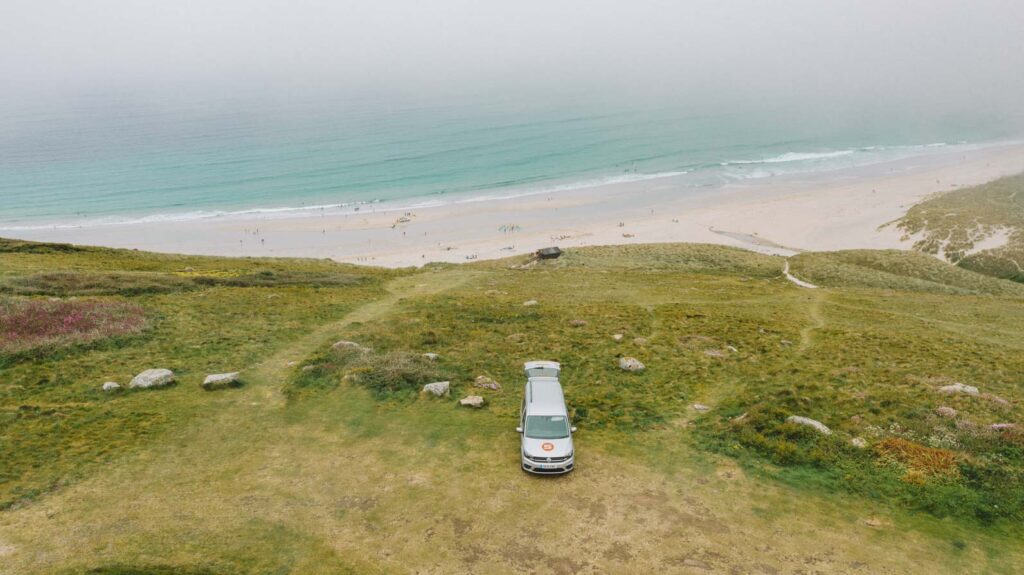 Next was St Ives for lunch, with all the best Cornish options on offer! Plenty of pasties, fish and chips, and Cornish ice cream to choose from, but be prepared for the touristy prices, as well as the overly confident local seagulls.
If you're keen on a swim, both St Ives Bay and Gwithian Towans Beach would be good spots.
That night we stayed at Beacon Cottage Farm (£26.50 for a powered site) and explored the remains of Wheal Coates, a former tin mine sitting right on the cliffs of the coast, which was a five minute walk away on the coastal path. This would be an amazing spot in good weather.
Where to stay in or near St Ives
Budget: The Lighthouse
Mid–range: Sea Scapes Apartment
Luxury: Boskerris Hotel
Airbnb: Juniper's Stable Cambourne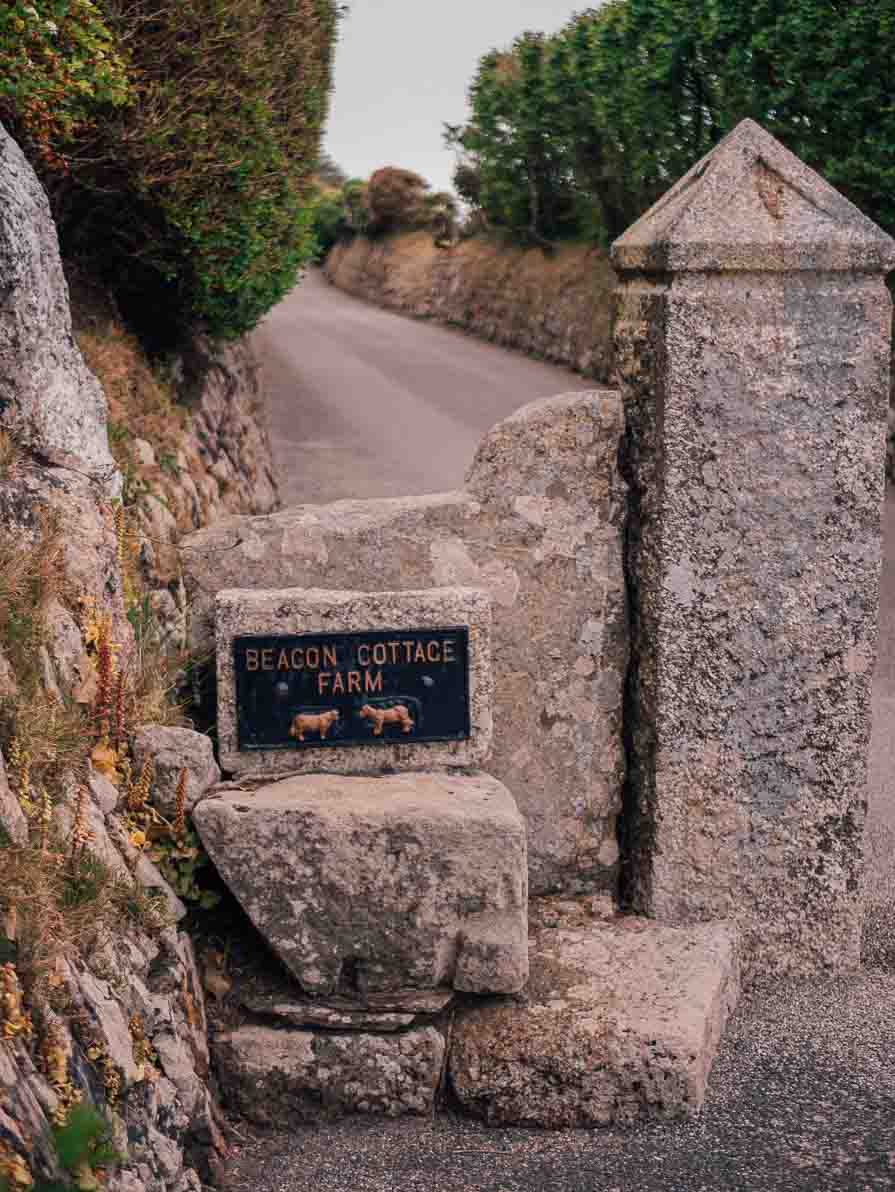 Places we skipped on Saturday due to bad weather, but worth a visit: Nanjizal Beach.
Day four
The weather was terrible so we decided a Sunday food crawl was the perfect solution and Cornwall the perfect location as well! We drove up the coast to Padstow and took the park and ride into town (£5).
After browsing every pasty shop in the village (there are A LOT), we settled on an amazing roast lunch at the Basement, followed by cream tea and cake at Cherry Trees, a quaint and very popular tea room run by a fellow New Zealander.
Travel is always unpredictable and when the weather interferes you just have to go with the flow, and this day was the ultimate example of that. We accepted our fate and had a food coma nap, and then woke up at 5pm to the most beautiful weather we'd had all weekend.
Making the most of the summer daylight hours we drove out to Bedruthan Steps and spent hours on the beach, soaking up the views and the sunshine. Definitely the highlight of the trip and it felt like we were on Australia's Great Ocean Road.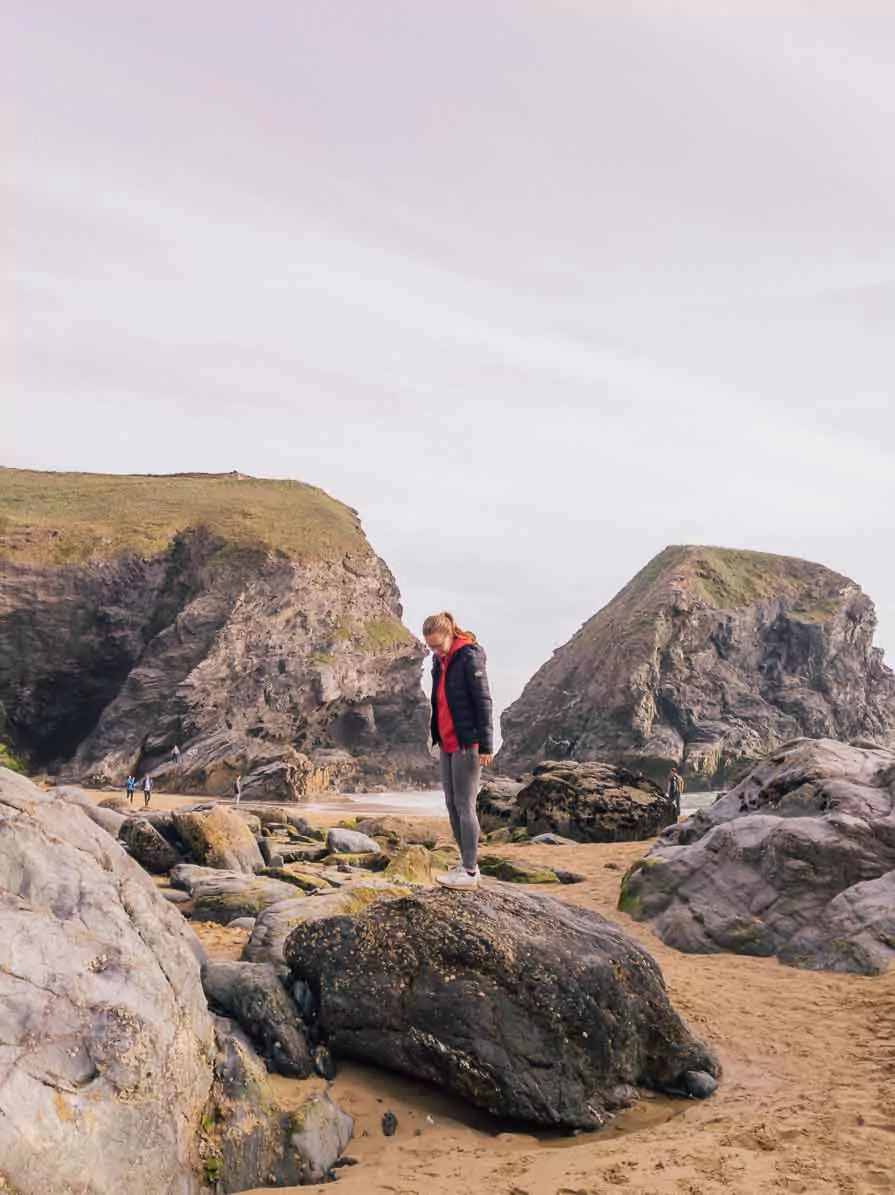 Driving back along the coastline we also visited Treyornan Bay right on sunset. There's an amazing YHA right on the beach there with an outdoor restaurant area out the front that I would definitely stay at if I visited again.
That night we stayed at the Laurels Holiday Park (£24 for a powered site).
Where to stay in or near Padstow
Budget: Padstow Bed & Breakfast
Mid–range: Blenheim, Padstow
Luxury: Coswarth House
Airbnb: Klys Cottage near Bodmin Moor
Places we skipped on Sunday due to bad weather, but worth a visit: Godrevy Heritage Coast, Chapel Porth Beach, Holywell Beach, Poly Joke Beach and Fistral beach.
YOU MIGHT ALSO LIKE: What's in my camera bag for a year of travelling around the world?
Day five
We totally had the camper life under control by Monday so we splashed out and had a cooked breakfast before heading off to the Rumps. There's quite a walk from the carpark so make sure you allow a couple of hours if you want to get to the best view point.
Stopped in at Tintagel Castle which unfortunately was closed, however from what we saw was not worth the visit. Luckily the local pastry and ice cream offerings really made up for it!
Then it was the long drive home to London, having managed to see all the best of Cornwall with only having to take one annual leave day off work.
Places we skipped on Monday due to timing, but worth a visit: Constantine Bay, Booby's Bay, Polventon Bay, Harlyn Bay and Polzeath Bay.
---
Our Cornwall road trip costs for two people
Campervan hire: We were gifted a VW Delta van by the legends at Spaceships but usually these vans are about £31 per day, so £155 total
Campervan insurance: £100 (£20 per day)
Fuel: £107 (one and a half tanks)
Powered campsites: £95 (4 nights)
Groceries: £54
Eating out: £66 (Sunday roast, cream tea, pasties, Cornish ice cream)
Car parking: £12 (across multiple sites)
Return train tickets, Waterloo to Sunnymeads (campervan depot): £20 (£13.20 with a railcard)
Cornwall road trip tips
The size of our campervan, a Delta from Spaceships, was perfect – while it was quite cosy, it made navigating the very narrow roads of Cornwall possible, and there's no way I'd want to do them in a full-size campervan. For an extended weekend it was ideal.
If you're trying to pack Cornwall into a long weekend like we were, get as far down the coast on the first night as possible. This allowed us to cruise for the next few days and spend more time where the best spots are!
I looked at endless articles, blogs and Instagram posts to plan this road trip and the easiest way to collate all the places to visit was on Google MyMaps, like the one at the top of this page. Once I could see geographically where everything was, I could plan our route and where we needed to stay each night.
We pre-booked our campsites (because we needed power and we were trying to optimise our time) but this was definitely not necessary as there was plenty of space and a lot of campsite options the whole way. (For context, we went 23 – 27 May, so this could be a very different situation in the height of summer).
Buying groceries, making your own meals and snacking on the way is an easy way to keep costs down (and Cornwall provides plenty of picnic spots), but it's definitely worth trying the local foods like cream tea, pasties and Cornish cheese. When in Cornwall, eat as the Cornish do!
The majority of carparks require cash so make sure you have small stash in your car. If you're often road tripping through the UK then it could be worth looking into a National Trust membership which allows you to park for free.
Windproof jackets, no matter the season… because, coastal England.
Pack for very changeable weather. We were getting sunburnt in the morning, driving through rain and thick fog in the middle of the day, taking a nap and waking up to clear skies and a perfect sunset in the afternoon. Also be flexible in your plans for the same reason.
Cornwall itinerary recommendations
Planning your own Cornwall road trip? Here's our recommendations for places worth a pin on your Google map and a solid starting point for your itinerary (in order of the direction we drove):
Pendower Beach
Kynance Cove
Lizard Point
Saint Michael's Mount
Minack Theatre
Porthcurno Beach
Land's End
Sennen Cove
Nanjizal Beach
St Ives
St Ives Bay or Gwithian Towans
Padstow
Godrevy Heritage Coast
Chapel Porth Beach
Bedruthan Steps
Treyarnon Bay
Holywell Beach
Poly Joke Beach
Fistral Beach
Constantine Bay
Booby's Bay
Polventon Bay
Harlyn Bay
Polzeath Bay
Are you planning a Cornwall road trip? Do you have any other UK destinations that I should add to my UK bucket list? Tell me in the comments below!
Like this blog? Pin it!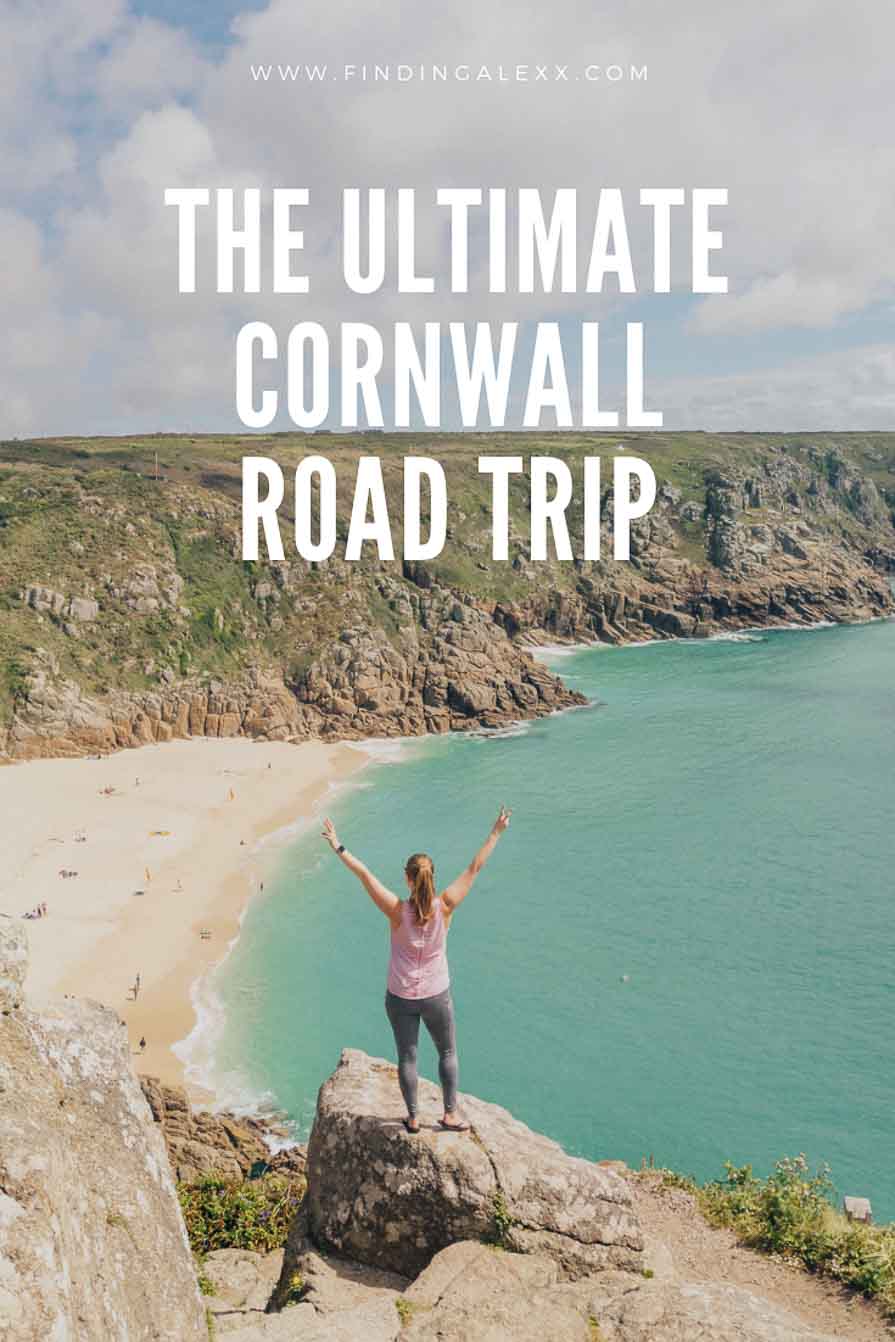 See more photos from our Cornwall road trip on my Instagram!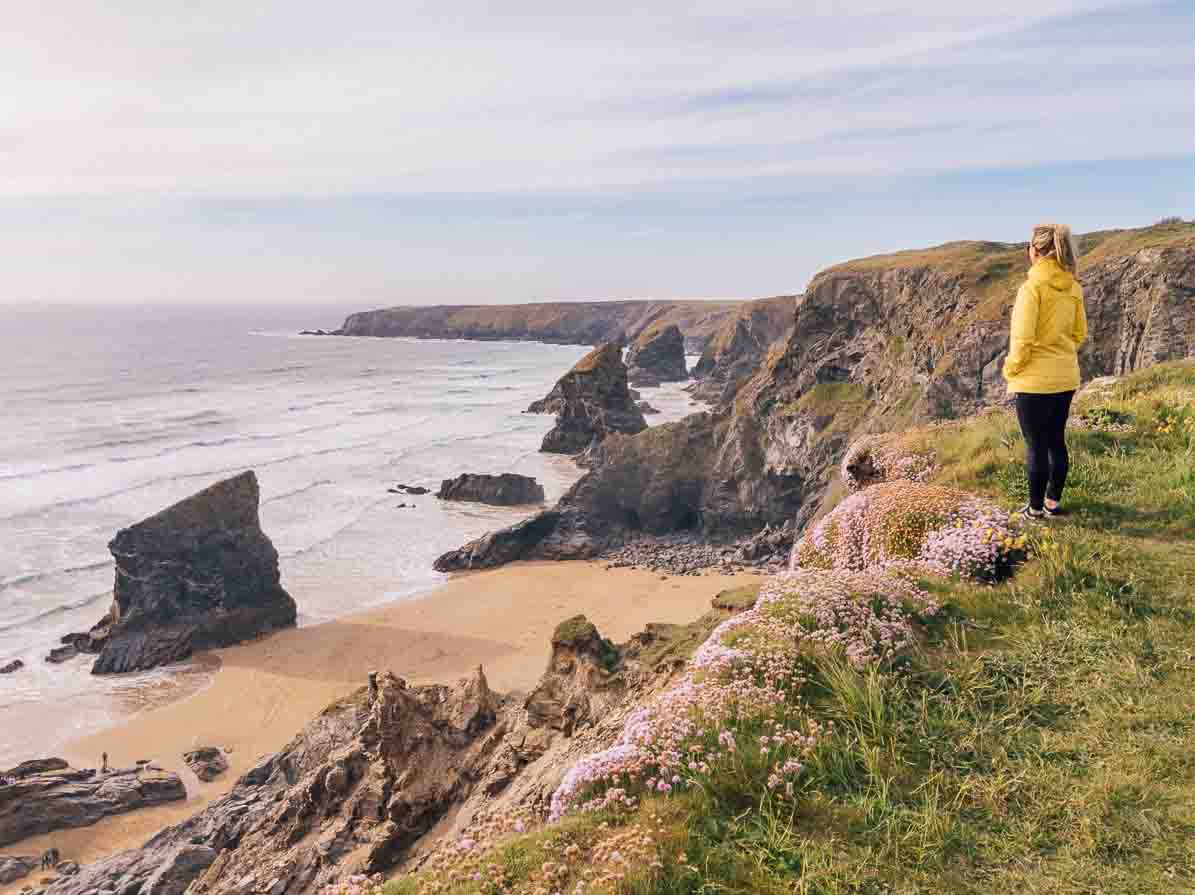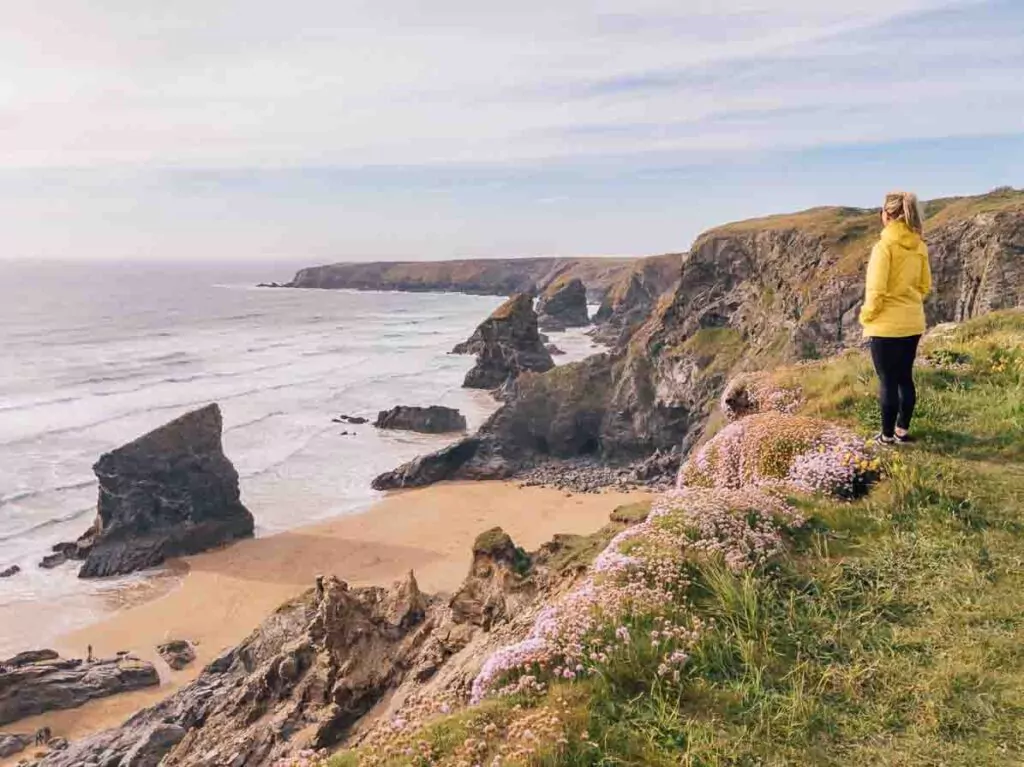 Huge thanks to Spaceships UK for providing us with a campervan for the weekend, all opinions are my own and are based on my personal experience.