This is a big call but I stand by it: as hotel brands go, 25hours is probably my favourite on the planet. There, I said it! My love affair with 25hours hotels began when I was looking for where to stay in Hamburg. 25hours has three hotels in Hamburg and I stayed in two of them during week #12 of my 52 countries in 52 weeks trip.
I spent two nights in 25hours Hafencity and one night in 25hours Altes Hafenhamt, and here's my review on both hotels in the Port of Hamburg!
YOU MIGHT ALSO LIKE: My ultimate Paris travel guide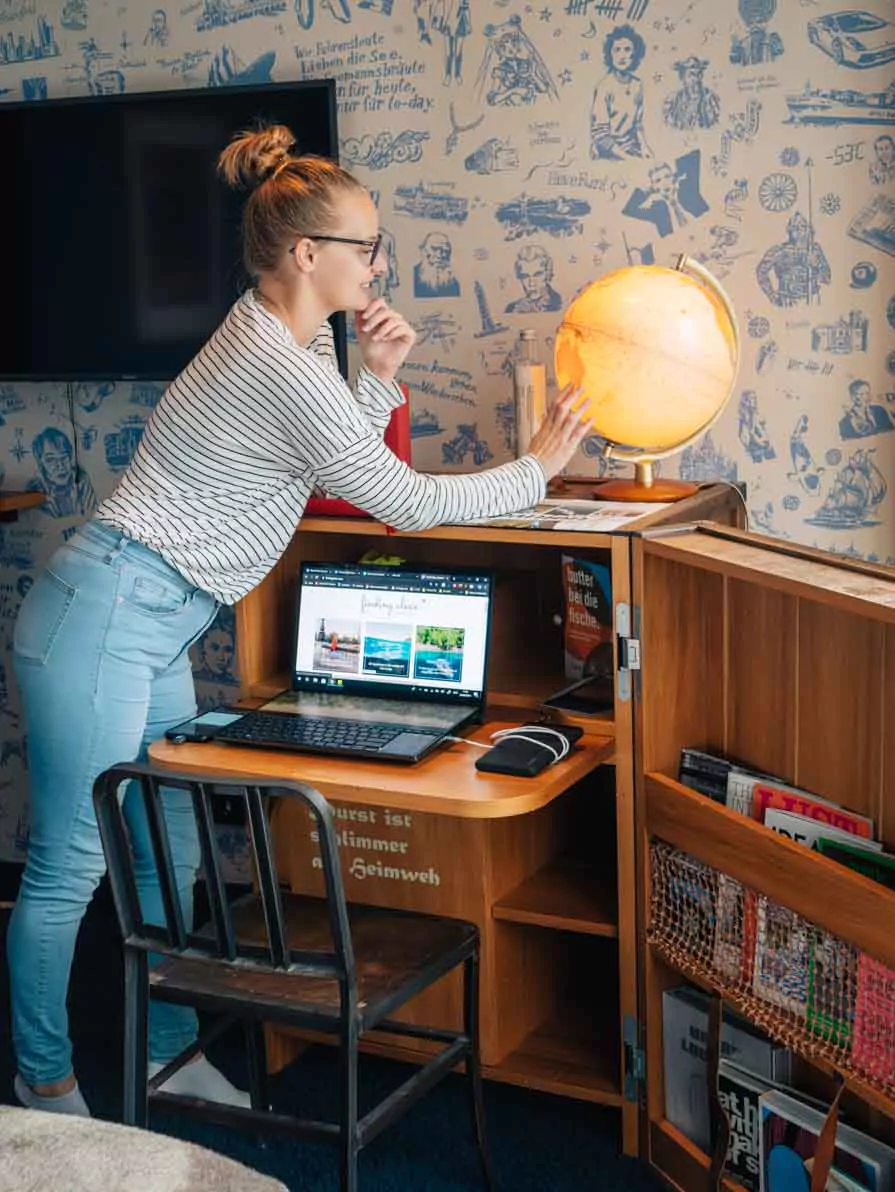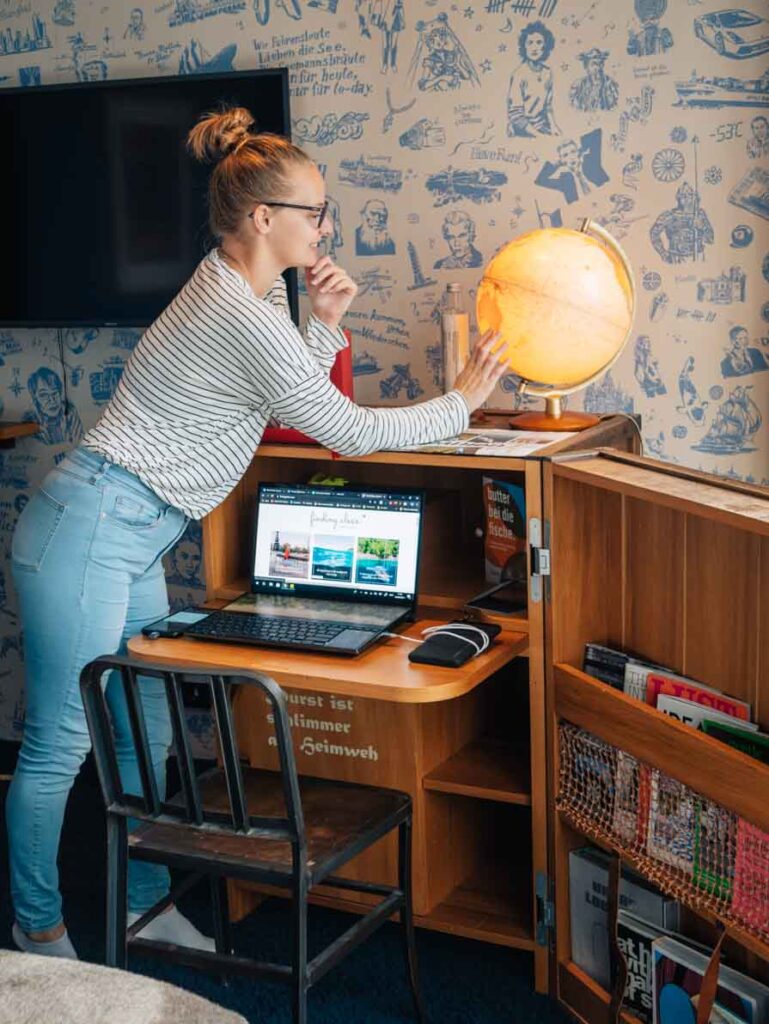 What are 25hours hotels like?
25hours has 9 hotels throughout Germany, plus two in Zurich and one each in Paris and in Vienna. They also have new hotels opening in Florence and one in Dubai, the first outside of Europe, later in the year.
As a marketing nerd myself, I'm just obsessed with their brand. Each hotel has its own flavour, style and design, from how the rooms look to the shared spaces to the restaurants.
The service is impeccable with clued up staff there to help with anything you need, there are gift shops with funky trinkets and souvenirs, the interior design is super stylish, and the on-site eateries all have brilliant menus. Oh, and each hotel has different bonus facilities, ranging from saunas and gyms to bike rental and free MINI Cooper hire. Yes, free MINIs!
How was the room?
Both hotels are loosely harbour-themed, as they're both located near the water in Hafencity.
My room at 25hours Hafencity could be mistaken for a cabin on an explorer's ship from many moons ago. Complete with historical wallpaper showing famous explorers from around the globe, a wooden chest as a desk and bookshelf, and a sweet view overlooking some canals and old industrial buildings, the room was cosy, functional and dapper.
25hours Altes Hafenhamt was a little different, located in the former captain's house and the oldest building in the suburb. It's industrial-chic with a splash of harbour master charm, with spacious rooms, huge beds and ocean-themed decor dotted around a little more subtly than Hafencity.
Both rooms have fridges, workspaces, great showers and UE Boom bluetooth speakers available for you to use throughout your stay.
How about the facilities?
25hours Hafencity is pretty decked out with extras, from a sauna with a harbour view to a vinyl room. They have plenty of living space both at reception and on the first floor with a pinball machine and reading room, and an entire room with a record player and hundreds of records to discover.
25hours Altes Hafenhamt is a smaller hotel but has access to the Hafencity sauna too, and has a comfy reading room with a huge selection of books.
Both hotels have bike rental, free WiFi, free umbrellas and rain jackets to use during your stay, and FREE MINI rental if you need to get around town.
Where are the 25hours Hamburg hotels?
Both hotels are in the middle of the harbourside suburb of Hafencity, just a short walk apart. The area is one of the newest hot spots in town, with modern companies restoring old industrial buildings, loads of places to eat and drink, and easy access to the other touristy areas of the city.
Does 25hours serve food and drink?
Both 25hours hotels that I stayed at had restaurants on-site, and both served an impressive buffet breakfast.
25hours Hafencity has Heimat, a smart casual eatery and bar serving up fresh regional produce and traditional dishes with a modern twist.
25hours Altes Hafenhamt has NENI, an Eastern Mediterranean restaurant with a brilliant menu of shared plated, and the Boilerman Bar, a cocktail bar reminiscent of a speakeasy or classy gentleman's club.
The final verdict on 25hours Hamburg
Just stunning. In a world packed with boring business hotels with no personality, 25hours seriously stands out from the pack.
The staff were helpful and friendly, always up for a chat. The facilities and extras offer fantastic value, from major deals like free car hire (!!) to the small bonus of raincoats, or from saunas to reading rooms or vinyl lounges. And the rooms themselves were just so cute to stay in!
I'm a sucker for branding and 25hours has me hooked. I actually stayed in one of their Zurich hotels a few weeks after Hamburg, which was equally impressive, and I can't wait to stay in more.
Looking to somewhere to stay in Hamburg? Search for hotels on your travel dates right here.
Read more about my 52 in 52 adventure here, see all of my blog posts from the trip here, or check out my Instagram @findingalexx to see all of my travel photos.
All the basic details from my big 52 in 52 trip:
How do you find your flights? Skyscanner! I use the Everywhere tool to find the cheapest place to fly to each Tuesday
Do you fly every week? Not every week no, once I have the destination I check trains and buses to see if there's any other transport options aside from flying. If so, I usually book these using the Trainline app.
How do you book your accommodation? I book all my hotels, hostels and apartments on either booking.com or Hostelworld.
Do you have travel insurance? YES, I always travel with travel insurance and you should too. I'm insured for an annual policy with Worldcare NZ.
Do you offset your carbon credits? I sure do! I always offset when I book if the airline gives me the option (Ryanair does), and I also offset all my flights using Co2nsensus.com.
What luggage do you travel with? I travel with a 75cm Samsonite Cosmolite suitcase, a matching Samsonite Cosmolite 55cm cabin luggage hardcase, and a cheap laptop backpack.
What camera do you use? You can see the full list of what's in my camera bag right here.
What laptop do you use? I have a super portable HP Spectre x360 13.3″ laptop, which is an absolute dream to travel with.
For more FAQs about my 52 in 52 trip, see this post.
Huge thanks to 25hours hotels for hosting me for three nights. As always, all opinions are my own and are based on my experience.