I have to confess that I'm a sucker for a boutique hotel. I love staying at places that incorporate local materials and artwork, that represent the destination they're in, and that offer quality facilities, amenities and service.
I found all this, and more, at Loom Hotel in Bolzano.
This ultra-stylish hotel is one of the most unique places I've ever stayed, and I adored it! Here's a detailed review of the stunning Loom Hotel in Bolzano, the gateway to the Dolomites.
---
Where is Loom Hotel, Bolzano?
Bolzano is the capital of South Tyrol (a.k.a Südtirol in German/Ladin or Alto Adige in Italian), it's a city with almost 110,000 people and it's considered one of the gateways to the stunning Dolomites region in Northern Italy. And if the Dolomites aren't already on your Italy bucket list, they should be!
To get to Bolzano you can drive (2h 45m from Venice, 3h 15m from Milan, 1h 30m from Innsbruck in Austria) or catch the train (1h 30m from Verona, 3h 20m from Venice, 3h from Milan or 2h from Innsbruck).
Bolzano also has a small airport but the airport serves a very limited number of airlines and flights and they were pretty expensive when I checked.
Loom Hotel is just 10 minutes away from the tourist centre of Bolzano by car, or it's an hour's walk if you'd like the exercise. Using public transport it's a 15 minute walk to Bolzano Sud train station, then an easy six minute train to get to Bolzano's main station.
The hotel is located in an industrial area so you might be confused on the way there, but rest assured you're in the right place!
---
What's the best way to get around Bolzano?
The best way to explore Bolzano and the Dolomites is definitely by car, the region's public transport network is limited so renting a car gives you maximum flexibility.
You can rent a car in Venice, Milan or another city and drive, or there are some local operators with small fleets if you'd like to pick up and drop off in Bolzano.
Loom Hotel has secure underground carparks available for €10 per day.
---
What are the rooms like?
That's a great question and one that's hard to answer, because all of Loom Hotel's rooms are actually totally different!
Loom's name refers to the fact that it's a 'living showroom', the hotel is literally a showcase of the interior design efforts of a local design company that works with hotels all over the globe. They decided that instead of building showrooms that were only used to give ideas and inspiration to their clients, why not ensure these rooms are fully functioning hotel rooms and offer them to travellers overnight?
I think this is such a cool idea, an incredible example of sustainable tourism and making sure that resources like energy, land and water aren't being wasted by only using a building between work hours.
My room was super bright and vibrant, exactly what I felt like for my three days in the Dolomites. My bed was huge and comfy, there was a desk for working, a comfy couch and chair, and a big bathroom.
I was lucky enough to see a few other rooms too thanks to the hotel team, so I could get an idea (and show you guys) of the variety! The other rooms were completely different in every way, with different layouts, colours, furniture, materials, textiles and artwork.
The catch is that you can't choose your room at all, the hotel will surprise you with a room on arrival. That's part of the fun!
---
What facilities does Loom Hotel have?
Loom Hotel is a small boutique hotel with only 20 rooms so don't expect a resort-style list of extras, but they do have a few things that make your stay super comfortable.
There are bikes available for rent, speedy WiFi, work-friendly spaces downstairs with plenty of plugs, a chill out space outside in the sun, and smart check-in machines on arrival for contactless check-in (or check-in online, a link will come to your email before arrival).
---
Is there food at Loom Hotel?
The hotel offers breakfast for €12 per person, it's a small but great quality buffet with fresh breads, spreads, fruit, yoghurt, meats, cheeses, eggs and juice, all from local suppliers where possible.
If you want to stock up on picnic foods for a Dolomites road trip there's an Interspar supermarket just a few minutes away by car or a 10-minute walk. There's also a McDonalds right around the corner, I know it's a crime to eat McDonalds in a country with food as good as Italy but in my defence I was exhausted when I arrived in Bolzano after a very long travel day, and I just wanted some chicken nuggets before falling asleep at 9pm.
Bolzano has a bunch of good food too (better than McDonalds haha) if you're keen to head into town for a meal. I absolutely rate PastaLab, they serve up inventive pasta dishes using seasonal, local ingredients and the menu is ever-changing. The pasta I had here was genuinely some of the best pasta I've ever had in my life, and I eat a lottttt of pasta. I also loved Wirtshaus Vögele for a hearty Austrian-inspired meal after a long day of hiking, or other highly-rated restaurants are Osteria da Marco, Kampill or Restaurant Arôme by Thaler if you're looking for somewhere a bit fancy.
---
What is there to do in Bolzano and beyond?
I have to be honest, I didn't spend too much time in Bolzano itself because I only had a few days here and had big plans for exploring the Dolomites! There were a few things on my Bolzano bucket list that I didn't quite get to but I'll share them with you here in case you're interested:
South Tyrol Archaeological Museum (home to a mummy of a preserved ice man, very highly-rated)
Castel Roncolo
Maretsch Castle
Bolzano Cathedral
The Dolomites region however has plenty to see and do, you could stay here for weeks and barely scratch the surface. I've written a detailed Dolomites travel guide with answers to all the Dolomites FAQs as well as suggestions for an itinerary, but here's a quick shortlist of the best Dolomites attractions:
Lago di Carezza
Lago di Braies
Tre Cime di Lavaredo hike
Cadini di Misurina hike
Seceda
Alpe di Siusi
---
The final verdict on Loom Hotel in Bolzano
This gorgeous little boutique hotel was superb, perfect as a base for my whirlwind Dolomites adventure.
I loved my room, I slept brilliantly, the hotel staff were so kind and helpful with travel suggestions, the location was handy to head out of the city, and I got loads of work done thanks to fast internet, decent desks and comfy seating.
Now I need to go back 19 times to stay in each of the other rooms 🙃
You can search your travel dates for Loom Hotel here >>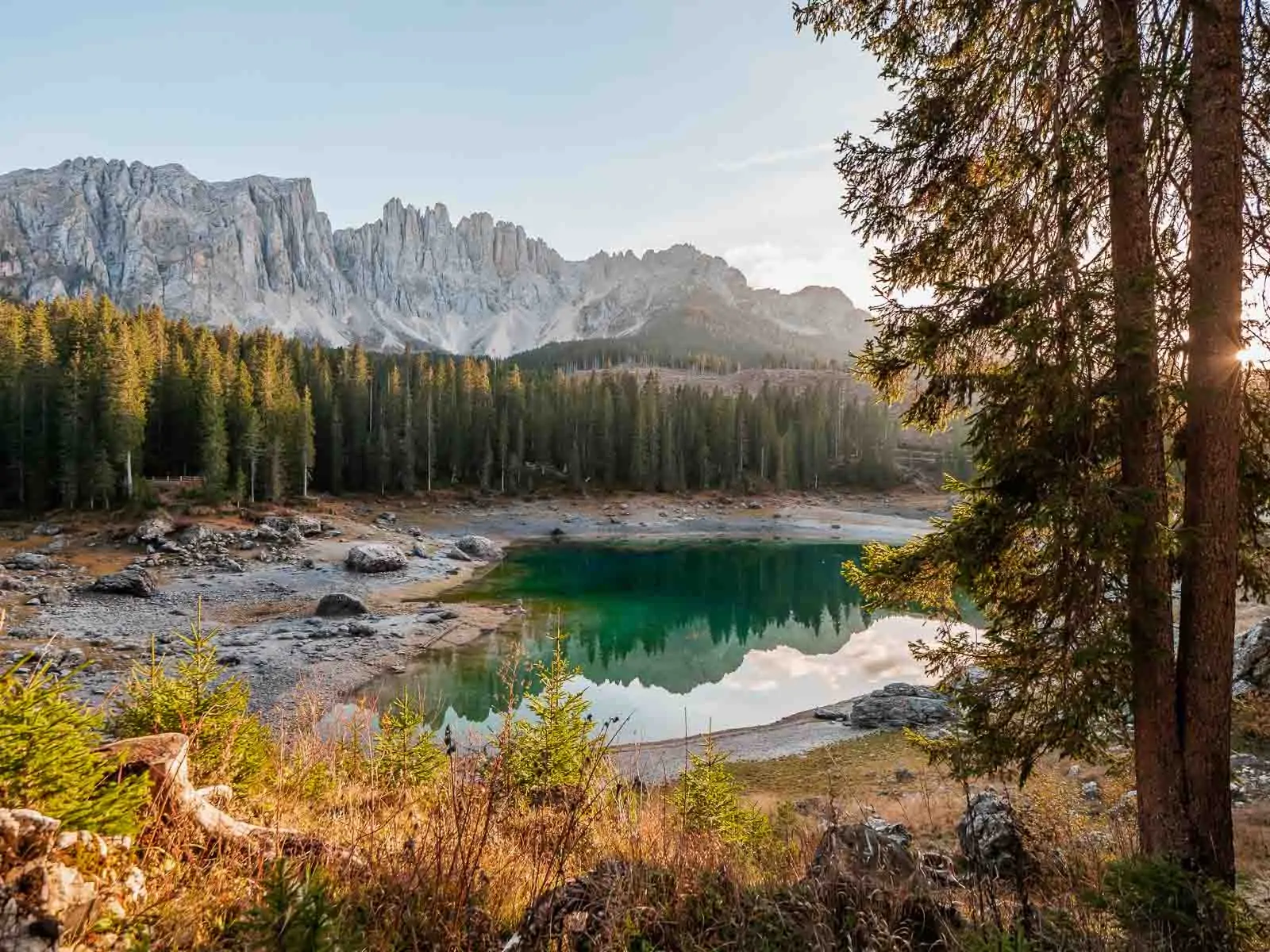 Thanks to Loom Hotel for hosting me during my time in the Dolomites. As always, all opinions are my own and are based on my true experience.