On my second visit to Hong Kong I left my accommodation booking to the last minute, and my stay was three days after Chinese New Year… Absolute rookie mistake. Not ideal for finding anything that's easy on my already-slim wallet! Then I heard about the first Hong Kong capsule hotel, SLEEEP.
SLEEEP (not a typo) is located smack bang in the middle of the bustling Sheung Wan district. Having never stayed in a capsule hotel before, I wasn't quite sure what to expect, but it was actually exactly what I needed for a short stopover and would totally visit again next time I'm in the city for a quick visit. Here's my full review of SLEEEP in Hong Kong.
What's the vibe like?
Walking into SLEEEP is like walking into a meditation room. It's almost silent except for light relaxation music, you can smell essential oils from a humidifier, and the curtains block out all outside light, leaving the artificial light to match circadian rhythms.
It's small (only 8 beds) and is the size of a normal hostel room, but it's obvious that the design has been thought through to make for optimum sleep conditions. My kinda place!
I booked for 3 x 24 hour periods but you can also book 12 hours (9pm to 9am) or choose from 1, 2, 4 or 8 hour bookings. The shorter options are mostly used by local business-people in need of mid-afternoon naps but could also be useful if you're in Hong Kong for a short stopover and just need somewhere to catch up on sleep. I saw a couple of other people but as the room is silent, it's not a place to make friends.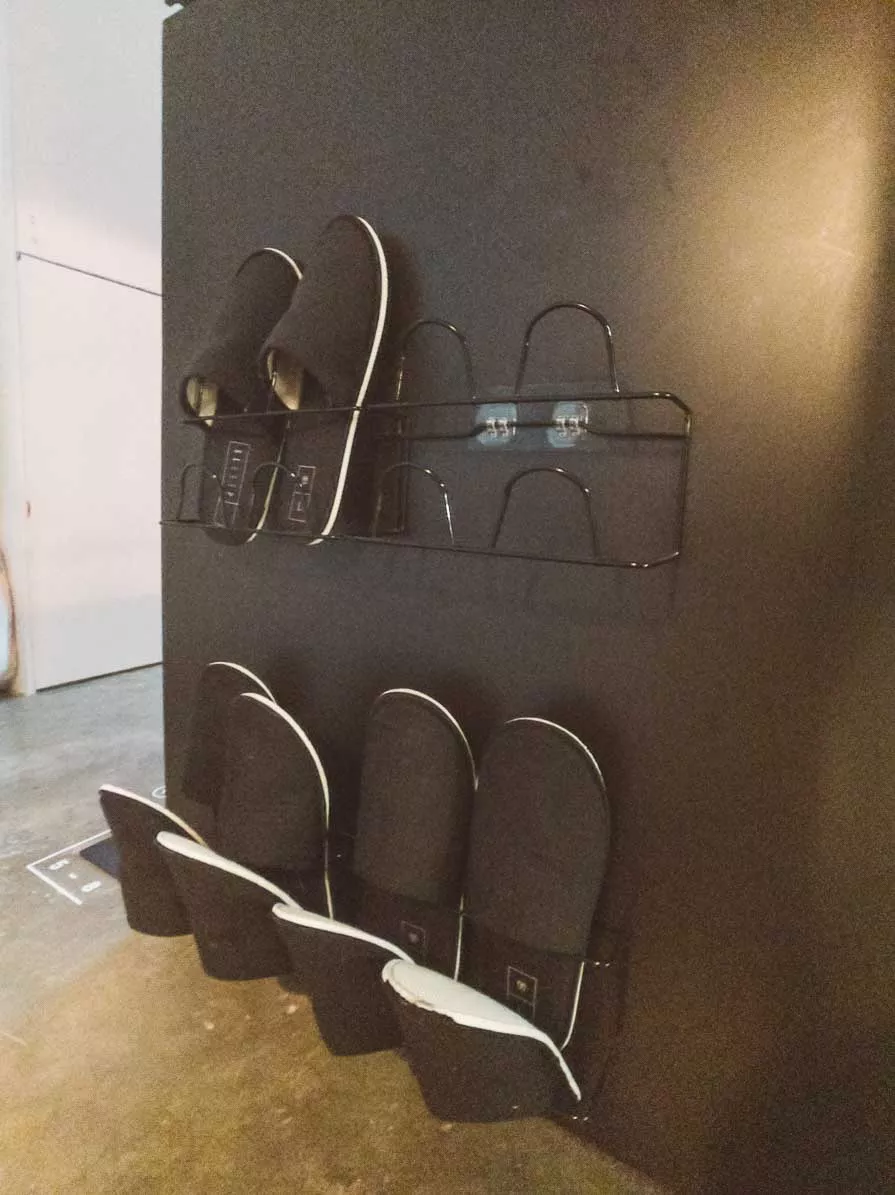 Where is SLEEEP?
SLEEEP is hidden up a staircase and down another staircase off Queens Road Central. The closest MTR station is Sheung Wan and there's a bus stop right at the bottom of the suitcase, although I used Uber all through Hong Kong 'cause it was super cheap.
The area is packed with cafes and restaurants, the main clubbing district of Lan Kwai Fong is a short walk away, and there's a small (and slightly expensive) supermarket less than 100m down the road. I can recommend The Cupping Room for breakfast and La Rotisserie for dinner nearby.
Any food or drink?
There's drinking water available but no food is allowed in your capsule. This was one thing that was tough, as I a) am always hungry and b) like to have Huel (like a protein shake but not, it's a nutritionally complete meal) with me while I'm exploring, which requires a fridge overnight. Three nights would be the max I could do here before needing to move to somewhere with a kitchen.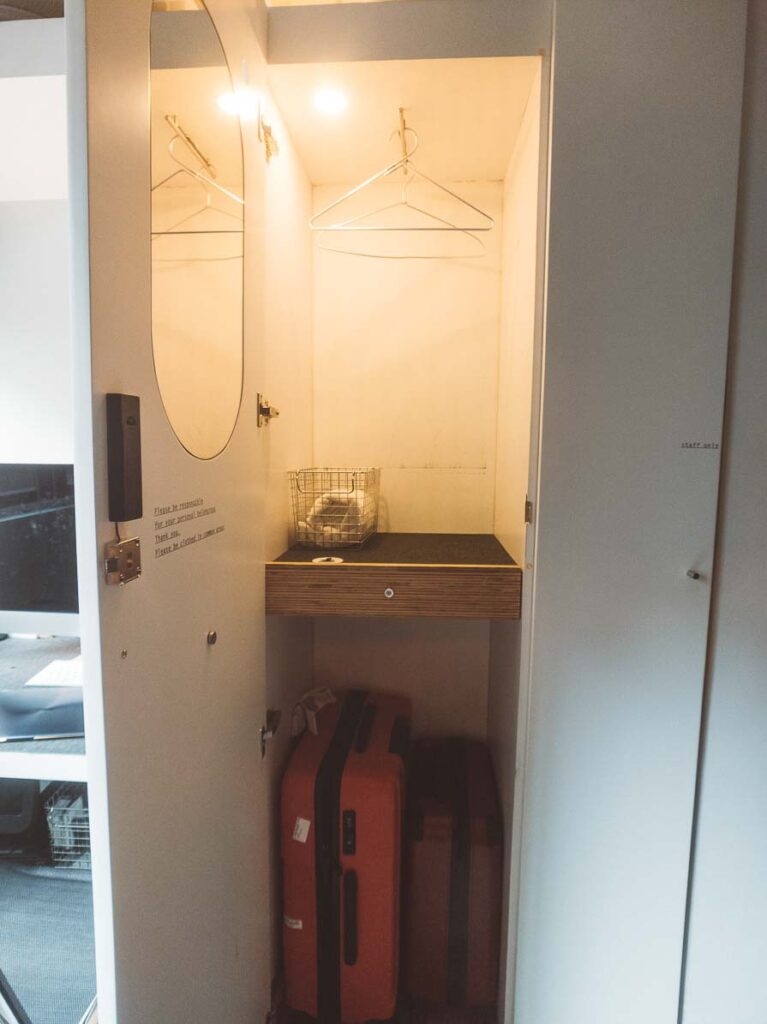 What was the capsule like?
These capsules are absolutely built for sleep, and I LOVED it. They're 2m by 1m so quite spacious as capsules go, they're curved so they don't feel like a box, and they've got magnetic felt curtains to block out light and sound. The lighting is dimmable and you can set a light alarm to wake you up gradually.
When you book online you can also choose what type of mattress, blanket and pillow you want, which was a nice touch of personalisation. There's a shelf and plug sockets available, and SLEEEP provides a portable reading light, ear plugs and an adapter if you need one.
It's hard to say whether the jet lag caused this or the optimum sleep environment, but I slept a full 14 hours one night which is totally unheard of for me.
And the other facilities?
Each capsule gets a designated full-length locker, which has a suitcase space at the bottom (it can fit one medium-sized suitcase as well as a wheeled cabin bag), a shelf half way up, a plug socket and clothes hangers. The bathroom has two toilets, two showers and two sinks, all of which use water heated by the air con. You get two towels and there's body wash, toothpaste, tissues, cotton buds and flannels available as well.
The final verdict on the first Hong Kong capsule hotel
For a solo traveller on a stopover, SLEEEP is the ideal setup and location for a budget-friendly stay. Beds start at £50 a night (about $100 NZD) but obviously that gets more expensive the later you book. This is pretty cheap compared to other Hong Kong accommodation options, and is cheaper than the private rooms in most hostels, and cheaper even than the dorm rooms in some of the main hostels.
The downside was not being able to bring in food, but the focus on sleep and calmness made for an enjoyable and relaxing stay. I would absolutely stay again, but I would limit my stay to a night or two before needing to move to somewhere better-equipped.
Have you ever stayed in a capsule hotel before, or do you know of any other Hong Kong hotels that I should add to my wanderlist? Tell me in the comments below!
Like this blog? Pin it!
Heading to Hong Kong soon? You can see my review of my night at the Ritz-Carlton Hong Kong here, and check out my Instagram

@findingalexx

for loads more photos from my adventures!
Huge thanks to SLEEEP Hong Kong capsule hotel for hosting me for three nights. As always, all opinions are my own and are based on my personal experience.
Please note this blog contains affiliate links that give me a small commission from any purchase, at no extra cost to you. I would never advertise anything I wouldn't use myself, and this commission helps Finding Alexx reach more travellers. Thank you for supporting me!