A hotel can be so much more than where you sleep. I'm a firm believer in choosing accommodation that's unique, funky or just special in some way to really take your trip to the next level.
Normally that means finding boutique hostels, or authentic living experiences or a splurge-worthy hotel if I'm feeling boujee, but during my first visit to Hong Kong back in March I somehow found myself partnering with the Ritz-Carlton Hong Kong to do some content for them. Yep, I got to stay there. For two nights. On the 116th floor. With Club Lounge benefits. For free.
You may hate me for a little while, but keep reading and I'll show you why this hotel is absolutely worth the spend when you can afford to treat yourself. If you're already sold by the feature image, see full details of this incredible place here.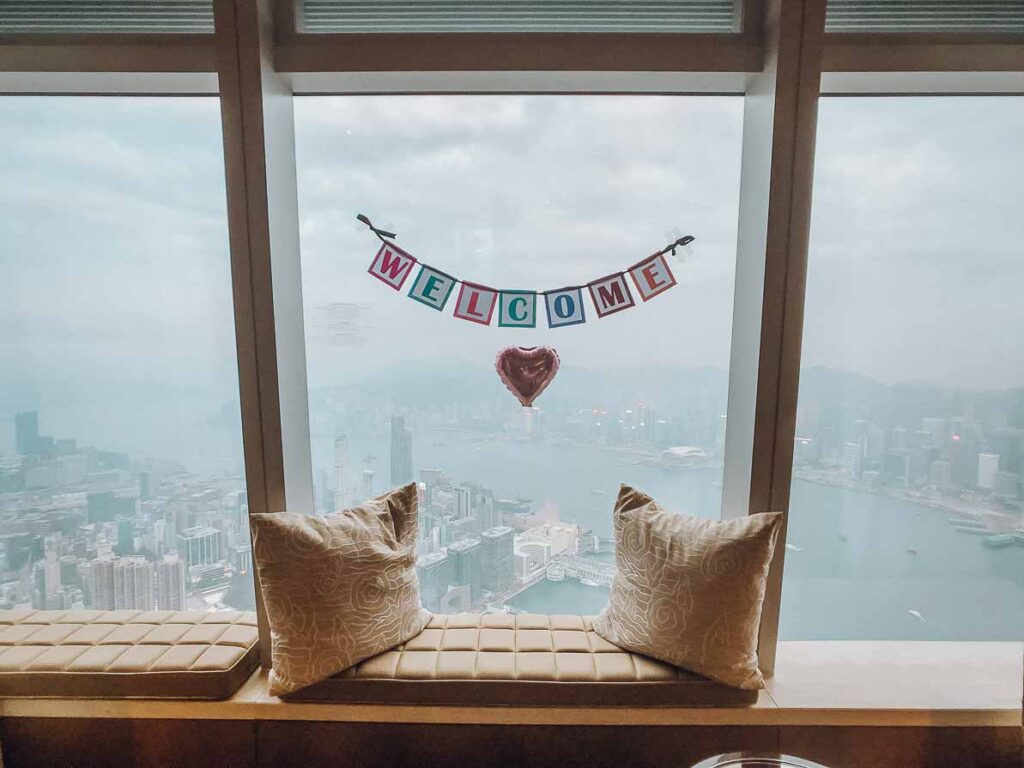 Let's pause for a moment for me to say that yes, I'm incredibly fortunate to get experiences like this for free or for cheap, but it doesn't come without a lot of hard work. I work full-time in my normal job and then work almost every other waking hour on my content/social side hustle. I give myself an hour for the gym each day and then an hour to watch Netflix while I eat dinner, but almost every spare minute is spent doing something for Finding Alexx, so the 'hourly rate' I make (in terms of my perks and the time I spend working for them) is honestly next to nothing. No complaints at all and I love what I do, but please don't think I get free hotels without doing a lot for them! Thanks for letting me say my piece 🙂
Where is the Ritz-Carlton Hong Kong?
The hotel is found in Hong Kong's Kowloon district, on the top floors of the International Commerce Centre (ICC) Building. I think the reception is around floor 102-ish, then my room was on floor 116, the Presidential Suite was on floor 117 (the highest hotel room in the world) and Ozone Bar was on level 118. It's on the other side of the harbour from Central Hong Kong but is easy to get to by MTR or taxi. It also has sweeeet views of Victoria Harbour and the city skyline.
What's the hotel like?
Where do I even start. As I said, I like staying at hotels that are something special. I don't want to be somewhere that looks the same as another hotel on the opposite side of the world, and that's a valid worry when you book a room at a big chain hotel. Let me tell you, this was not an issue here.
The Ritz-Carlton was absolutely, hands-down, incredibly stunning. I felt like royalty from the moment I walked in, with huge windows looking down to the harbour, gold accents all around the lobby and beautiful floral displays bringing a touch of colour.
The reception staff greeted me by name (!!!) the second I got to the check-in desk, which was a nice change from the usual ten minute wait for another guest to ask a (probably) stupid question. I was told that I had been upgraded to Club Lounge benefits which gave me a lot of sweeeet extras (read more below), as well as being on a list for the staff to memorise so they knew who I was without me having to introduce myself. Told you, like royalty! Just call me Meghan.
What was the room like?
My Ritz-Carlton Hong Kong room was the best hotel room I have ever seen, and may ever see. I had a gigantic super king bed with the world's greatest pillows, a bathroom with a huge shower and equally huge bath, a desk and comfy chair, and a view overlooking the stunning Victoria Harbour.
I arrived to a welcome sign on the window and a tray of chocolates and macarons. They sure know the way to my heart.
The tech in the room was equally impressive. My bedside table had a control panel for everything from lights to the curtains, and there was a TV in the bath for my nightly Netflix binge. It's the small things.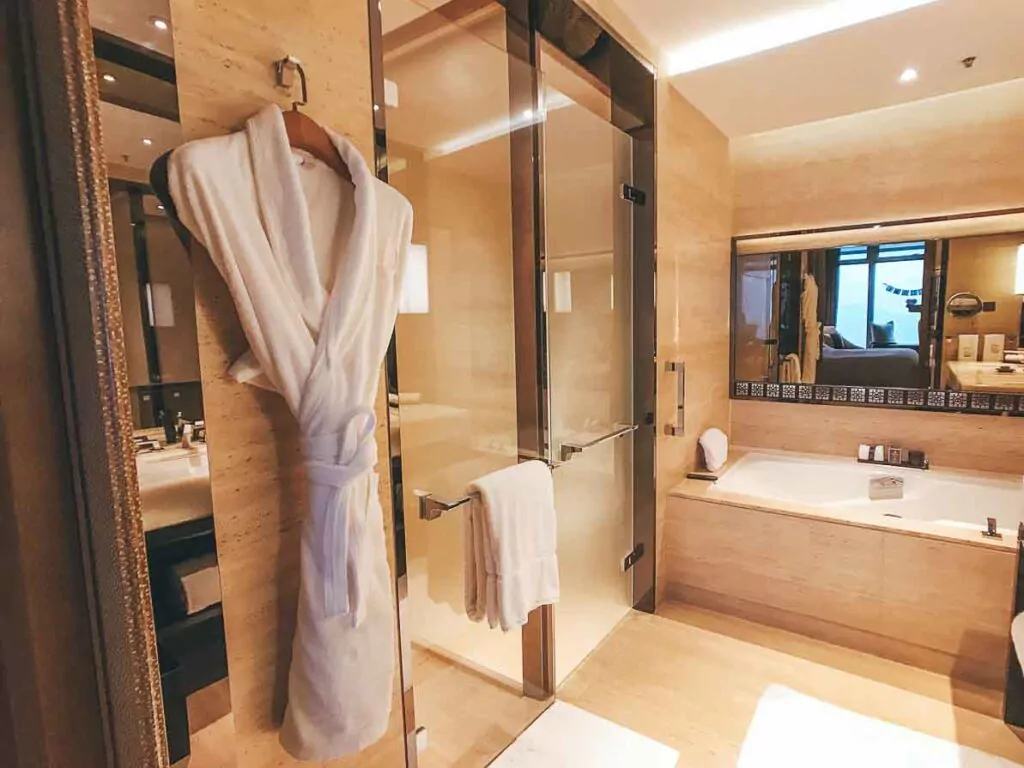 What exactly are Club Lounge benefits?
Ritz-Carlton Club Level is an upgrade that gives you a tonne of epic extras, like a personal concierge service, free food and drink in the Club Lounge, transport around the city and more (actual benefits depend on the location). It's usually reserved for members high up on the hotel's loyalty scheme, or customers with the Ritz-Carlton credit card, but sometimes you can pay to upgrade your normal booking. If you can afford it, do it – the Club Lounge benefits made my year.
First off, the food. The Hong Kong Club Lounge serves breakfast each morning, and then has four more meal services throughout the day. From memory this was lunch, afternoon tea, dinner (with a special local meal prepared by the chef each night) and supper/cocktails. Each meal is buffet-style, and is served in the Club Lounge on the 116th floor overlooking the city and harbour. I had breakfast above the clouds, it was absolutely unreal.
The personal concierge service was super helpful, although I probably didn't make the most of it since I had my own plans anyway. One other special treat was a complimentary drop-off in the hotel limo to the Ladies Market, too cool.
What are the Ritz-Carlton restaurants and bars like?
The hotel is home to two Michelin-starred restaurants, a rooftop bar, a caviar bar, a lounge bar and a cafe. Tosca offers Michelin-starred Italian cuisine in a gorgeous dining room with floor-to-ceiling windows and a crystal chandalier; Tin Lung Heen is a two Michelin-starred Cantonese restaurant that's classy in every single detail; Cafe 103 serves lunch and dinner buffets as well as the famous Ritz-Carlton Afternoon Tea; and the Lounge & Bar is a slightly less formal eatery with a varied menu and fantastic cocktails. Want a real treat? Head on up to Ozone Bar on the 118th floor for a crazy rooftop view, delicious bar snacks and next level (literally) cocktails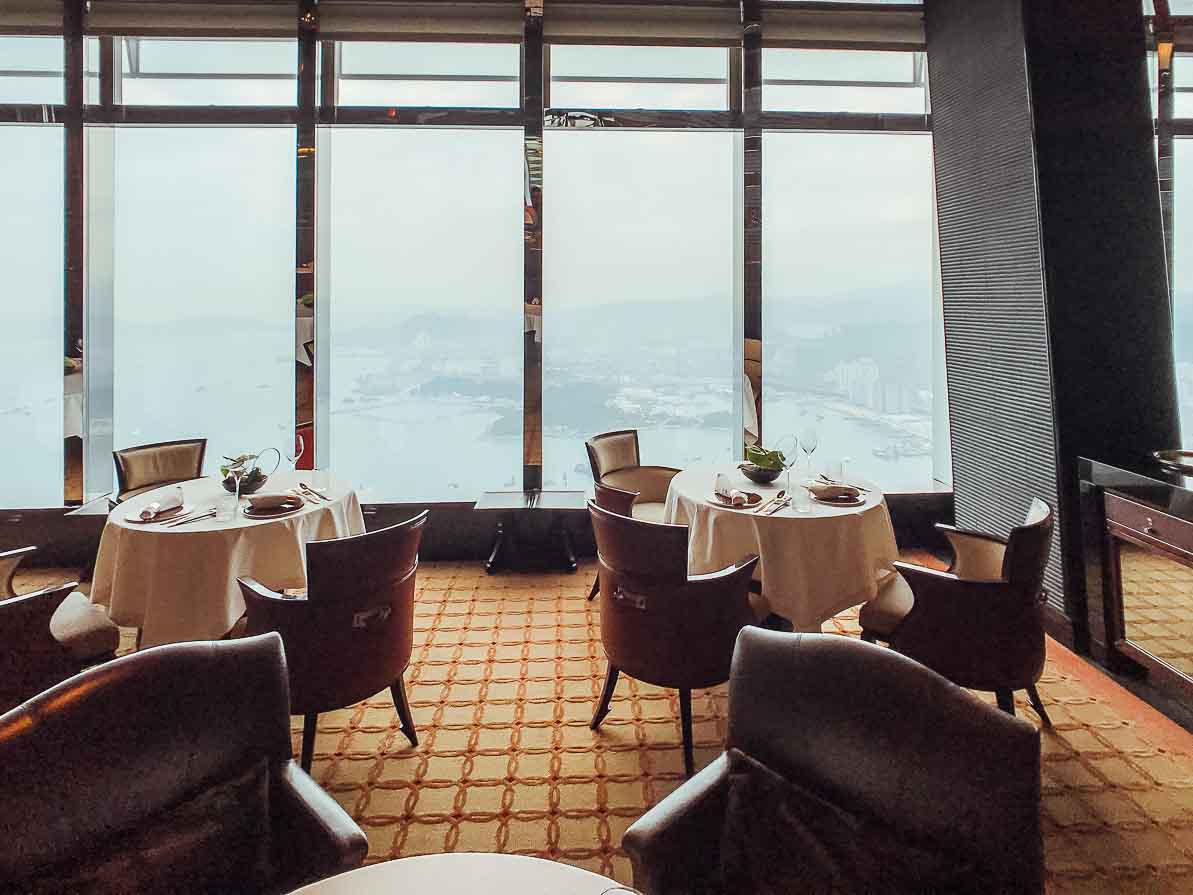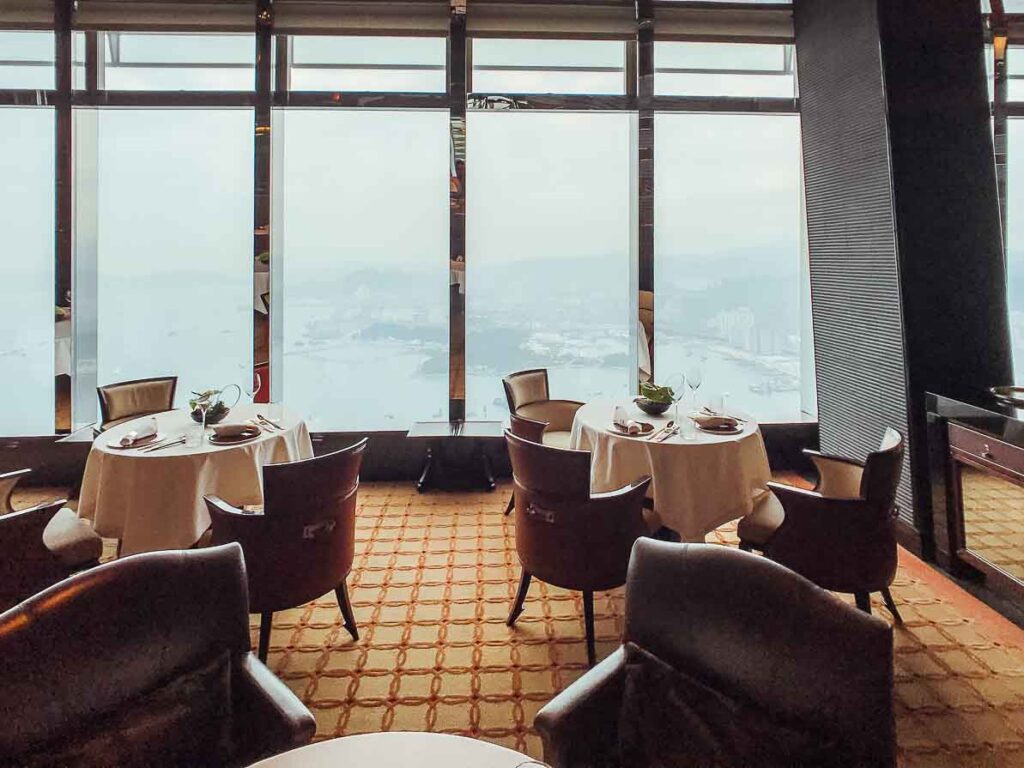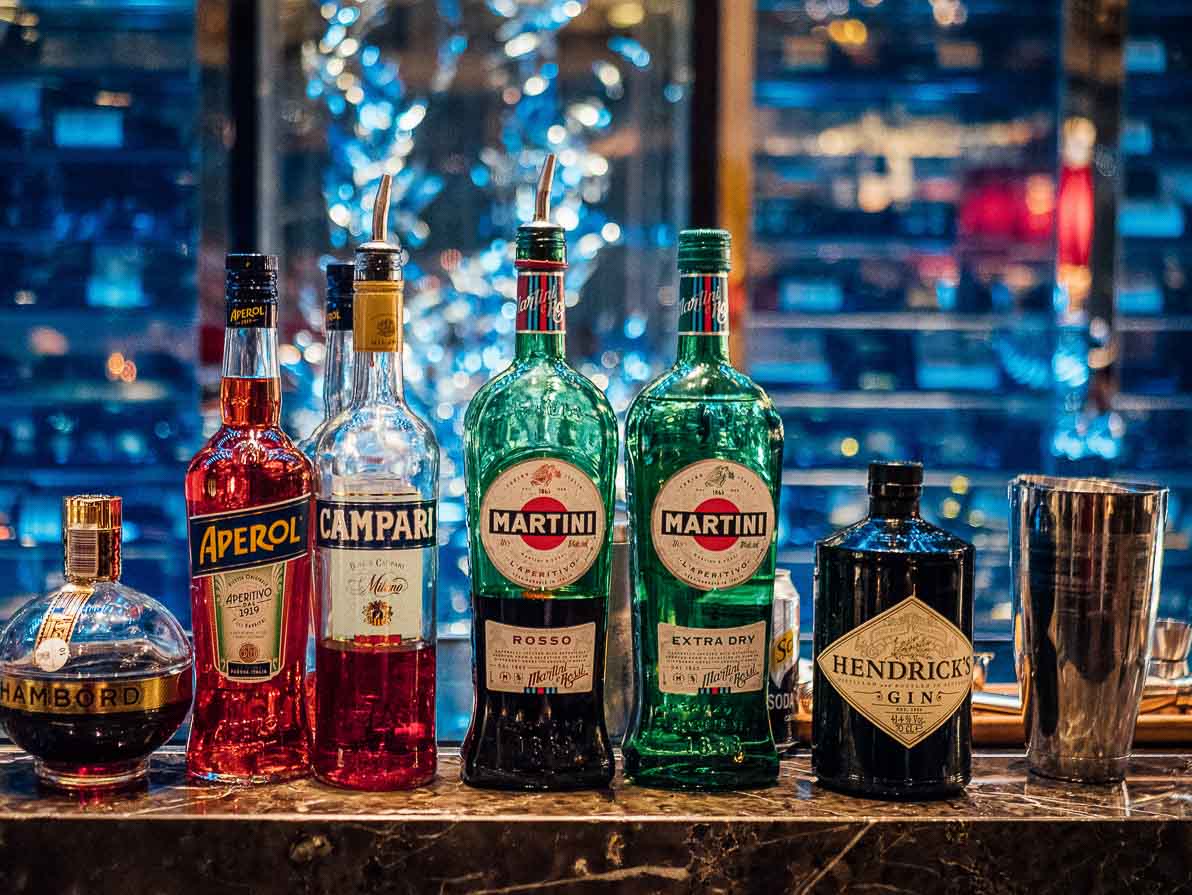 Any other things to share?
This hotel was ridiculous, but in the best way. I actually struggled to leave because I felt like I could enjoy my room and explore the facilities for hours! There's a pool and hot tubs, a beauty spa, a gym and more, basically everything you could ever want from a hotel but probably ten times better than what you could imagine. The location is ideal (right by the Kowloon MTR station), the staff were superb, the view is crazy, the rooms are gorgeous, the vibe is amazing and the hotel had so much character. I'm in love, and I'm desperate to go back.
One thing to note is that because the hotel is so alluring, I actually hardly left it for two days… Luckily I had a full day and a half in Hong Kong to explore before I got to the Ritz, but once I saw my room I pretty much made myself at home. See what I did in my 36 hours of adventuring here, and don't @ me for not leaving the hotel because sometimes you just need a break from moving around ya know. I'm heading back to Honkers next year so promise I'll get out more next time!
Final verdict
Okay, I'll say it one more time for the people at the back. THIS PLACE IS HEAVEN. If you're ever considering a 'treat yo'self' city break, or if you have a reason to celebrate, I would recommend the Ritz-Carlton Hong Kong a hundred times over. It's not cheap but this is one of those experiences that is absolutely worth the splurge. Book your stay or get more details here.
Have you ever stayed in a hotel that blew your mind? Tell me in the comments below so I can put it on my hotel bucket list!
Like this blog? Pin it!
Huge thanks to the team at Ritz-Carlton Hong Kong for hosting me for two nights. As always all opinions are my own and are based on my personal experience.
Please note this blog contains affiliate links that give me a small commission from any purchase, at no extra cost to you. I would never advertise anything I wouldn't use myself, and this commission helps Finding Alexx reach more travellers. Thank you for supporting me!