After publishing my blog workflow a few months ago, I've had loads of questions about my photography and photo editing workflow too.
The photography process from start to end is a huge beast (I promise I'll get onto it soon!) but for now I wanted to share my photo editing process, from backing up my images to post-processing to exporting, plus some helpful tips, tricks and tools that will speed up your photo editing workflow.
Table of contents
---
Why do you need a photo editing workflow?
Taking photos, processing them and publishing them takes so much work, and a proper photo editing workflow will speed up your photography process you and save you a load of time.
Every photographer will have a different workflow, and it's imperative that you find one that suits your tools and your working style. There's no point in following someone else's workflow from start to finish if it doesn't align with the way you normally work.
Finding a photo editing workflow that is natural to you, includes all the important steps you need to keep your photos safe, and allows you to spend more time on monetising your photography and blog, is a huge win for any creator.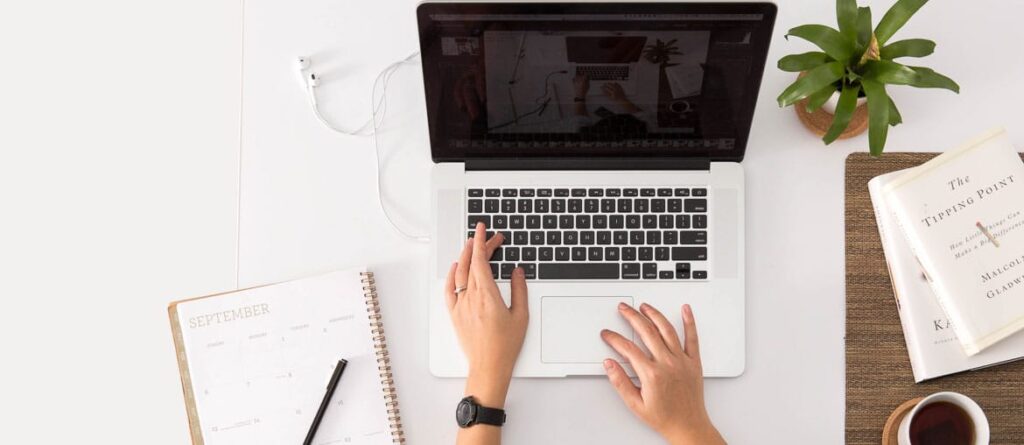 ---
Tools that will speed up your photo editing workflow
Make sure you've got tools (both physical and digital) that aid your productivity. If you're finding a specific barrier in your process that's slowing you down, consider if there's anything you can invest in that will help you break through that barrier.
To start off with, I find it helpful to have an actual checklist (either on paper or using an online tool, I use Airtable) to go through and make sure I'm not skipping any part of my photo editing process
Get hard drives that are big enough and fast enough to back up your files. I'm a huge fan of LaCie Rugged drives, I've got a 4TB one for storage from past trips and a smaller/lighter 1TB one that goes everywhere I go so I can back up while on the road.
A laptop that's good enough for what you need to do. Your requirements will depend on the amount of editing you're doing, how much storage you need, if you're editing videos too, and if you need something lightweight to travel with. My at-home computer is an ASUS Zenbook Pro Duo which is a beast for editing, it's got 1TB of storage, 32GB RAM, an NVIDIA RTX 2060 graphics card that's ideal for any heavy-duty editing, but it weighs a whopping 2.6kg with a charger over 1kg so it's not very travel-friendly. My top travel laptop recommendation is the HP Spectre 13.3″ x360, this is what I take on my trips and at only 1.3kg it is so easy to pop into my camera bag and use at a café without looking like I'm moving in!
A Bluetooth keyboard and palm rest to keep your hands and wrists supported and minimise the risk of RSI, and a Bluetooth mouse that's comfortable to use and is accurate enough for editing (read more about the Logitech keyboard and mouse I use below)
An office space that is comfy, minimises distractions and maximises productivity. Natural light, a comfortable office chair, big screen or laptop stand can all help you get shit done.
A playlist of music that keeps you focused. I love the Brain Food playlist on Spotify.
Time limits in your phone settings or Chrome extensions to stop you from going on Facebook, playing games or getting into the endless scroll of doom.
Software that allows you to edit as you wish. I use Lightroom on my laptop for my camera photos, Lightroom Mobile for phone photos, and this video editing website for any short videos I need to create for clients. It makes video editing super easy, it's got ready-made themes, ready-to-use templates and other features to make your videos look professional without wasting time and money figuring out expensive editing programmes.
---
My photo editing workflow
Step one: Capturing the content
This one deserves its own blog and I promise I'll write one soon, but there's two important things to know here.
The first is to always capture more than you think you'll need. Take photos from different angles, in different light conditions, both landscape and portrait, and in different outfits if you think you might need them.
You can't fix up everything in post-processing, but if you have good quality originals then it'll make your editing process much easier.
And secondly, always shoot in RAW if that's an option. RAW files are an uncompressed digital image file with a huge amount of information, meaning when you edit them you can pull much more detail out of the image.
Most cameras have a RAW option and these days many smartphones do too. Note that you won't be able to upload RAW files to apps or blogs as they are, they require editing and exporting before you can use them as a normal image.
Step two: Backing up the content
Back it up, back it up, you got it, you got it (sung in a Gwen Stefani voice).
Backing up your content is an essential part of the process, and I'd recommend you do it after every trip, or even every day if you're travelling for a while.
When I'm on a trip I'll back up each memory card each day onto my LaCie hard drive, under Trip/Destination Name > Camera Type > Raws. For example on my recent Tekapo trip, one of my folders look like this: Tekapo > Lumix GX85 > Raws.
The reason why I back up into folders based on camera is because then after importing in Lightroom I can edit all photos from my camera first, then phone, then drone etc.
Images from different cameras will vary in terms of the adjustments they require so that way I can copy and paste edit settings from one camera photo to another one in similar lighting, instead of going from a camera photo to a phone photo to a drone photo which all need very different edits.
You might prefer to back up based on date so just find a way that works best for you.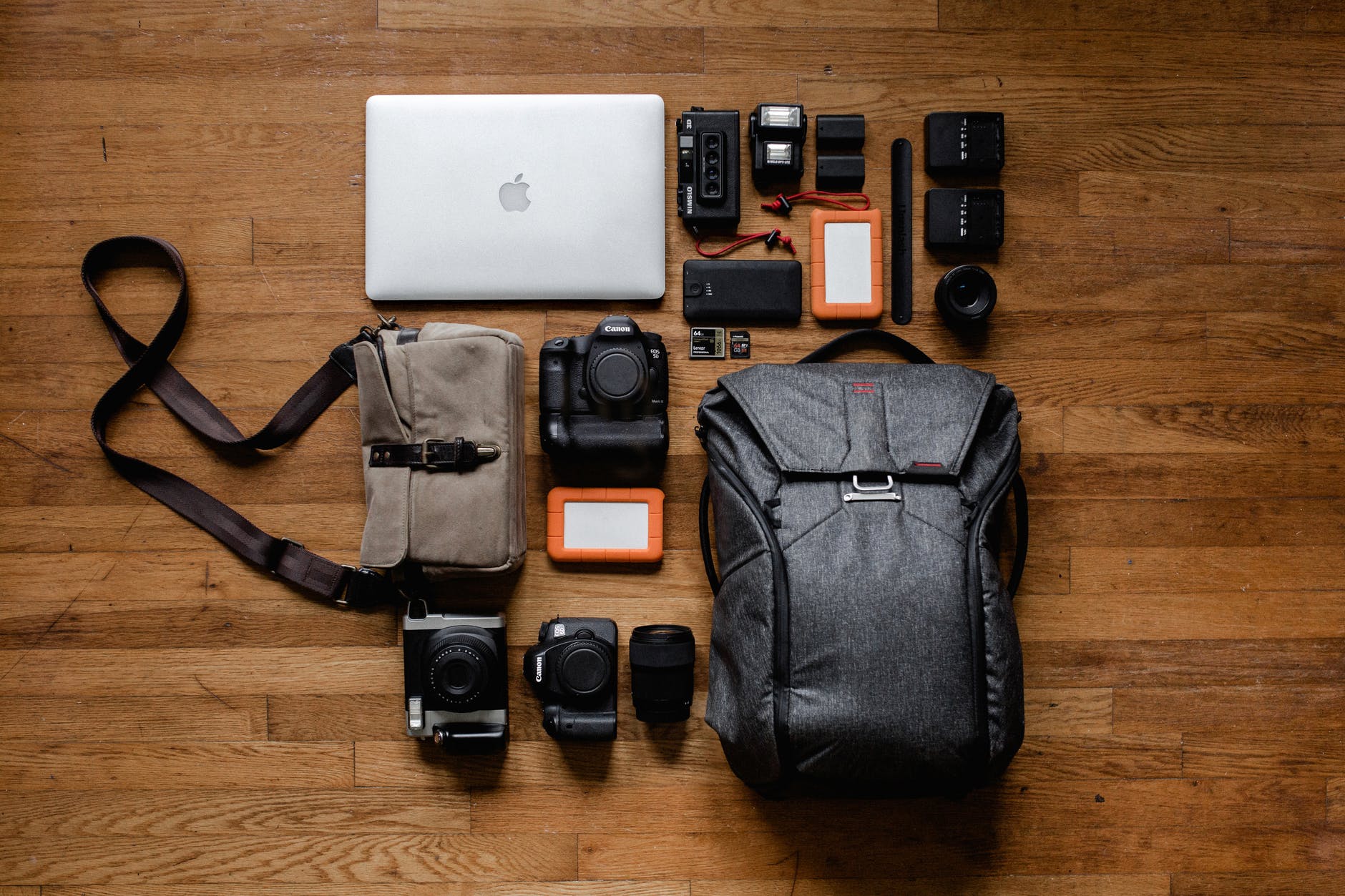 Step three: Importing and organising the content
If you use Lightroom you can import your photos into your LR catalogue with a single click.
There's a bunch of options here like renaming images, adding metadata like copyright info and applying presets upon import, but I don't personally use any of these.
This blog has a really thorough explanation of organising photos in Lightroom if you're keen to learn more.
Once your photos are in Lightroom, you'll need to rate them so you know which ones to edit. You don't want to edit every single photo, it'll be an absolute waste of time!
I scroll through the photos and rate the ones that I want to edit five stars (you can do this by just tapping '5') and then that cuts down the amount of editing I have to do.
Step four: Editing the content
Once you've edited your photos, filter them to show only the ones rated five stars, and begin your adjustments.
Firstly I'll test out the presets I have to find one that works, then I'll edit basic adjustments like exposure, temp and shadows/highlights, then I'll make my way through the Lightroom adjustments panel.
In terms of presets I've got some of my own that I use, as well as a couple of packs I've bought. The best preset pack I have purchased is Jord Hammond's Master Collection, he has some really natural presets that make photos pop while keeping them true to colour.
I have found that a lot of presets I've tried in the past (Travel in Her Shoes, Gypsea Lust, Jacob and Salty Luxe to name a few popular ones) are super unnatural in their tones, the blues are far too teal and skin far too orange for my liking. Each to their own but just keep in mind that presets often drastically change colours.
I keep my edits to a minimum compared to many travel photographers, my goal is to accentuate the beauty of a place, make the colours pop but overall keep it looking the same as what you'd see in real life.
If you're wanting to create composite images (like change the sky, add in birds) or make any major edits like removing buildings or anything like that, it's best to use Photoshop.
You can select the image in Lightroom, right-click and select Edit in Photoshop, make your changes in Photoshop, save the image and then it'll save the edited image into your Lightroom catalogue for further edits.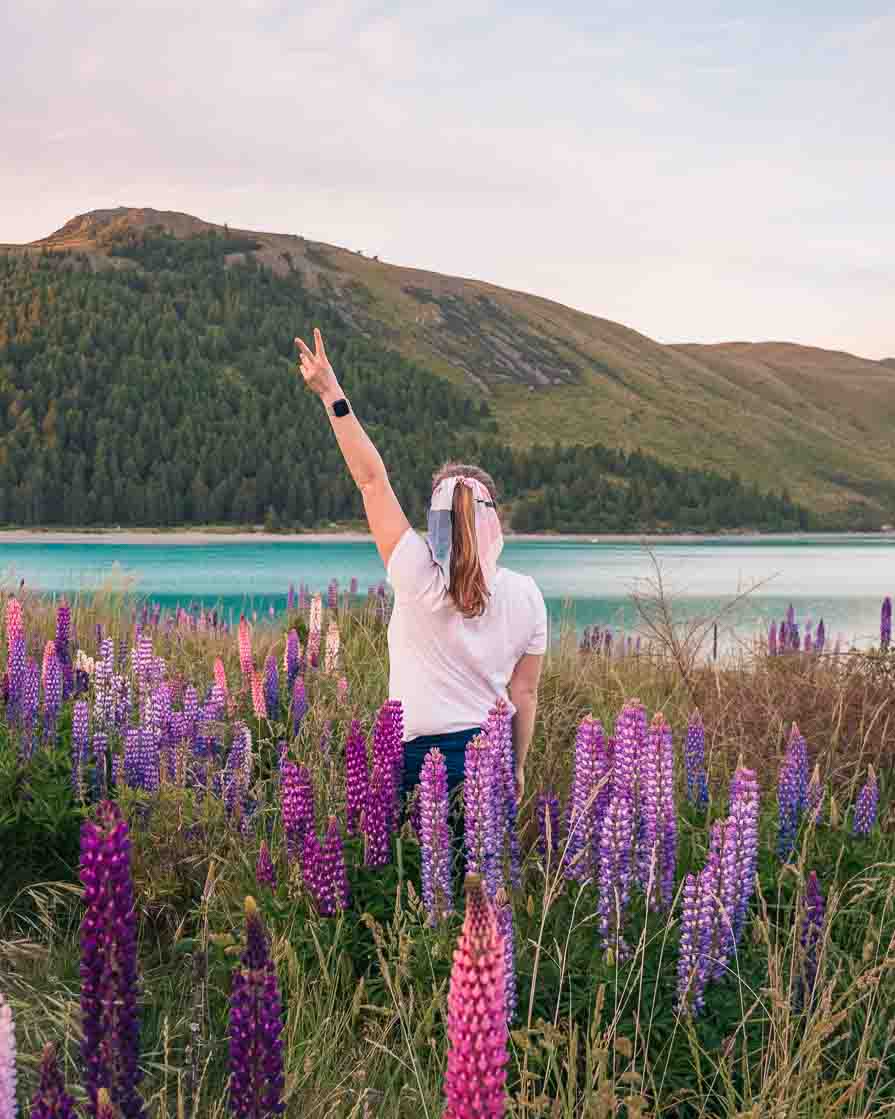 Step five: Exporting the content
The first step for exporting is to export all the images at full quality and size to a MASTER folder. This way you've got a backed up version of all your high res edits just in case anything happens to your Lightroom catalogue and you lose those edited photos.
I rename my images to something like Destination-MMYY, like Tekapo-1220.
After creating a MASTER folder, create a set of folders based on the type of exports you need. I have separate folders for Instagram images, blog images, blog feature images, photos for clients, prints and wallpapers.
I use the colour tagging system to help me sort my exports.
For example, there's no point in me exporting all of my photos as Instagram images when I won't post them all. I'll go through all of my edited photos, tag the ones I want to post on Insta as red (by tapping '6'), then filter to only show red photos. Then I can edit each of these to work perfectly on Instagram, with 4×5 ratio, make any final edits, remove distractions like rubbish on the ground, and export them as size 1080×1350 into my Instagram folder.
The settings I use for editing/exporting the different types of photos are:
Master: Full quality and maximum size
Instagram: 4×5 ratio, 1080×1350
Blog: Under 100kb
Photos for clients: Depends on the contract but generally under 2MB so it's easier to send
Prints: 300dpi and the correct colour settings for my printer
Wallpapers: 1080×1920 for Instagram Stories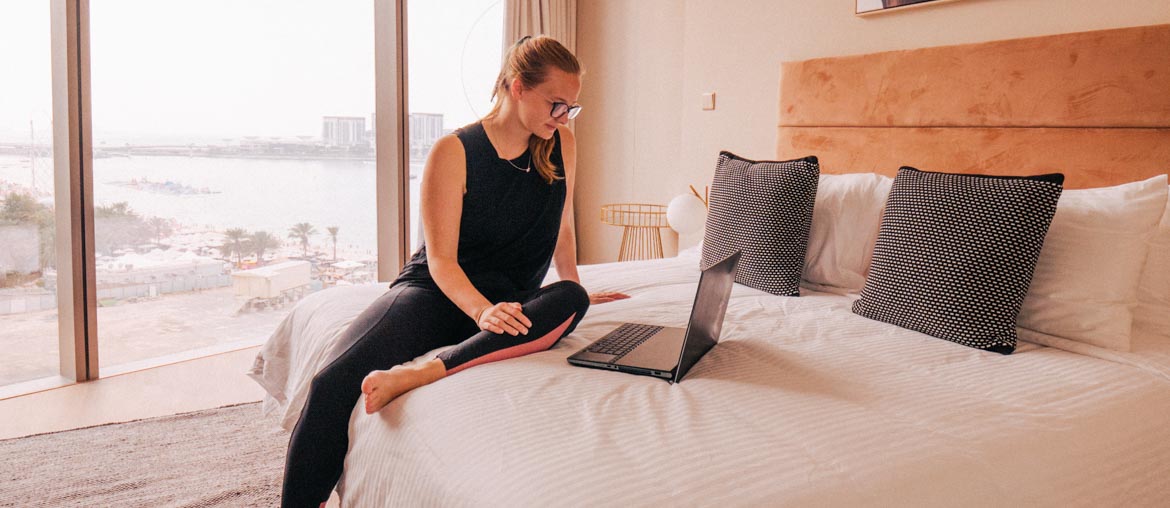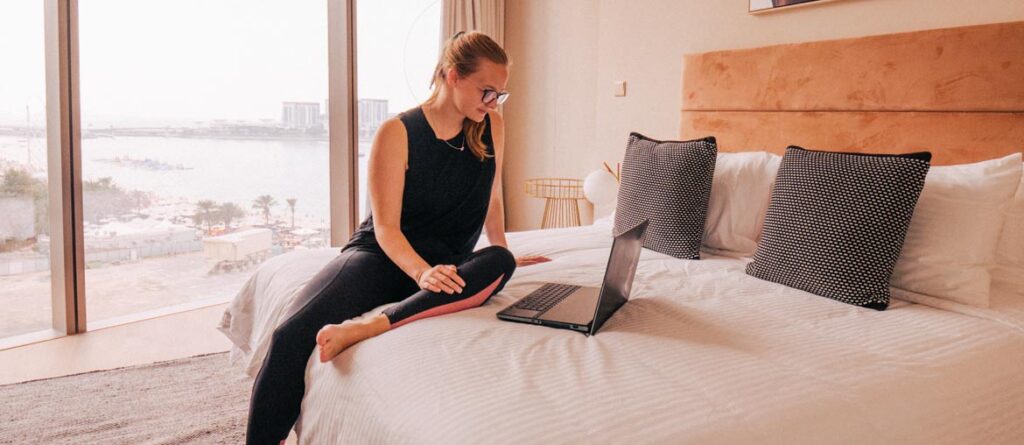 Step six: Publishing the content
Woohoo, you've edited your photos!
The final step is to get your content out there for people to see.
If you're going to be posting things on Instagram then I'd suggest finding an Instagram planning app to plan your feed and schedule your posts. I use UNUM to plan my feed (they have a grid shift tool and swapping tool to allow you to swap between potential next photos super easily, seeing which one looks best) and then Later to plan posts and write captions.
If you use Pinterest then you might import your photos to Canva or Tailwind Create to create your pins.
For blogging you'll need to upload your blog images to WordPress or whatever platform you use. Make sure to fill in the alt text when you're uploading them so Google can read what your image is about for SEO purposes, and to make your blog accessible to screen readers and text-to-speech apps for the visually impaired.
---
How Logitech's MX Series can speed up your workflow
I've got the MX Keys keyboard and MX Master 3 mouse from Logitech's MX Series, designed for creators and engineered for coders, and they've been absolute game changers for my productivity in terms of editing and writing.
Both the keyboard and mouse are USB-C and the charge lasts for aaages (70 days for the mouse, up to five months without backlight for the keyboard). I've been using the keyboard with the backlight for over a month, switching it off at night, and I'm only just needing to charge it now.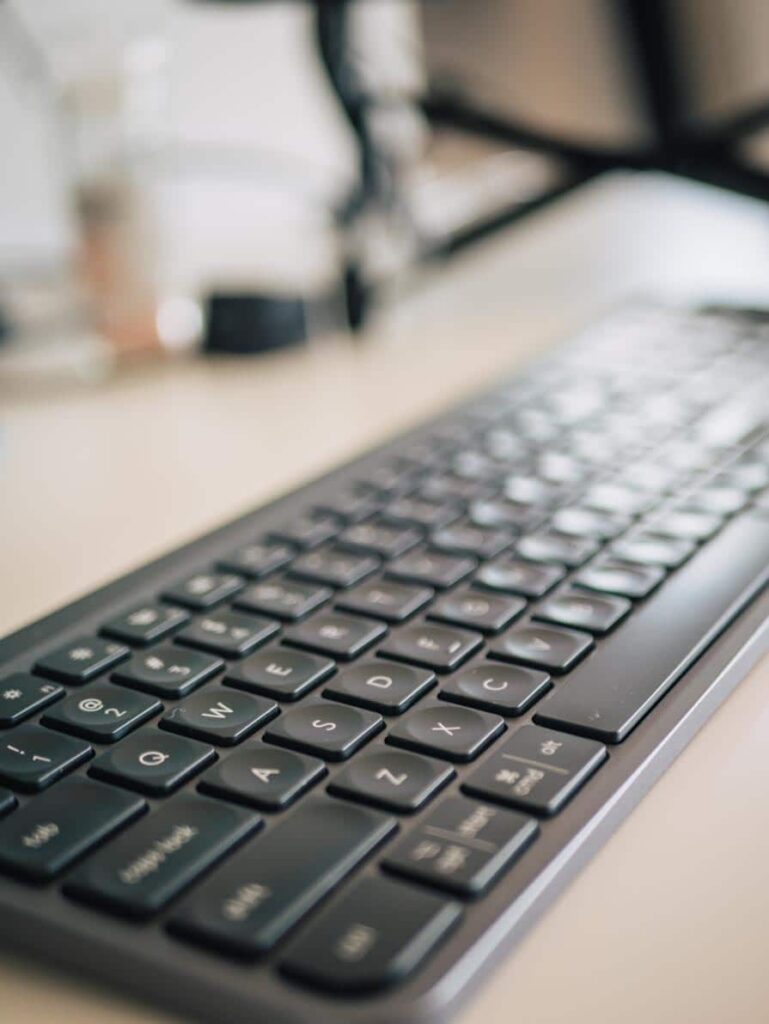 The MX Series also has this magical ability to copy and paste between devices. That means if you're using a tablet and a laptop and need to get some photos, files or text from one to the other, you can simply copy them from one, switch devices with a click of a button, and paste to the other. Actual magic.
While I do love using the keyboard, I'll be honest and say that the mouse truly has my heart. This thing is a productivity beast.
As well as the usual left and right buttons + scroll wheel, the MX Master 3 comes with an additional middle button, a thumb scroll wheel, two thumb buttons underneath the thumb wheel and a Gesture button right under your thumb too.
And best of all, you can completely customise each of these buttons with the Logitech Options app, and even set them to perform different actions for different programmes and apps.
In terms of photo editing in Lightroom, I've set up the customisations like this:
Middle button (between left and right buttons) shows the original unedited photo
Thumb scroll scrolls between images left to right
Thumb buttons to copy and paste editing settings for each photo (and have also used them as undo/redo)
Gesture button takes me to task view
For Photoshop you can set the buttons to do things like create a new layer, switch to a specific tool, change brush size, and loads more. It takes a bit of time to figure out what tools you use the most and therefore what actions you want to set to each button, but once you've figured it out it'll save you so much time.
Aside from technical specs, the MX Keys and MX Master 3 are both just so satisfying to use. If you're a nerd (like me) you'll appreciate fluid keystrokes, a super smooth scroll wheel, ergonomic design and the matte black look. I'm obsessed!
You can buy the Logitech MX Master 3 mouse right here and the MX Keys keyboard here.
---
Quick links to photo editing resources and tools
---
I hope this blog has helped you create your own photo editing workflow and shown you ways to speed up your photography process. If you have any questions just let me know in the comments!
Disclaimer: This blog post is sponsored by Logitech, who sent me the MX Keys and MX Master 3 to test out. As always all opinions are my own and are based on my personal experience with the product.