Note: This blog was originally published before travel shut down around the world. If you're planning an essential trip please ensure you check any and all regulations in your destination to ensure you're minimising the risk to yourself and the place you are visiting.
Are you a full-time traveller, freelancer or do remote work and want to live that digital nomad lifestyle? Working while on the road takes a special set of skills, and there are some handy gadgets that can make it even easier.
From ultra-modern laptops to the best phone accessories to cameras that'll take your photos to the next level, this digital nomad packing list is packed with digital nomad essentials.
I travelled full-time for nine months before the pandemic hit, so I've got some experience under my belt to help me share the best tips, tricks and travel essentials. Read on for the tech gear that should be in any digital nomad backpack!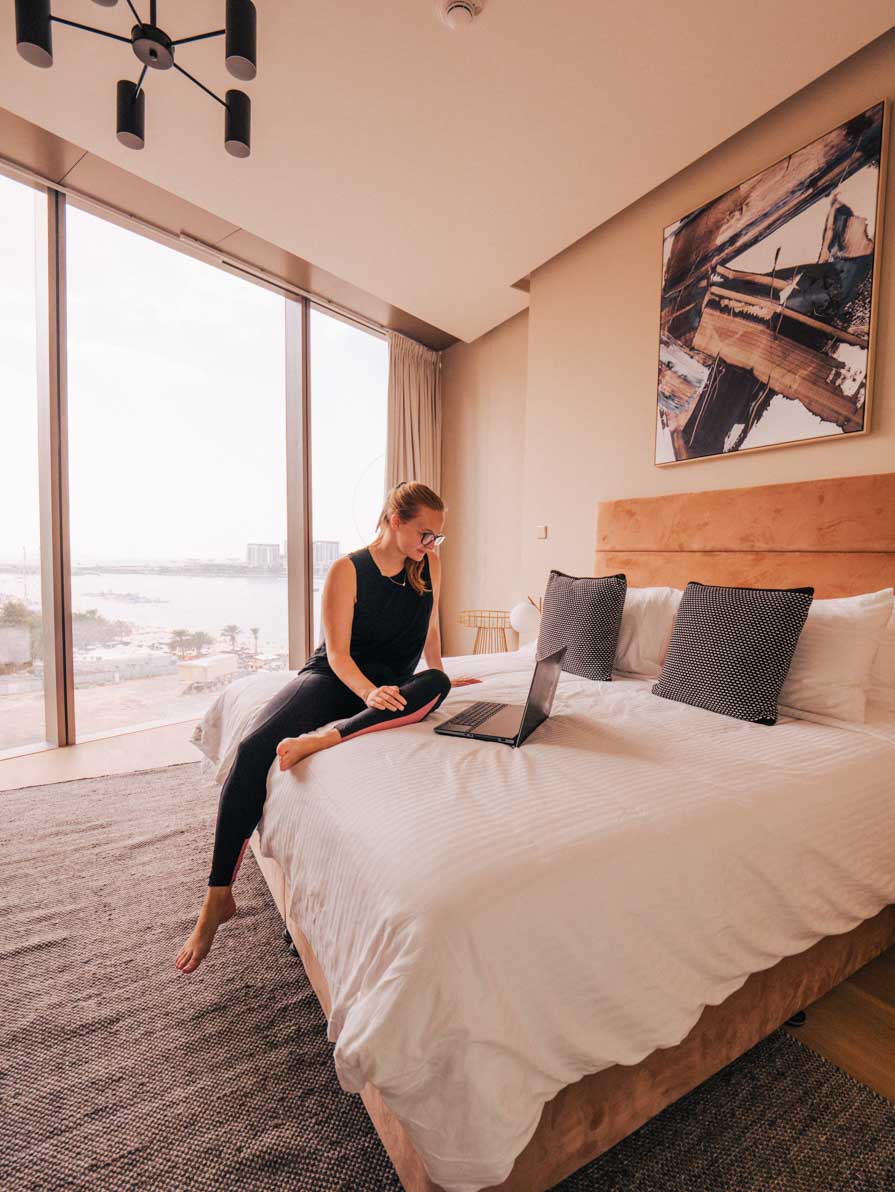 Digital nomad essentials
A laptop
A pretty obvious one to start with! The vast majority of online jobs require computer access, and a small phone screen just won't do for the average digital nomad. The difficulty is finding a laptop that's powerful enough to handle the tasks you need to complete while also being portable enough to travel with.
Your ideal laptop is going to totally depend on the type of work you do, because a data entry role's tech requirements will differ significantly to a video editor. I personally love the HP Spectre x360 range, they offer 2-in-1 laptops from ultra-lightweight options through to powerful yet stylish bigger screen laptops.
I currently use the 13.3″ HP Spectre x360, which weighs in at a tiny 1.27kg (charger weight is 340g) and packs a punch for a travel-friendly size. It's got an Intel i7 processor, 1TB SSD and 16GB of RAM, with Intel Iris Plus integrated graphics. It charges via USB-C port which I LOVE, and it has another USB-C port, a USB-A (normal USB) port and a microSD card reader. If you want the option to plug in more gadgets or an HDMI port then check out this multi-port adapter.
If you are doing heavy video editing or use your laptop to play games, then you might want to consider upgrading to the HP Spectre x360 15.6″ with NVIDIA GeForce graphics. This one is a bit heavier but if graphics performance is your priority then it's well worth it.
Bonus tip: This past Christmas I received a Nexstand laptop stand, which has massively reduced strain on my neck and back. It's lightweight and folds up to easily fit in any digital nomad backpack.
YOU MIGHT ALSO LIKE: What's in my camera bag for a year of travelling around the world?
An external hard drive
An external hard drive with decent storage is a digital nomad must-have for anyone creating content or needing to access big files.
After trying more than five different portable hard drive brands in the past three years of living abroad, I can confidently say that my top pick are the LaCie Rugged hard drives.
With an orange rubber protection layer to make them resistant from dust and rain as well as shock-proof (believe me, I've tried), this hard drive is built to survive being lugged around in suitcases, carried from cafe to cafe, and even dropped from hostel bunk beds.
You can choose a variety of sizes and they even have USB-C compatible versions, meaning they're ultra fast! See the different options for LaCie Rugged hard drives here.
A decent camera
Everyone loves capturing memories from their trip, and if you want to have good quality photos that you can edit, print or sell online, a good camera is essential.
Gone are the days where a camera had to cost thousands of dollars and take up significant luggage space to get proper photos… You can snap high quality shots to share and sell with a cheap and cheerful mirrorless camera that almost fits in your pocket. This is a bonus for any remote work like virtual assistants that require content creation.
I use a Panasonic Lumix GX85, which offers full manual control, 4K video, interchangeable lenses, image stabilisation and more, all in a little package of only 517 grams. A light body means I can instead fill my camera bag with lenses and other accessories to take my photography to the next level.
If you're looking at vlogging as well as photography, consider the Panasonic Lumix G100. It's got a 20MP sensor, a flip out screen, a directional microphone and comes with a handheld vlogging tripod.
If you are going to go for a Panasonic camera, my favourite camera accessory is this Lumix Leica 8-18mm wide angle lens. It's a cliché I know, but it is an absolute game changer.
The Lumix Leica 12-60mm f2.8-4.0 lens comes in at a very close second.
Or a good phone!
If the photography aspect of your digital nomadism needs only to go as far as social media sharing, then a good cell phone camera might just do the trick.
These days almost all phones have pretty decent cameras on them, but not all are created equal, and some are better value than others.
The Google Pixel's camera has been consistently rated as the best phone camera around, the new Samsung S21 has brilliant reviews, and the Huawei P40 Pro is also seriously impressive if you don't need access to the Google eco-system.
The newest iPhone range of course also has fancy cameras but the prices compared to other brands with the same specs are insane, so I can't justify spending the money on them.
Don't forget to get a SIM card with cheap international roaming (Three is my pick for the UK, NZ doesn't really have any good international options unfortunately) or buy one when you get to the airport to make sure you've got data access any time you need it.
YOU MIGHT ALSO LIKE: 15 carry on essentials for long haul flights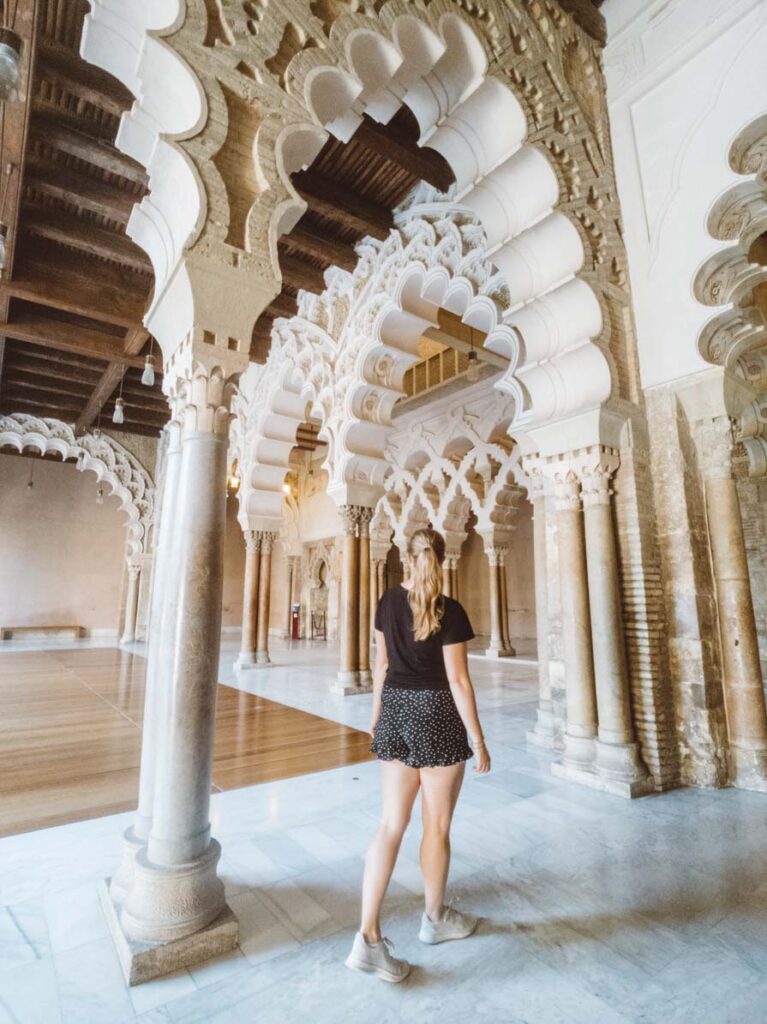 A Moment Wide lens for your phone
If you are planning on travelling phone-only, or if you're a hobbyist photographer and want the best chance of capturing good shots on the road, a Moment Wide lens that clips onto your phone is a digital nomad essential.
This little piece of gear connects with a Moment case for your phone to turn your phone camera into a wide angle lens, letting you capture more background and bring an extra level of professionalism to your photos. Almost all of my phone photos have been captured with a Moment lens.
A number of the flagship phones that are out right now have their own wide angle cameras which is awesome, but it's important to note that these cameras offer lower image quality than the main camera.
If image quality is important to you and if you're using your photos for your brand or business, then having a wide lens on the main camera means you're getting the best image quality as well as the wider viewpoint.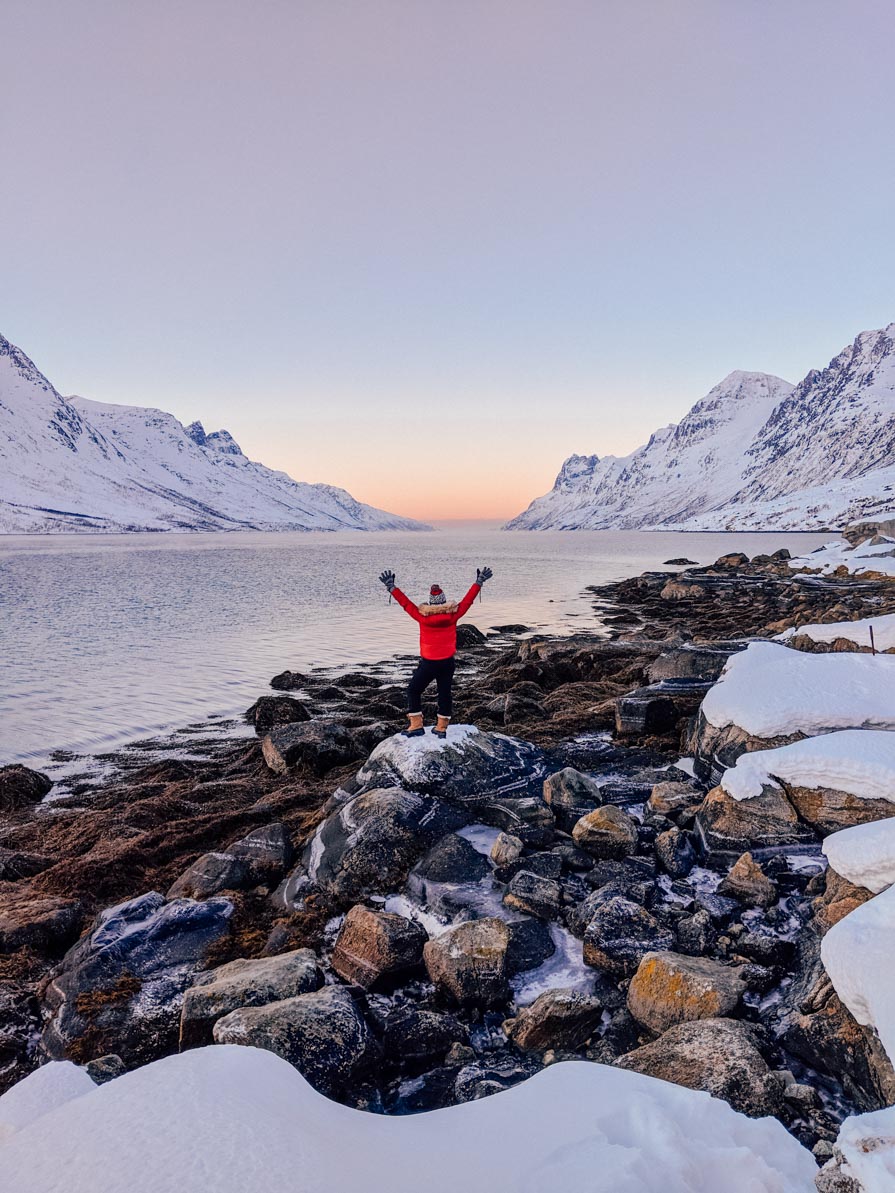 Portable battery packs
One of the most important digital nomad essentials, or traveller essentials in general for that matter, is a portable battery pack to keep your gadgets charged up on the go.
There are loads of different types and sizes of portable chargers but I'd recommend travelling with two: one that fits in a small bag for daily use, and a larger one that can carry enough juice to keep things charged on an overnight trip if you're heading anywhere without power and need to meet remote work or freelance deadlines.
I have two Cygnett portable battery packs, one wireless 10,000 mAh portable charger and one USB-C compatible 27,000 mAh charger that's powerful enough to charge my phone a handful of times and can even charge USB-C-powered ultrabook laptops.
YOU MIGHT ALSO LIKE: The Ultimate Guide to Solo Female Travel
A tablet or Kindle
I prefer to use a tablet for watching Netflix rather than my laptop as it's way easier to lie down in bed with or to use on an airplane tray table. I have an old iPad and while I prefer to listen to audiobooks rather than read, I know many travellers who swear by their Kindles, like this Kindle Paperwhite.
You can get a free audiobook when you first sign up to Audible! Sign up for your free trial now.
A travel adapter
There's nothing worse than finally reaching a destination after a long day of travelling and then realising you didn't pack an adapter to fit that country's plugs… Except for realising you have a remote job catch up call first thing the next morning and won't have enough battery for it.
This universal adapter gives you access to a plug as well as four USB ports and can be used with any plug and in any plug. Make sure this is at the top of your digital nomad packing list and don't leave home without ticking it off.
Skyroam portable WiFi
This handy little orange pocket WiFi, the Skyroam Solis, can help digital nomads stay connected even in the weirdest of places. It connects to any nearby data signal or internet connection and lets you use portable WiFi in over 130 countries around the globe.
You can pay per GB as you go or buy day passes with unlimited use, and you can connect up to 10 devices so your computer, tablet and phone are all good to go. And as a bonus, the Skyroam Solis doubles as a power bank too, perfect for digital nomad life.
Use the promocode FINDINGALEXX and you'll get 10% off your Skyroam purchase.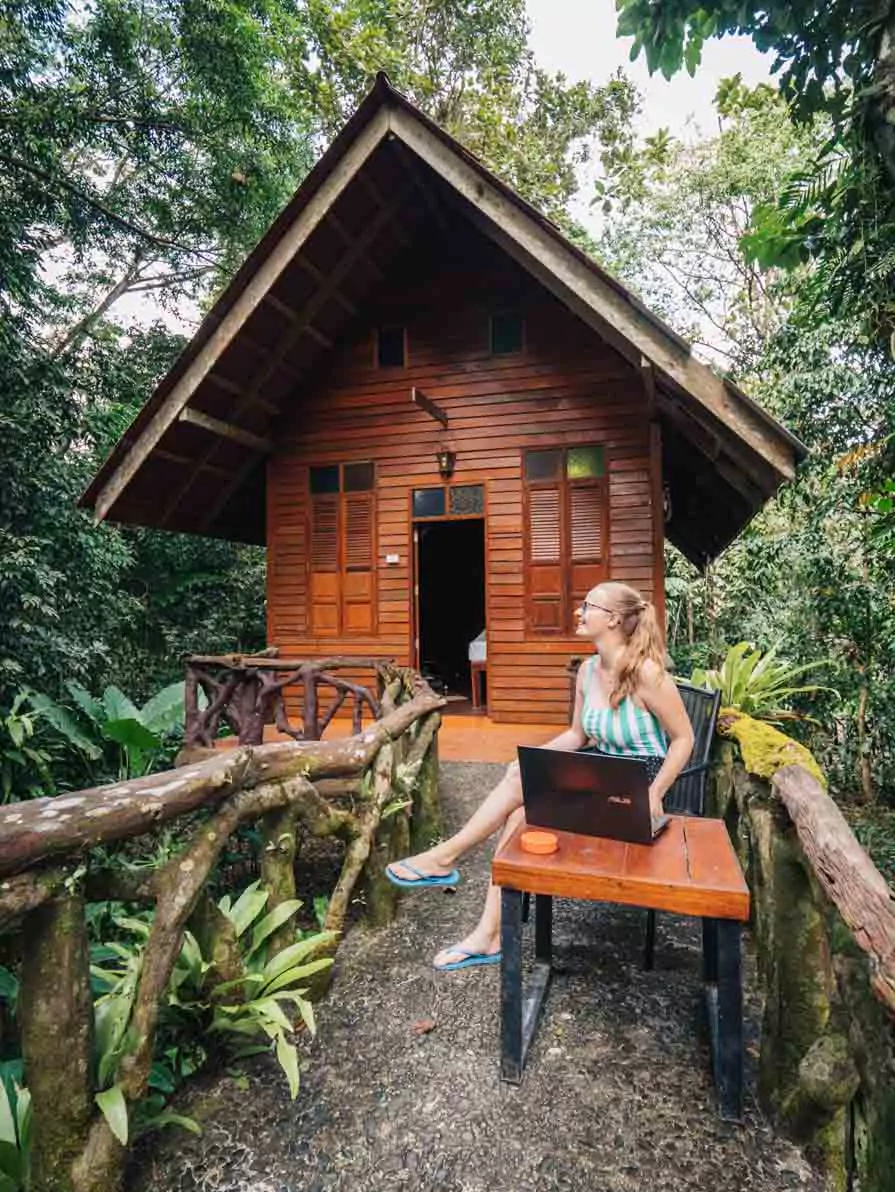 A wireless mouse and keyboard
Tapping away on a laptop keyboard and touchpad for hours every day can cause strain in your hands, so consider travelling with a wireless mouse and keyboard just to make things a bit more comfortable.
I use the Logitech MX Master 3 mouse which is an absolute productivity beast. It's got six buttons and two scroll wheels, which you can customise to perform different actions based on the programme you're using, like Chrome, Lightroom or Premiere Pro.
The Logitech MX Keys, from the same series, is also a worthwhile purchase for any digital nomad backpack. The battery lasts ages, the keys are smooth and fluid, and it's easy to pop in your backpack for working in hostels, cafes and co-working spaces.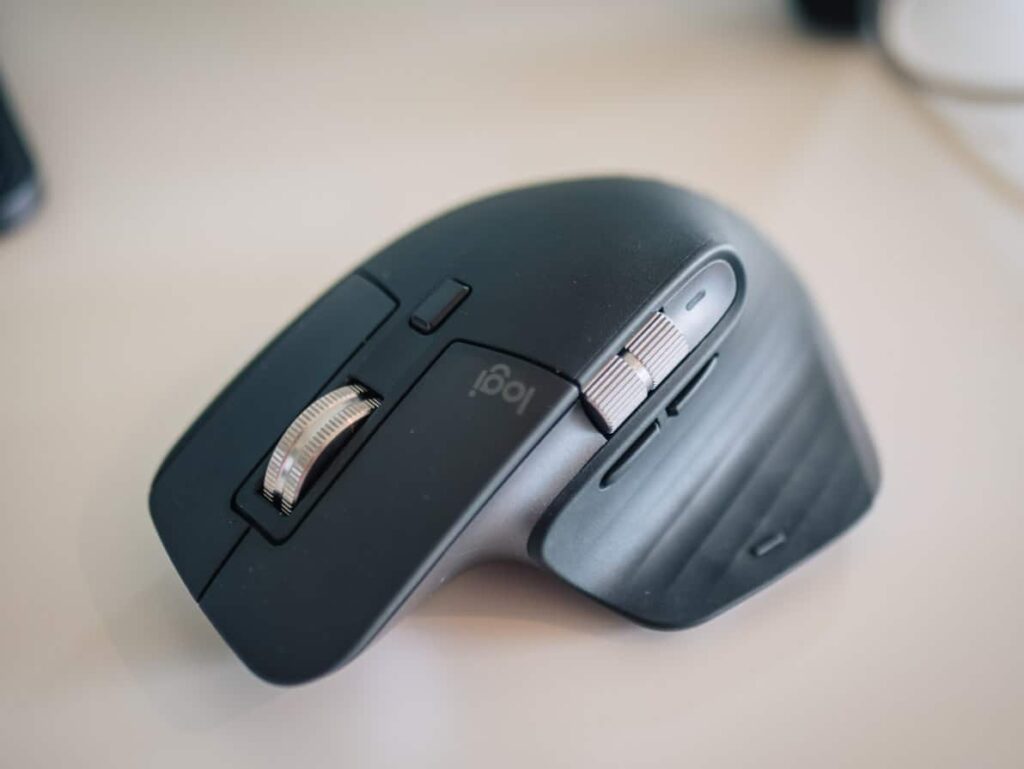 Wireless headphones
Whether you prefer hostel dorms, funky cafés or co-working spaces, every digital nomad needs a pair of noise-cancelling wireless headphones to minimise distractions.
These Sony WH1000XM4 (really rolls off the tongue, I know) wireless headphones have almost 10,000 reviews and an average rating of 4.6 out of 5 stars. I can vouch for them too!
This is another one for the top of the packing list, because if you leave without it, you'll regret it immediately.
Bonus tip: It might be worth getting a pair of in-ear headphones too if you plan on using a travel pillow on long flights, as they generally aren't too headphone friendly.
Insurance
Boring but 100% necessary, digital nomads need travel insurance. A good insurance policy will cover medical and accidents, lost and damaged luggage, and travel delays and cancellations.
I've had to use travel insurance a number of times in my travels, and I've been covered for stolen bags, a broken drone, doctors visits, cancelled flights and loads more. Don't travel without it!
The best digital nomad backpack
Any nomad needs to have an efficient way of carrying luggage all over the globe.
For a digital nomad backpack to carry your tech gear and important gadgets, this REMAGG Shieldpack tech backpack is epic. It can fit a 15.6″ laptop, has multiple sections for tablets, headphones, chargers and other accessories, zipped pockets for SD cards and USB drives, adjustable padded shoulder straps and more. This meets carry on requirements for most international airlines.
If you're looking for something less intense and a bit cheaper, I'm a fan of this trusty Amazon laptop backpack that's lasted me nine months of full-time travel. It can fit a 15.6″ laptop and loads more but it doesn't have as many compartments or zips as the fancier option above. But this basic laptop bag does the trick for me!
The best digital nomad suitcase
On top on your digital nomad backpack, you'll also need to have a separate bag for clothes. If you're travelling with carry-on only, you're going to need to minimise what you take.
My top tip is to fly an airline that allows two carry on bags (one for the overhead locker and one to fit under the seat in front of you). Use your digital nomad backpack as the one that fits under your seat (so you'll need to ensure the size fits) and this keeps your most important gear right at your feet, then use your bigger bag for clothing and toiletry bag.
On top of my Amazon laptop backpack I mentioned above, I also travel with a Samsonite Cosmolite 55cm cabin bag as my carry on. This legendary suitcase is literally the cheapest hard case suitcase I could find, at only 1.7kg! The vast majority of 55cm cabin bags are at least 2.5kg if not more. It is well worth paying the money for a sturdy suitcase that lets you maximise what you take.
Grab a packing cube or five, roll don't fold, and pack your comfy PJs, photo outfits and running gear. Which one do you think digital nomads spend the most time in?
If I'm heading on long trips then I'll travel with a large check in suitcase too, a Samsonite Cosmolite 75cm, and yes, it matches my carry on. This bag is a tiny 2.6kg, again beating any competition by almost 2kgs.
YOU MIGHT ALSO LIKE: 17 super helpful packing tips for travelling with carry on only
---
Has this list of digital nomad essentials been helpful? I hope it's given you some ideas on digital nomad gear you might need before you head off, and maybe helped you work on your digital nomad packing list! If you think I've missed anything important please let me know in the comments.
Like this blog? Pin it!
Read more about my 52 in 52 adventure here, see all of my blog posts from the trip here, or check out my Instagram @findingalexx to see all of my travel photos.
All the basic details from my big 52 in 52 trip:
How do you find your flights? Skyscanner! I use the Everywhere tool to find the cheapest place to fly to each Tuesday
Do you fly every week? Not every week no, once I have the destination I check trains and buses to see if there's any other transport options aside from flying. If so, I usually book these using the Trainline app.
How do you book your accommodation? I book all my hotels, hostels and apartments on either booking.com or Hostelworld.
Do you have travel insurance? YES, I always travel with travel insurance and you should too. I'm insured for an annual policy with Worldcare NZ.
Do you offset your carbon credits? I sure do! I always offset when I book if the airline gives me the option (Ryanair does), and I also offset all my flights using Co2nsensus.com.
What luggage do you travel with? I travel with a 75cm Samsonite Cosmolite suitcase, a matching Samsonite Cosmolite 55cm cabin luggage hardcase, and a cheap laptop backpack.
What camera do you use? You can see the full list of what's in my camera bag right here.
What laptop do you use? I have a super portable HP Spectre x360 13.3″ laptop, which is an absolute dream to travel with.
For more FAQs about my 52 in 52 trip, see this post.